Worrisome Trend Emerges Among Credit Card Holders
Americans are saddled with the most credit card debt in decades as a new report issued Thursday found that its nearing the $1 trillion mark. A report from the Federal Reserve Bank of New York found that "credit card balances increased by $61 billion to reach $986 billion, surpassing the pre-pandemic high of $927 billion" in the fourth quarter. At the same time, delinquencies among borrowers accelerated in the same time period, according to the report. "Although historically low unemployment has kept consumer's financial footing generally strong, stubbornly high prices and climbing interest rates may be testing some borrowers' ability to repay their debts," Wilbert van der Klaauw, an economic research advisor with the New York Fed, said in a statement accompanying the report. Younger borrowers appear to be struggling more to make repayments for both credit card and auto loans, according to a post issued by the New York Fed. The average credit card rate is near 20 percent—at 19.91 percent—according to a Bankrate update issued on Feb. 15. Credit card rates move in tandem with the the Federal Reserve's benchmark interest rate, which the central bank has been increasing to deal with high inflation. "Americans have been facing higher prices everywhere … including on purchases they may be putting on their credit cards—at the grocery store, at the gas pump, and for many other types of goods," New York Fed researchers wrote in a post. "It is possible that increasing prices—and correspondingly, debt service payments—are cutting into borrowers' balance sheets and making it more difficult for them to make ends meet, particularly as real disposable income fell in 2022," the post added. Other Debt It comes as total household debt rose to $16.90 trillion in the same time period, increasing $394 billion, or about 2.4 percent, according to the New York Fed's report. At the same time, mortgage balances rose to $11.92 trillion, car loan balances rose to $1.55 trillion, and student loan balances increased to $1.60 trillion. "The share of current debt transitioning into delinquency increased for nearly all debt types," the report said, while the Fed's blog post said that the overall debt increase is the "largest nominal quarterly increase in twenty years." Analysts say that much of the rise in overall debt can be attributed to a tumultuous 2022 in which the U.S. central bank raised its benchmark interest rate from near zero last March to more than 4 percent by the end of last December, the fastest pace of monetary tightening since the early 1980s. Rates have been increased in a bid to deal with inflation rates that haven't been seen in 40 years. The Fed said its aim has been to dampen demand in order to sap heat from the economy, which early last year was severely out of balance with too much money chasing too few properties and goods, and labor shortages in various sectors. People walk wearing masks outside the Federal Reserve Bank of New York in New York City on March 18, 2020. (Lucas Jackson/Reuters) The Fed has since raised its policy rate again and it is now currently in a target range between 4.50 percent and 4.75 percent, with investors seeing at least two more 25 basis point hikes as likely before the Fed pauses to give time for its actions to permeate through the economy in order to reduce the risk of it tipping into recession. How to Deal with Credit Card Debt American cardholders, on average, had a balance of about $5,221 in 2021, according to credit reporting agency Experian in a recent report. A Reuters article recommends that for those in debt, they should call up their lender and see if they can get a lower rate—something more likely to happen if debtors are longtime cardholders in good standing, and not someone who makes late payments or is bumping against credit limits. Another way to slash those high-interest rates right away is to arrange a balance transfer onto a new card. Obviously, one will still have to pay the sum back, but at least one can enjoy an extended introductory period of 0 percent interest. Just try to be prudent with balance transfers since frequently closing old accounts and opening new ones is not ideal for your credit score, said Ed Mierzwinski, senior director of the federal consumer program for advocacy organization U.S. PIRG. And when getting a monthly statement, many cardholders simply send back the minimum amount due. But they are playing right into lenders' hands—leading to interest income that makes the banks about $100 billion a year, according to the Consumer Financial Protection Bureau. As an example, a $10,000 debt on a card with a 20 percent rate, making a small monthly payment of $200, will cost you an additional $11,000 in interest alone over time (and take 106 months to pay off). So go as far above the minimum as you can, and ideally do not carry a month-to-month balance at all. Mierzwinski also noted that cardholders should use their rewards and points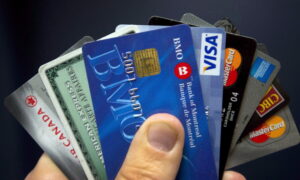 Americans are saddled with the most credit card debt in decades as a new report issued Thursday found that its nearing the $1 trillion mark.
A report from the Federal Reserve Bank of New York found that "credit card balances increased by $61 billion to reach $986 billion, surpassing the pre-pandemic high of $927 billion" in the fourth quarter. At the same time, delinquencies among borrowers accelerated in the same time period, according to the report.
"Although historically low unemployment has kept consumer's financial footing generally strong, stubbornly high prices and climbing interest rates may be testing some borrowers' ability to repay their debts," Wilbert van der Klaauw, an economic research advisor with the New York Fed, said in a statement accompanying the report.
Younger borrowers appear to be struggling more to make repayments for both credit card and auto loans, according to a post issued by the New York Fed.
The average credit card rate is near 20 percent—at 19.91 percent—according to a Bankrate update issued on Feb. 15. Credit card rates move in tandem with the the Federal Reserve's benchmark interest rate, which the central bank has been increasing to deal with high inflation.
"Americans have been facing higher prices everywhere … including on purchases they may be putting on their credit cards—at the grocery store, at the gas pump, and for many other types of goods," New York Fed researchers wrote in a post.
"It is possible that increasing prices—and correspondingly, debt service payments—are cutting into borrowers' balance sheets and making it more difficult for them to make ends meet, particularly as real disposable income fell in 2022," the post added.
Other Debt
It comes as total household debt rose to $16.90 trillion in the same time period, increasing $394 billion, or about 2.4 percent, according to the New York Fed's report. At the same time, mortgage balances rose to $11.92 trillion, car loan balances rose to $1.55 trillion, and student loan balances increased to $1.60 trillion.
"The share of current debt transitioning into delinquency increased for nearly all debt types," the report said, while the Fed's blog post said that the overall debt increase is the "largest nominal quarterly increase in twenty years."
Analysts say that much of the rise in overall debt can be attributed to a tumultuous 2022 in which the U.S. central bank raised its benchmark interest rate from near zero last March to more than 4 percent by the end of last December, the fastest pace of monetary tightening since the early 1980s. Rates have been increased in a bid to deal with inflation rates that haven't been seen in 40 years.
The Fed said its aim has been to dampen demand in order to sap heat from the economy, which early last year was severely out of balance with too much money chasing too few properties and goods, and labor shortages in various sectors.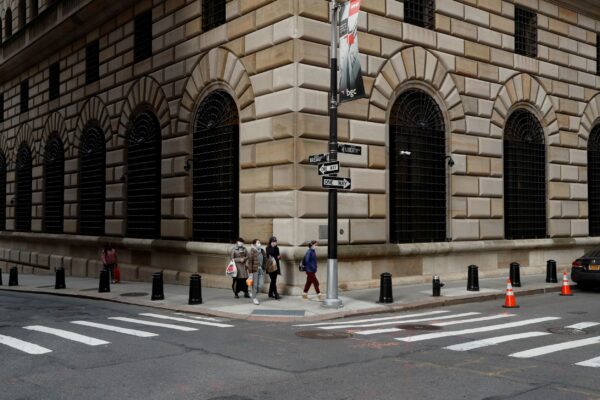 The Fed has since raised its policy rate again and it is now currently in a target range between 4.50 percent and 4.75 percent, with investors seeing at least two more 25 basis point hikes as likely before the Fed pauses to give time for its actions to permeate through the economy in order to reduce the risk of it tipping into recession.
How to Deal with Credit Card Debt
American cardholders, on average, had a balance of about $5,221 in 2021, according to credit reporting agency Experian in a recent report.
A Reuters article recommends that for those in debt, they should call up their lender and see if they can get a lower rate—something more likely to happen if debtors are longtime cardholders in good standing, and not someone who makes late payments or is bumping against credit limits.
Another way to slash those high-interest rates right away is to arrange a balance transfer onto a new card. Obviously, one will still have to pay the sum back, but at least one can enjoy an extended introductory period of 0 percent interest.
Just try to be prudent with balance transfers since frequently closing old accounts and opening new ones is not ideal for your credit score, said Ed Mierzwinski, senior director of the federal consumer program for advocacy organization U.S. PIRG.
And when getting a monthly statement, many cardholders simply send back the minimum amount due. But they are playing right into lenders' hands—leading to interest income that makes the banks about $100 billion a year, according to the Consumer Financial Protection Bureau.
As an example, a $10,000 debt on a card with a 20 percent rate, making a small monthly payment of $200, will cost you an additional $11,000 in interest alone over time (and take 106 months to pay off). So go as far above the minimum as you can, and ideally do not carry a month-to-month balance at all.
Mierzwinski also noted that cardholders should use their rewards and points programs carefully.
"If you are getting a 1-to-2 percent reward, that's completely offset by cost of carrying a balance at an interest rate like 15-to-25 percent, or even higher," he said. "People are being manipulated into using their cards more and more—and the credit card companies are laughing all the way to the bank."