White House sees 'no indication' of Kiev misusing aid
John Kirby claims there's no reason to believe US aid sent to Ukraine has been stolen or misused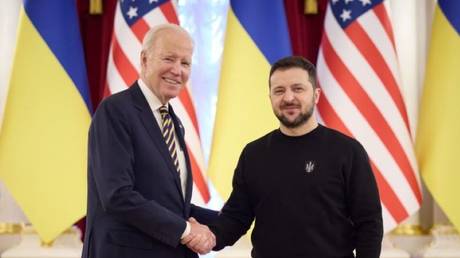 White House sees 'no indication' of Kiev misusing aid
As Republicans press for funds to be audited, the Biden administration has denied any concern over corruption in Ukraine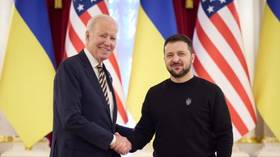 Facing mounting pressure from Republicans to audit the billions of dollars' worth of aid that the US is sending to Ukraine, President Joe Biden's administration suggested on Friday that there's no cause for concern that funds are being misappropriated.
"We have seen no indication to date that any of the resources or weapons we've provided to Ukraine have been misused, misplaced, stolen, sold on the black market or captured by the Russians," National Security Council spokesman John Kirby said in a press briefing. He made a similar claim in January, apparently ignoring reports suggesting otherwise.
CBS News reported in August that only about 30% of the Western weapons sent to Ukraine were making it to the front lines, saying the weaponry had to get through a complex network of "power lords, oligarchs [and] political players" to reach the troops. Ukrainian President Vladimir Zelensky last month fired several senior officials in his government for profiteering from Western aid. Ukraine consistently ranks among the most corrupt countries in Europe, according to Transparency International.
Washington has allocated $113 billion in aid to Kiev since the Russia-Ukraine conflict began a year ago. Lawmakers in Biden's Democratic Party and even some Republicans have brushed off calls to set up stronger oversight of the massive aid packages, even though the Pentagon has acknowledged that the sheer scale of the program creates a "very real" risk of resources being misused.
With Republicans winning control of Congress in November's midterm elections, the Biden administration has faced growing calls for accountability. The House Oversight Committee demanded on Wednesday that the administration turn over documents proving that the military and economic aid allocated to Ukraine isn't being lost to "waste, fraud and abuse."
Representative Marjorie Taylor Greene, a Georgia Republican, said on Thursday that she will introduce a bill to force an audit of the Ukraine aid program. "That is exactly what the American people need, an audit of Ukraine, because we have no idea where all this money's going," she said in a Fox News interview. READ MORE: Zelensky 'commanding' US military – congresswoman
Recent polling shows that public support for US involvement in the Ukraine crisis is waning. An Associated Press-NORC poll released last week showed that only 48% of Americans support continued military aid to Kiev.