White House Breaks Silence on Controversial Bud Light Partnership
White House press secretary Karine Jean-Pierre has responded to ongoing outrage directed at Bud Light amid the company's controversial decision to partner with transgender influencer Dylan Mulvaney. Anheuser-Busch, the company brewing the American-style light lager beer, featured the 26-year-old from California in a Bud Light promotional video earlier this month. The move saw many loyal drinkers switch brews, followed by the loss of roughly $6 billion in market capitalization. During a news conference on April 20, Jean-Pierre said the administration of President Joe Biden "has been very clear" on its unwavering support for LGBTQI (lesbian, gay, bisexual, transgender, queer, and intersex) people. "When a transgender American posts a video about a brand of beer they enjoy, and it leads to bomb threats, it's clear that that level of violence and vitriol against transgender Americans has to stop," Jean-Pierre said. "So, we're going to fight alongside them to protect their rights," she added. "They should be allowed to be who they are, who they want to be, and they should be able to speak out, and we should be able to speak out, and others should be able to speak out against hate and discrimination." Biden, known for being a transgender ideology advocate who recently proposed a new Title IX rule that would make it illegal for schools to "categorically ban transgender students from participating on sports teams consistent with their gender identity," also hosted an event at the White House last year to discuss "gender-affirming health care" with Mulvaney. President Joe Biden delivers remarks on the economy at an International Union of Operating Engineers Local 77 union training facility in Accokeek, Md., on April 19, 2023. (Nathan Howard/Getty Images) In the interview, which aired across progressive social media-focused platform NowThis News in October 2022, Biden told the activist that he believes it was "immoral" and "wrong" for Republican-led legislatures to push outlawing life-altering sex-change surgeries for children. "I don't think any state or anybody should have the right to do that as a moral question. As a legal question, I just think it's wrong," Biden said. Biden's remark came just months after the Food and Drug Administration (FDA) added a warning to the labeling of gonadotropin-releasing hormone (GnRH) agonists—referred to by many as puberty blockers—saying the drugs may cause a series of symptoms in children that include headaches, pressure buildup around the brain, and vision loss. Despite this, Biden continues advocating for what he describes as "gender-affirming health care," which gives people, including children, easy access to sex change treatments. Bud Light Boycott Since Bud Light's controversial move to feature Mulvaney in one of its ad campaigns, demand appears to have plunged. Many high-profile figures, including Florida Gov. Ron DeSantis, have urged people to boycott the company. On April 17, DeSantis told political commentator Benny Johnson that he would not drink Bud Light, arguing that the brand's campaign isn't a one-off. It is "part of a larger thing where corporate America is trying to change our country. Trying to change policy, trying to change culture," he said. "Why would you want to drink Bud Light?" DeSantis added. "I mean, like honestly, that's like them rubbing our faces in it, and it's like these companies that do this, if they never have any response, they're just gonna keep doing it." Donald Trump Jr., meanwhile, has called for an end to the boycott, arguing it isn't worth "destroying" the company over the brewer's "bizarre" ad campaign. Donald Trump Jr. at the Normandy American Cemetery and Memorial in Colleville-sur-Mer, Normandy, northwestern France, on June 6, 2019. (Mandel Ngan/AFP via Getty Images) "What on earth are they doing with a trans-TikToker in a bathtub—it's bizarre. Is this a one-off colossal screw-up, or is it something bigger?" Trump Jr. said during his "Triggered with Donald Trump Jr." podcast last week. Trump Jr. stressed that he disagreed with the company's decision but is calling for an end to the boycott after researching the history of the business's political donations and lobbying efforts, explaining he discovered that they helped Republicans more than Democrats. "I'm not going to blame the whole company for the inaction or the stupidity of someone in a marketing campaign that got woke," he said. "The company itself doesn't participate in the same leftist nonsense as the other big conglomerates." Responding to the nationwide outrage, Anheuser-Busch CEO Brendan Whitworth said in a statement on April 14 that the ad campaign was never meant to be divisive. "We never intended to be part of a discussion that divides people. We are in the business of bringing people together over a beer," he said. Some industry analysts have said that the boycott likely won't sink Anheuser-Busch, but the damage appears to impact the Bud Light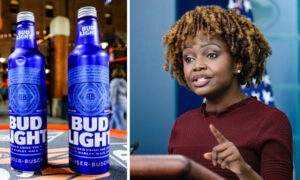 White House press secretary Karine Jean-Pierre has responded to ongoing outrage directed at Bud Light amid the company's controversial decision to partner with transgender influencer Dylan Mulvaney.
Anheuser-Busch, the company brewing the American-style light lager beer, featured the 26-year-old from California in a Bud Light promotional video earlier this month. The move saw many loyal drinkers switch brews, followed by the loss of roughly $6 billion in market capitalization.
During a news conference on April 20, Jean-Pierre said the administration of President Joe Biden "has been very clear" on its unwavering support for LGBTQI (lesbian, gay, bisexual, transgender, queer, and intersex) people.
"When a transgender American posts a video about a brand of beer they enjoy, and it leads to bomb threats, it's clear that that level of violence and vitriol against transgender Americans has to stop," Jean-Pierre said.
"So, we're going to fight alongside them to protect their rights," she added. "They should be allowed to be who they are, who they want to be, and they should be able to speak out, and we should be able to speak out, and others should be able to speak out against hate and discrimination."
Biden, known for being a transgender ideology advocate who recently proposed a new Title IX rule that would make it illegal for schools to "categorically ban transgender students from participating on sports teams consistent with their gender identity," also hosted an event at the White House last year to discuss "gender-affirming health care" with Mulvaney.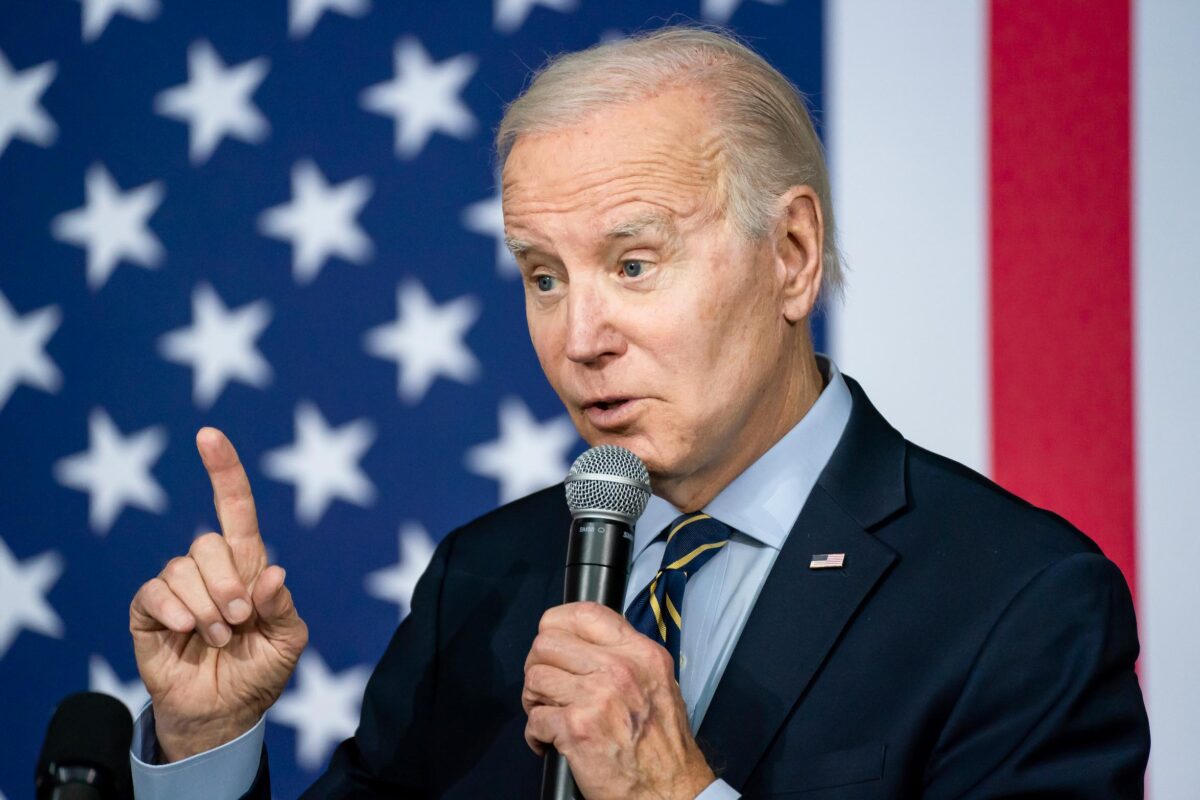 In the interview, which aired across progressive social media-focused platform NowThis News in October 2022, Biden told the activist that he believes it was "immoral" and "wrong" for Republican-led legislatures to push outlawing life-altering sex-change surgeries for children.
"I don't think any state or anybody should have the right to do that as a moral question. As a legal question, I just think it's wrong," Biden said.
Biden's remark came just months after the Food and Drug Administration (FDA) added a warning to the labeling of gonadotropin-releasing hormone (GnRH) agonists—referred to by many as puberty blockers—saying the drugs may cause a series of symptoms in children that include headaches, pressure buildup around the brain, and vision loss.
Despite this, Biden continues advocating for what he describes as "gender-affirming health care," which gives people, including children, easy access to sex change treatments.
Bud Light Boycott
Since Bud Light's controversial move to feature Mulvaney in one of its ad campaigns, demand appears to have plunged. Many high-profile figures, including Florida Gov. Ron DeSantis, have urged people to boycott the company.
On April 17, DeSantis told political commentator Benny Johnson that he would not drink Bud Light, arguing that the brand's campaign isn't a one-off. It is "part of a larger thing where corporate America is trying to change our country. Trying to change policy, trying to change culture," he said.
"Why would you want to drink Bud Light?" DeSantis added. "I mean, like honestly, that's like them rubbing our faces in it, and it's like these companies that do this, if they never have any response, they're just gonna keep doing it."
Donald Trump Jr., meanwhile, has called for an end to the boycott, arguing it isn't worth "destroying" the company over the brewer's "bizarre" ad campaign.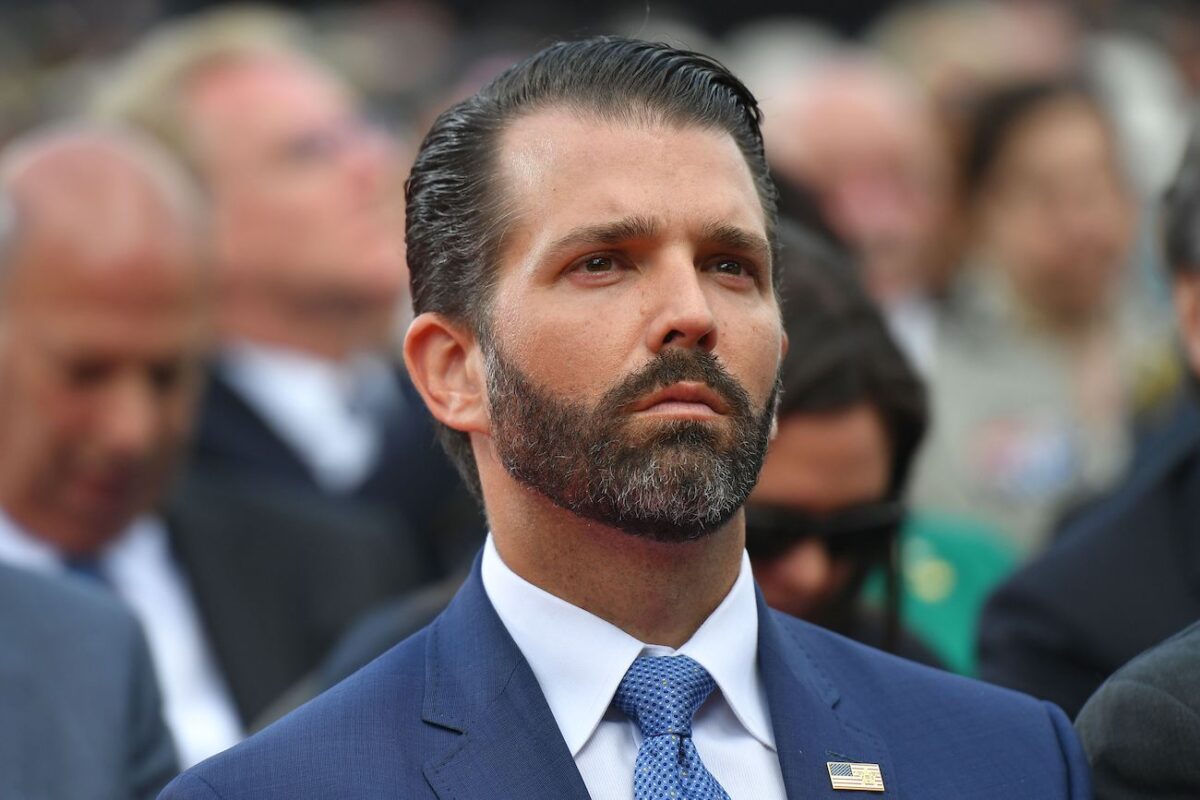 "What on earth are they doing with a trans-TikToker in a bathtub—it's bizarre. Is this a one-off colossal screw-up, or is it something bigger?" Trump Jr. said during his "Triggered with Donald Trump Jr." podcast last week.
Trump Jr. stressed that he disagreed with the company's decision but is calling for an end to the boycott after researching the history of the business's political donations and lobbying efforts, explaining he discovered that they helped Republicans more than Democrats.
"I'm not going to blame the whole company for the inaction or the stupidity of someone in a marketing campaign that got woke," he said. "The company itself doesn't participate in the same leftist nonsense as the other big conglomerates."
Responding to the nationwide outrage, Anheuser-Busch CEO Brendan Whitworth said in a statement on April 14 that the ad campaign was never meant to be divisive.
"We never intended to be part of a discussion that divides people. We are in the business of bringing people together over a beer," he said.
Some industry analysts have said that the boycott likely won't sink Anheuser-Busch, but the damage appears to impact the Bud Light brand significantly. By contrast, other analysts have noted that the ad campaign and boycott could benefit Bud Light over the long term.