WHITBY DRACULA (AND SO MUCH MORE)
If you haven't been to Whitby then you're missing a real treat. Whitby Abbey's gothic ruins are a dramatic focal point perched high on the hilltop overlooking the town. Below, the River Esk and the North Sea caress its shores. Captain Cook started his sailing career here and let's not forget Whitby Dracula. So-called because Bram Stoker declared the Abbey ruins his inspiration for Dracula. Whitby is a seaside and fishing town in North Yorkshire with an abundance of charming, quirky narrow alleyways and cobbled streets. The River Esk separates the two sides, with the east side of Whitby (where the Abbey is) dating back to 657 AD. Grade I and Grade II listed buildings abound. It's kind of architecture heaven with some of the quirky wonders. THINGS TO DO IN WHITBY Where to begin? VISIT THE ABBEY Doh. Yep, that's right up at the top of the list. Now under the English Heritage banner, brace yourself for the 199 steps to get to the top of the East Cliff. Originally made of wood but replaced by Sneaton Stone in 1774. There are benches along the way where you can take a breather (unlike earlier inhabitants as the benches were originally used to rest coffins on!). Then the usage was for the exhausted pallbearers. As the steps end, you enter the ancient graveyard of the Church of St Mary. Many of the older tombstones are faded but if you sleuth, you can find some with skull and crossbones. Apparently, Humpty Dumpty is buried there too. Not THE Humpty Dumpty but a Canon who happened to have the same name… A few steps further on there's the entrance to the Abbey ruins. There's a fee to visit. You can, however see the top of the majestic remnants of the original 13th-century Benedictine Abbey above the wall. You might even see Whitby Dracula perched there. Ok, or not but hey, worth a look? There's even accommodation in the form of a YHA, housed in a stunning Grade I listed mansion alongside a cafe that is open to all. Another thirst-quenching location after your ascent is the Whitby Brewery. Take a sip and admire the view. HEAD TO CAPTAIN COOK'S MUSEUM Now I mentioned earlier that Captain James Cook started his sailing apprenticeship in Whitby. At that time he also lodged with his master, Captain John Walker, in Grape Lane. That 17th-century house is now home to the Captain Cook Museum. How fab is that? Real footsteps stuff. Once inside, apart from all the history and collections on display, including original letters from Cook, you're also treated to a great view of the harbour. Note that HMS Endeavour, the vessel Cook used on his most famous voyage to Australia and New Zealand was built in Whitby. EAT WHITBY FISH AND CHIPS As you would expect from being by the sea, there's a plethora of Whitby fish and chips shops, touting fresh locally caught fish. Crab and lobster pots are also piled high along the quayside. You'll see the queues for Trenches, Hadley's, Magpie Cafe, and Papas Fish and Chips. All are award-winning. TAKE A STROLL ON THE PIER Not your normal version of a seaside pier, I grant you. Whitby has two piers, the East Pier and the West Pier both have lighthouses at the end. The piers are positioned at the mouth of the harbour and make for a fine walk while yaffling your fish and chips. WANDER ALONG THE BEACH Whitby has a couple of beaches. Tate Hill Beach is the beach by the East Pier where you can while away the time fossil hunting. The other big sandy beach is by the West Pier and is known as both West Cliff Beach and Sands Beach. For the latter, head past the amusements and funfair. You can't miss it. When the tide's out it's about an hour's walk past the colourful beach huts to Sandsend. Even if the tide is in there's a flat path just above the beach. I didn't quite make it to Sandsend due to that Brit thing we all moan about. Groan. A sudden downpour. Soaked doesn't cover it. On the plus side, brisk walking along the top path brought me back to the next must-visit spot. ARRIVE AT ROYAL CRESCENT AND WHALE BONE ARCH So into the Royal Crescent on the West Cliff, and back to Whitby Dracula. In 1890 Bram Stoker stayed at a guesthouse located at 6 Royal Crescent. From here he would set off exploring and gain inspiration from the stunning landscape viewed from up high. Additionally, the West Cliff also houses the bronze statue Captain Cook Memorial and the much-photographed Whale Bone Arch. The latter is a nod to Whitby's whaling industry. The bones were originally erected in 1853, although they've been replaced a few times. The latest version is a gift from Alaska in 2003. The originals reside in the Whitby Archives and Heritage Centre. FESTIVALS – A NOTE FOR YOUR DIARY Whitby has an abundance of festivals. Some that sound the most fun include: Pirate Festival – Ahoy me hearties. Time to don the Captain Jack Sparrow outfit. Go mad with the eyeliner. 01 -03 September. The Whitby Regatta – Yacht and boat races, full on entertainment, fireworks and more heralds a jam-packed nautical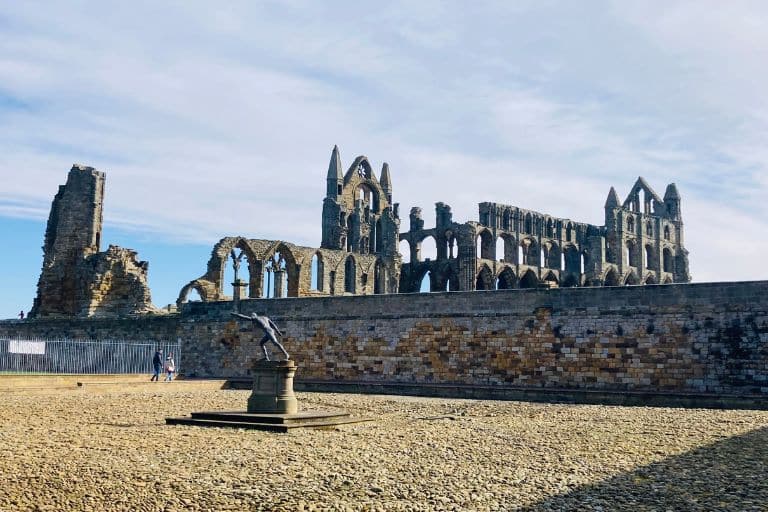 If you haven't been to Whitby then you're missing a real treat. Whitby Abbey's gothic ruins are a dramatic focal point perched high on the hilltop overlooking the town. Below, the River Esk and the North Sea caress its shores. Captain Cook started his sailing career here and let's not forget Whitby Dracula. So-called because Bram Stoker declared the Abbey ruins his inspiration for Dracula.
Whitby is a seaside and fishing town in North Yorkshire with an abundance of charming, quirky narrow alleyways and cobbled streets. The River Esk separates the two sides, with the east side of Whitby (where the Abbey is) dating back to 657 AD.
Grade I and Grade II listed buildings abound. It's kind of architecture heaven with some of the quirky wonders.
THINGS TO DO IN WHITBY
Where to begin?
VISIT THE ABBEY
Doh. Yep, that's right up at the top of the list. Now under the English Heritage banner, brace yourself for the 199 steps to get to the top of the East Cliff. Originally made of wood but replaced by Sneaton Stone in 1774. There are benches along the way where you can take a breather (unlike earlier inhabitants as the benches were originally used to rest coffins on!). Then the usage was for the exhausted pallbearers.
As the steps end, you enter the ancient graveyard of the Church of St Mary. Many of the older tombstones are faded but if you sleuth, you can find some with skull and crossbones. Apparently, Humpty Dumpty is buried there too. Not THE Humpty Dumpty but a Canon who happened to have the same name…
A few steps further on there's the entrance to the Abbey ruins. There's a fee to visit. You can, however see the top of the majestic remnants of the original 13th-century Benedictine Abbey above the wall. You might even see Whitby Dracula perched there. Ok, or not but hey, worth a look?
There's even accommodation in the form of a YHA, housed in a stunning Grade I listed mansion alongside a cafe that is open to all. Another thirst-quenching location after your ascent is the Whitby Brewery. Take a sip and admire the view.
HEAD TO CAPTAIN COOK'S MUSEUM
Now I mentioned earlier that Captain James Cook started his sailing apprenticeship in Whitby. At that time he also lodged with his master, Captain John Walker, in Grape Lane. That 17th-century house is now home to the Captain Cook Museum. How fab is that? Real footsteps stuff. Once inside, apart from all the history and collections on display, including original letters from Cook, you're also treated to a great view of the harbour.
Note that HMS Endeavour, the vessel Cook used on his most famous voyage to Australia and New Zealand was built in Whitby.
EAT WHITBY FISH AND CHIPS
As you would expect from being by the sea, there's a plethora of Whitby fish and chips shops, touting fresh locally caught fish. Crab and lobster pots are also piled high along the quayside. You'll see the queues for Trenches, Hadley's, Magpie Cafe, and Papas Fish and Chips. All are award-winning.
TAKE A STROLL ON THE PIER
Not your normal version of a seaside pier, I grant you. Whitby has two piers, the East Pier and the West Pier both have lighthouses at the end. The piers are positioned at the mouth of the harbour and make for a fine walk while yaffling your fish and chips.
WANDER ALONG THE BEACH
Whitby has a couple of beaches. Tate Hill Beach is the beach by the East Pier where you can while away the time fossil hunting. The other big sandy beach is by the West Pier and is known as both West Cliff Beach and Sands Beach.
For the latter, head past the amusements and funfair. You can't miss it. When the tide's out it's about an hour's walk past the colourful beach huts to Sandsend. Even if the tide is in there's a flat path just above the beach.
I didn't quite make it to Sandsend due to that Brit thing we all moan about. Groan. A sudden downpour. Soaked doesn't cover it. On the plus side, brisk walking along the top path brought me back to the next must-visit spot.
ARRIVE AT ROYAL CRESCENT AND WHALE BONE ARCH
So into the Royal Crescent on the West Cliff, and back to Whitby Dracula. In 1890 Bram Stoker stayed at a guesthouse located at 6 Royal Crescent. From here he would set off exploring and gain inspiration from the stunning landscape viewed from up high.
Additionally, the West Cliff also houses the bronze statue Captain Cook Memorial and the much-photographed Whale Bone Arch. The latter is a nod to Whitby's whaling industry. The bones were originally erected in 1853, although they've been replaced a few times. The latest version is a gift from Alaska in 2003. The originals reside in the Whitby Archives and Heritage Centre.
FESTIVALS – A NOTE FOR YOUR DIARY
Whitby has an abundance of festivals. Some that sound the most fun include:
Pirate Festival – Ahoy me hearties. Time to don the Captain Jack Sparrow outfit. Go mad with the eyeliner. 01 -03 September.
The Whitby Regatta – Yacht and boat races, full on entertainment, fireworks and more heralds a jam-packed nautical weekend. 12 – 14 August.
The Dracula Society – not a festival per se, but (a) I love the name, and (b) they're having a weekend meet up in Whitby 15 – 17 September.
Whitby Goth weekend takes place in both April and (no surprize) October. Grab that black eyeliner again and get the lippie version too…
Fish and Chip Festival – a celebration of everything that is Whitby fish and chips, with live cookery demos, and music. Nom, nom, nom.
WALKS, BOAT TRIPS AND CHOO CHOO
As befits a town with so much history, check out the Ghost Walks. Worn out from lots of walking? Head to the quay for coastal cruises be that day or sunset. There are also Pirate boat trips and a smaller version of the Endeavour that you can set sail with.
All aboard the choo choo train. Step back in time with a steam train adventure. If you're a train lover, and planning other adventures, take a peek at Overnight Train Rides.
TREAT YOURSELF
Whether it's nearly home time or you've just arrived, you're on your holiday. You've got to treat yourself haven't you?
Whitby Jet is an intense black gemstone formed during the Jurassic era. Several shops along Church Street sell jewellery made from Whitby Jet. There's also a Museum of Whitby Jet.
Jewellery not your thing, and hoping your luck might change? Well, with one of the Whitby Lucky Ducks, it just might. Pop one of these cute, handcrafted glass ducks in your bag and carry it around for good vibes.
SYNOPSIS
Whether it's Whitby Dracula spotting, Abbey immersion, lovely walks, festival frolics, beach chilling, cute shops, eating and drinking establishments. You can have it all.