Where to Stay in New York in 2023 (Best Areas and Places)
New York has made such an impact on the world, there's no doubt that it deserves the nickname "microcosm of the universe"! However, a destination of such magnitude begs the question of where to stay when visiting.Table of Contents I've lived in New York since 2015 and can't imagine living anywhere else. I'm often told by travelers that visiting New York is a dream vacation for them. I'm naturally biased, but I genuinely believe New York is the greatest city in the world and wish for every visitor to this city to think the same. In this article, I'll share my top things to do in New York as well as highlight the best places to stay in The Big Apple. While many people opt to spend just a weekend, I recommend staying 5-7 days if you can. With 5 boroughs to explore and many exciting neighborhoods to get to know, I advise staying for longer if time allows. Best Areas to Stay in New York Quick Look: Best Areas to Stay in New York Theater District: Best Place to Stay in New York for Your First Time If you're a first-time visitor to New York, chances are you're coming to enjoy the most popular tourist attractions including Times Square, Rockefeller Center, and Radio City Music Hall. You may also be interested in checking out a Broadway show or trying out some iconic New York food. The Theater District is the best neighborhood in New York if these are your goals, and is also my top recommendation for where to stay in New York's city center overall. The subway station at Times Square is the largest station in the entire network, but if public transit isn't your cup of tea, taxis are also easy to find in this area. If you're looking for places to stay in New York for groups, the proximity to the Times Square subway station is advantageous and makes for a great, central meeting point. The Theater District is amongst the liveliest neighborhoods in New York. If you've ever wondered why New York is known as "the city that never sleeps", you're sure to find out by staying here. Best Places to Stay in the Theater District The Theater District is one of the best places to stay in New York's center, but due to the tourist-heavy clientele, the prices in the area are high. That being said, if it's your first time in New York, and you're able to, don't be shy to splurge a little! 1. Courtyard by Marriott New York Manhattan/Central Park: The location of this hotel is outstanding and you'll be thankful you're not immediately adjacent to Times Square. Rooms contain a fridge and a work desk for those looking to get some work done during their trip. 2. Hard Rock Hotel New York: A 5-star hotel, the Hard Rock is well-established amongst hotel chains. This location near Times Square includes breakfast with a wide variety of options. 3. Margaritaville Resort Times Square: The staff speaks a wide variety of languages and rooms include a desk and safe. The resort also features an outdoor swimming pool which is a refreshing way to start a day of exploring. 5 Top Things To Do in the Theater District 1. Times Square: This one needs no introduction – is there any first-time visitor who hasn't gone to Times Square? 2. Rockefeller Christmas Tree: Set up for viewing between late November and early January, the Rockerfeller Christmas Tree is amongst the most iconic treasures of New York and is a must-see if visiting around the holiday period. 3. Museum of Modern Art (MOMA): Another first-time visitor favorite, the Museum of Modern Art is centrally located. 4. Radio City Music Hall: Catch the Rockettes at Radio City Music Hall and experience this classic New York sensation. 5. Madame Tussauds: At the south end of the Theater District, the Madame Tussauds wax museum lets you meet all the New York celebrities you could ever wish to see (don't count on getting any signatures though!). Where to Eat and Drink in the Theater District The Theater District offers everything a first-time visitor needs when considering where to stay in New York, and food and drink are no exception thanks to the many choices in the area. 1. The Counter: A personal favorite of mine, The Counter is a gourmet hamburger shop. They provide vegetarian and vegan options in addition to standard burger fare. Beer and wine are served. 2. Flûte Champagne Bar: Another personal favorite of mine, this venue is a (you guessed it) champagne bar with a great cocktail menu as well. A perfect spot to enjoy a romantic evening and 2-for-1 happy hour specials on Tuesdays make this bar one of the best. 3. 99 Cent Fresh Pizza: The rumors are true, it is possible to get pizza for $1 in New York! Many of the "dollar pizza" shops (as they're so-called) are of questionable quality, but this place offers consistent quality for the price. Your wallet will thank you later! East Village: Best Area in New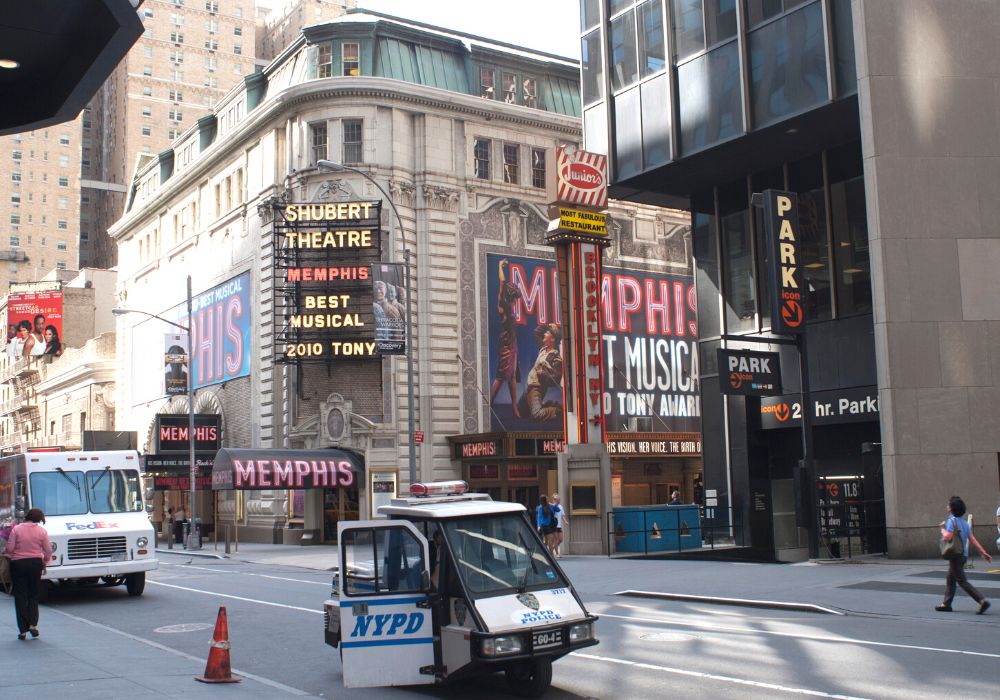 New York has made such an impact on the world, there's no doubt that it deserves the nickname "microcosm of the universe"! However, a destination of such magnitude begs the question of where to stay when visiting.
I've lived in New York since 2015 and can't imagine living anywhere else. I'm often told by travelers that visiting New York is a dream vacation for them. I'm naturally biased, but I genuinely believe New York is the greatest city in the world and wish for every visitor to this city to think the same.
In this article, I'll share my top things to do in New York as well as highlight the best places to stay in The Big Apple. While many people opt to spend just a weekend, I recommend staying 5-7 days if you can. With 5 boroughs to explore and many exciting neighborhoods to get to know, I advise staying for longer if time allows.
Best Areas to Stay in New York
Quick Look: Best Areas to Stay in New York
Theater District: Best Place to Stay in New York for Your First Time
If you're a first-time visitor to New York, chances are you're coming to enjoy the most popular tourist attractions including Times Square, Rockefeller Center, and Radio City Music Hall. You may also be interested in checking out a Broadway show or trying out some iconic New York food.
The Theater District is the best neighborhood in New York if these are your goals, and is also my top recommendation for where to stay in New York's city center overall.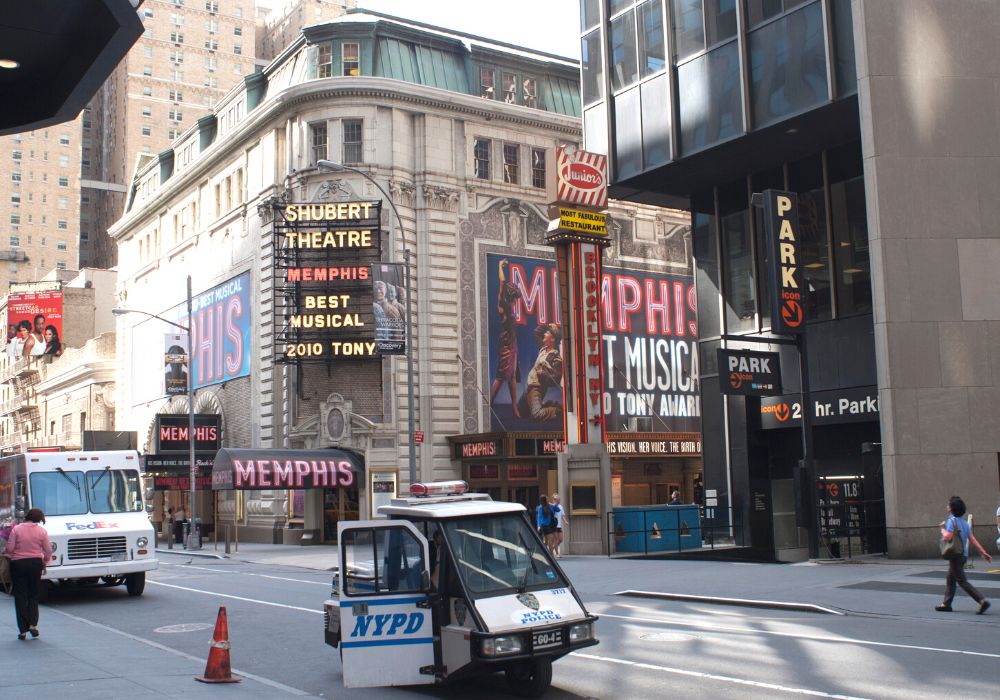 The subway station at Times Square is the largest station in the entire network, but if public transit isn't your cup of tea, taxis are also easy to find in this area. If you're looking for places to stay in New York for groups, the proximity to the Times Square subway station is advantageous and makes for a great, central meeting point.
The Theater District is amongst the liveliest neighborhoods in New York. If you've ever wondered why New York is known as "the city that never sleeps", you're sure to find out by staying here.
Best Places to Stay in the Theater District
The Theater District is one of the best places to stay in New York's center, but due to the tourist-heavy clientele, the prices in the area are high. That being said, if it's your first time in New York, and you're able to, don't be shy to splurge a little!
1. Courtyard by Marriott New York Manhattan/Central Park: The location of this hotel is outstanding and you'll be thankful you're not immediately adjacent to Times Square. Rooms contain a fridge and a work desk for those looking to get some work done during their trip.
2. Hard Rock Hotel New York: A 5-star hotel, the Hard Rock is well-established amongst hotel chains. This location near Times Square includes breakfast with a wide variety of options.
3. Margaritaville Resort Times Square: The staff speaks a wide variety of languages and rooms include a desk and safe. The resort also features an outdoor swimming pool which is a refreshing way to start a day of exploring.
5 Top Things To Do in the Theater District
1. Times Square: This one needs no introduction – is there any first-time visitor who hasn't gone to Times Square?
2. Rockefeller Christmas Tree: Set up for viewing between late November and early January, the Rockerfeller Christmas Tree is amongst the most iconic treasures of New York and is a must-see if visiting around the holiday period.
3. Museum of Modern Art (MOMA): Another first-time visitor favorite, the Museum of Modern Art is centrally located.
4. Radio City Music Hall: Catch the Rockettes at Radio City Music Hall and experience this classic New York sensation.
5. Madame Tussauds: At the south end of the Theater District, the Madame Tussauds wax museum lets you meet all the New York celebrities you could ever wish to see (don't count on getting any signatures though!).
Where to Eat and Drink in the Theater District
The Theater District offers everything a first-time visitor needs when considering where to stay in New York, and food and drink are no exception thanks to the many choices in the area.
1. The Counter: A personal favorite of mine, The Counter is a gourmet hamburger shop. They provide vegetarian and vegan options in addition to standard burger fare. Beer and wine are served.
2. Flûte Champagne Bar: Another personal favorite of mine, this venue is a (you guessed it) champagne bar with a great cocktail menu as well. A perfect spot to enjoy a romantic evening and 2-for-1 happy hour specials on Tuesdays make this bar one of the best.
3. 99 Cent Fresh Pizza: The rumors are true, it is possible to get pizza for $1 in New York! Many of the "dollar pizza" shops (as they're so-called) are of questionable quality, but this place offers consistent quality for the price. Your wallet will thank you later!
East Village: Best Area in New York City for Nightlife
I've traveled the world to experience nightlife and I firmly believe that NYC has the best nightlife in the world. Part of the reason I say that is due to the great diversity of nightlife on offer.
Whether you fancy nightclubs with $18 drinks, grungy dive bars with $5 beers, or jazz bars hosting some of the best musicians on the planet, New York is sure to set the scene for your ideal night out.
If you're looking for heavily touristed nightclubs with long lines, head to the Meatpacking District. However, if you want to avoid the long lines and hassles of these crowded venues, the East Village is definitely the best place to stay in New York for nightlife.
Bars are unpretentious and drinks are reasonably priced compared to many other areas of Manhattan.
Best Places to Stay in East Village
Since tourists usually don't stay in the East Village, accommodations here offer great value for the money when looking for where to stay in New York. It's an ideal place to stay if you're looking to base yourself somewhere a little quieter that's still close to local nightlife.
1. Standard Hotel: The Standard features an outstanding on-site restaurant and bar, designer toiletries for guests, and a bathrobe.
2. 211-3 Prime Union Square Large 1BR: For those who prefer to rent apartments, this accommodation is in a great location.
3. The Bowery Hotel: The Bowery Hotel features floor-to-ceiling windows in every room and complimentary bike rentals. Perfect for those interested in biking across one of the bridges.
5 Top Things To Do in East Village
The East Village is primarily a neighborhood for nightlife. Here are some things to do while you're in this neighborhood:
1. Russian & Turkish Baths: Especially fun if you're visiting during colder months, these baths offer a spa experience in hot tubs.
2. Webster Hall: The oldest modern nightclub in the world. Live music is plentiful and an overall great time is guaranteed here.
3. Eat Street Food: Street food can be found all over New York, and anyone who's out enjoying nightlife till late knows that street food is a mandatory ending to the evening.
4. Union Square Greenmarket: A farmers market operating on Mondays, Wednesdays, Fridays, and Saturdays, this is a great opportunity to support local businesses from the New York Metro area.
5. Watch a Burlesque Show: If you're coming to enjoy the nightlife of the city that never sleeps, why not try something a little off the beaten path? Some bars, such as Slipper Room, are fun stops to switch up your average night out.
Where to Eat and Drink in East Village
Since the East Village is primarily a base for nightlife in New York, it's not exactly a foodie hot spot. However, there are some hole-in-the-wall places that are popular amongst New Yorkers, and a few incredible bars worth featuring.
1. Punjabi Deli: A hidden gem in Manhattan, that serves super authentic eats. Don't expect a fancy environment (it is a deli, after all), but do expect incredible food.
2. The Belfry: Best known for its original pickleback flavors, The Belfy is a favorite amongst New Yorkers for its friendly staff and social atmosphere.
3. Beauty Bar: This spot is a crowd favorite amongst New Yorkers. Earlier in the evening, you can get your nails done while enjoying some drinks, and later on, dance away to 90's dance music until 4 am!
Williamsburg: Coolest Place to Stay in New York
Thanks to its hipster vibe, Williamsburg is probably the coolest place among New York neighborhoods. Artists are spread between Williamsburg and Bushwick, so if you are interested in checking out independent creators, these are great locations to go look.
Williamsburg has a lot of coffee shops, bars, and restaurants. Locals who prefer the Brooklyn vibe over Manhattan will frequently visit Williamsburg. If you're trying to figure out where to stay in New York with parking, you'll likely have better luck in Brooklyn than in Manhattan as well.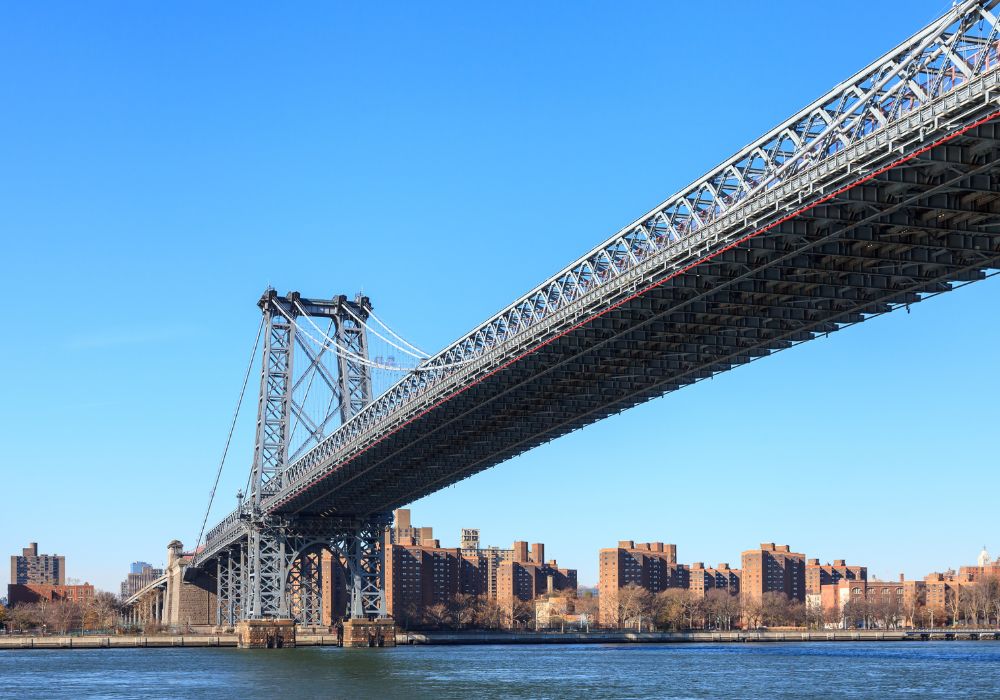 Finally, if you're interested in snapping great photos of the Manhattan skyline, you have to be outside of Manhattan! So much like Long Island City, Williamsburg is a great place to get those shots.
Best Places to Stay in Williamsburg
Despite Williamsburg being a popular place to stay in New York, prices are a little more affordable here than prices in the Theater District or elsewhere in Midtown.
1. Pod Brooklyn: Pod Brooklyn contains a beautiful courtyard and a lounge space for guests who may be trying to get work done. The breakfast serves international cuisine.
2. Penny Williamsburg: Offering complimentary bikes, this is a perfect location for guests who would like to bike the Williamsburg Bridge. Some rooms include a kitchenette with a fridge and microwave as well.
3. Athenas Domus1: For guests who would prefer to stay in an apartment, the 2-bedroom Athenas Domus1 has an 8.8 rating on Booking.com and is ideal for those looking for a little more space.
5 Top Things To Do in Williamsburg
Williamsburg has a good combination of indoor and outdoor activities without the crowds that come with Manhattan. I've highlighted some great outdoor activities to try in Williamsburg below:
1. Bike the Williamsburg Bridge: A popular activity for locals and tourists alike, the many bridges connecting Manhattan to Brooklyn are a great opportunity to get some exercise (and photos).
2. McCarren Park: Central Park tends to be a little too busy for some (myself included), and the parks in Brooklyn offer some relief from the crowds. McCarren Park in Williamsburg is smaller than Central Park and provides visitors with a slice of greenery and calmness in the city.
3. Smorgasburg: A combination of "Smorgasborg" and "Williamsburg", Smorgasburg is an open-air food market that occurs on Saturdays in Williamsburg. It's an awesome opportunity for the foodies.
4. Take the Ferry: If you're staying in Williamsburg, you can take the same ferry that runs out of Long Island City for some outstanding pictures of Manhattan from the river. Make sure to get a seat on the top deck!
5. Barcade: If you're looking for a brief break from the hustle and bustle of New York streets, Barcade is an arcade-style bar. Come with a couple of friends for a great time.
Where to Eat and Drink in Williamsburg
Williamsburg is a hot spot for nightlife in New York with a vibe that's totally distinct from Manhattan, (and even the East Village which is a mere 1 stop away on the L train).
1. Alligator Lounge: Skee ball, karaoke, and perhaps most importantly of all: a free personal pizza with every drink… Alligator Lounge offers something for everyone.
2. Night of Joy: A cocktail bar in Williamsburg, this 'joyous' spot has an awesome cocktail menu with a rooftop to boot.
3. House of Yes: One of the most well-known clubs in New York, House of Yes is a space of expression, connection, and creativity. Costumes are highly encouraged.
Upper West Side: Best for Families
The Upper West Side is easily the best area to stay in New York for families and is a popular neighborhood for locals who have children. It's a little slower-paced than other parts of Manhattan while still offering all the conveniences a tourist would want. The result is that you'll feel quite at home walking around with your kids or even with strollers.
The Upper West Side is conveniently located on the 1-2-3 subway lines which run the whole West Side. This means you're able to visit major tourist attractions from the American Museum of Natural History to Central Park to the World Trade Center without having to transfer subway lines.
In fact, if you are looking for a cultural experience to enjoy with your family, Lincoln Center is located in the Upper West Side, and Carnegie Hall is located just a stone's throw farther downtown into Midtown West. Both venues have frequent performances in classical music, opera, and ballet, amongst a range of other genres.
Best Places to Stay in the Upper West Side
The Upper West Side offers accommodations that are great for families traveling with kids. Here are some select options:
1. Hotel Lucerne: This hotel is a mere 500 ft from the 1 train, and 1,000 feet from the American Museum of Natural History. True to the Upper West Side family-oriented nature, this hotel also offers childcare services.
2. Hotel Beacon: If you're traveling with kids and need some kitchenette facilities, Hotel Beacon is a great choice. There's also a business center if you're trying to get through some work during your stay.
3. Beautifully Furnished 1BR Central Park West: If you prefer staying in an apartment, this option features a fully equipped kitchen. It's also within walking distance from Central Park.
5 Top Things To Do in the Upper West Side
The Upper West Side has some really unique experiences, all of which are kid friendly!
1. Central Park Bike Rides: If the weather is nice, I strongly recommend renting bikes to ride around Central Park. Vendors can be found easily in and around the Central Park entrances.
2. Lincoln Center: A cultural icon of New York, Lincoln Center hosts performances across myriad genres. Be sure to wear appropriate clothing (avoid sweats and cut-off pants).
3. American Museum of Natural History: Dinosaurs, geology, marine biology – you name it! Bring the kids for an educational treat.
4. The Cloisters at the Met: If you're willing to take the A train all the way up to the end of the line, you'll find a beautiful garden leading up to the Cloisters. Missed by the majority of tourists, I've personally taken a dozen visiting friends and family to this incredible museum. Because of the distance from midtown Manhattan, it's an excellent choice if you're looking for some peace and quiet that cities normally don't offer.
5. Riverside Park: Need a break from the hustle and bustle of Manhattan? Take a stroll in Riverside Park. Far less crowded than Central Park, and you'll have a great chance to relax.
Where to Eat and Drink in the Upper West Side
The Upper West Side isn't known for its food, but that's not to mean there aren't some incredible restaurants to be found here:
1. Spaghetti Tavern: True to its name, this spot serves all manner of spaghetti. Great for the kids!
2. Chapati House: Come here for casual Indian food at great prices. A must-visit for street-style Indian food in the Upper West Side.
3. Awash Ethiopian Restaurant: Incredible Ethiopian food in the Upper West Side. If you've never tried Ethiopian cuisine before, this is a great place to start.
Long Island City: Best Place in New York on a Budget
While uncommon for tourists to stay in Queens, it's the exact reason why it's considerably more budget-friendly for those seeking a stay in this world-class city without spending a lot of money.
You'll definitely find cheap places to stay in New York here. In fact, I personally live in Queens to avoid the masses of crowds in Manhattan (and corresponding prices) while still reaping all the benefits of living in New York.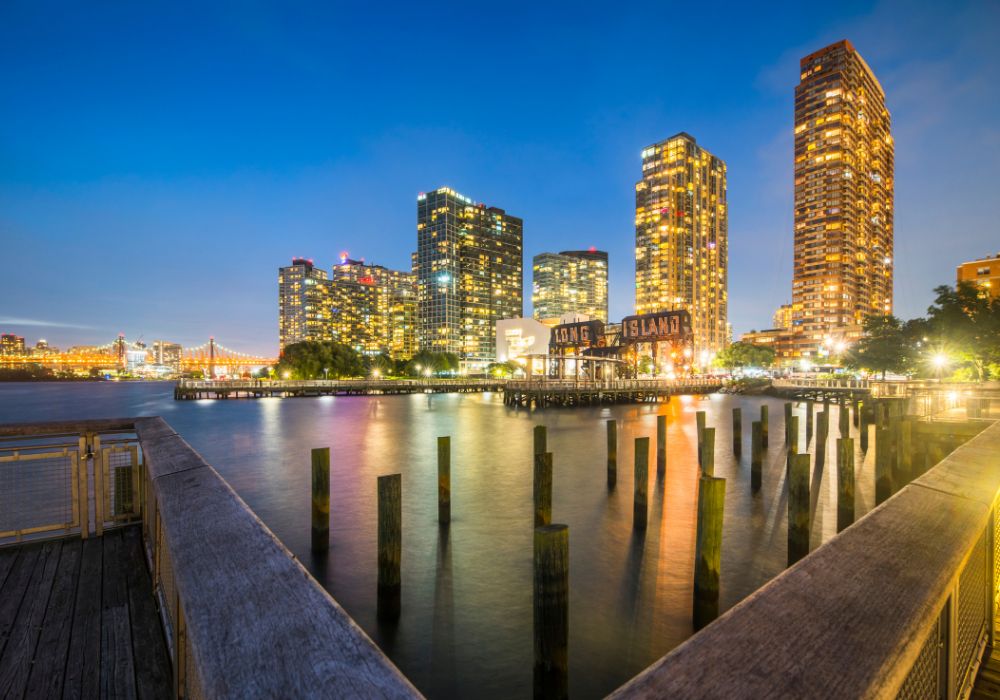 Long Island City (known by locals as LIC) is in Western Queens, which still provides convenient access to standard tourist attractions in Manhattan if you're willing to spend a little extra time on the subway to reach them.
Long Island City is a great mixture of homely residential and foodie heaven. The Long Island City Waterfront has incredible pictures of the Manhattan skyline and offers myriad bars and restaurants to enjoy as well. In fact, my fiancée and I did our engagement shoot at the Long Island City Waterfront.
Best Places to Stay in Long Island City
If your top priority when searching for a place to stay in New York is to stick to a budget, Long Island City is a great option. I've highlighted a few inexpensive accommodations here:
1. The Local NY: As a big solo traveler, I love staying in hostels, and The Local NY is a great option. This hostel includes a common kitchen and a bar on-site to meet other travelers in the hostel.
2. Aloft Long Island City: For those looking to stick to certain loyalty programs, the Aloft offers comfortable stays at reasonable prices.
3. Big Bedroom Apartment with Free Parking: If you prefer an apartment, this option is close to the Court Square subway station and even offers free parking!
5 Top Things To Do in Long Island City
The downside to staying in Manhattan is that you don't get any views of the Manhattan skyline. As Long Island City is on the western edge of Queens, staying here means you'll get the best shots of the famous New York silhouette.
1. Enjoy the Long Island City Waterfront: The Long Island City Waterfront is a hot spot for outstanding restaurants and bars. When the weather is nice, picnic here with a bottle of wine. It'll be far less crowded here than in more popular tourist locales such as Central Park. Even though I live here, I still love to walk along the water to capture stunning pictures of Manhattan.
2. Take the Ferry: Usually, the Ferry costs your standard Metrocard fare and you can capture some awesome pictures of Manhattan's skyline and the Brooklyn Bridge for the same fare as a subway ride. There are 2 stops along the Long Island City waterfront. Williamsburg and Long Island City are definitely the best neighborhoods in New York for the Manhattan views.
3. Lost in Paradise Rooftop: This rooftop cocktail bar offers stunning views of the Manhattan skyline. Come check out Lost in Paradise at night to see the city that never sleeps in lights.
4. Bike the Queensboro Bridge: One of New York's many bridges, the Queensboro Bridge connects Manhattan and Queens. Find a bike rental agency to bike across and see the city from a different perspective.
5. Rock Climbing at The Cliffs: It's easy for those who live near national parks to enjoy these sorts of outdoor activities, but for those who live in cities, there are thankfully climbing gyms. To check out one of New York's most popular climbing gyms, try out The Cliffs.
Where to Eat and Drink in Long Island City
Long Island City has exploded in the last 15 years, and the hospitality scene has grown with it. Here are some of my personal favorites:
1. Dutch Kills: This cocktail bar is sought out by many New Yorkers. In fact, it was rated as having the #1 Old Fashioned in New York. You'll have to try for yourself…
2. Ooi: This Japanese restaurant serves outstanding sushi and has a full bar that's home to a wide variety of sake selections.
3. Tikka Masala: An Indian restaurant in LIC with hard-to-find Indian dishes, Tikka Masala is a BYOB which means you enjoy an evening while staying on a budget.
4. Levante: For gourmet pizza, try out Levante, which also offers a selection of original negroni flavors.
FAQs About the Best Areas to Stay in New York
Here are answers to some commonly asked questions about where to stay in New York:
What area of New York is best for tourists?
In terms of tourist attractions, the best area in New York for tourists is Times Square. It's the most central location for access to the subways and is without a doubt one of the most iconic locations in New York.
Where should I avoid staying? (Where NOT to stay in New York)
As a tourist, there aren't any reasons to stay in the Bronx, Staten Island, or close to JFK Airport (unless you are staying overnight for an early flight). Tourists who stay in those locations are likely trying to save money. If you're traveling on a budget, you're far better off staying in Western Queens in neighborhoods such as Astoria or Long Island City.
What is the safest area to stay in in New York City?
New York is overall a very safe city and all of the neighborhoods listed in this article would be considered safe neighborhoods in New York. As long as you avoid going to the South Bronx, you're unlikely to run into any trouble. (Visits to Yankees Stadium, the Botanical Garden, or the Bronx Zoo are totally safe.)
Where to stay in New York for shopping?
Shopping is great along 5th Ave in Midtown, and many high-end brands have store locations in this area. Another possibility is to go to SoHo, which also has a strong nightlife scene if you're interested in both shopping and nightlife.
What is the nicest area of New York City?
The word "nicest" can be defined differently by lots of people, but if you're looking for clear areas of New York, Midtown certainly tends to be the most well-maintained area. In terms of the nicest residences, "Billionaire's Row" is along Central Park West, though it won't be easy (or cheap!) to find places to stay here.
How many days do you need in New York?
To visit the main tourist attractions, you could probably see a lot in just a weekend trip. "Hop-on Hop-off" bus tours can help you see much of the City without worrying too much about transiting between attractions. However, to do an exhaustive visit including things such as museums and tours, I recommend you plan for between 7-10 days.
In Conclusion
Having traveled to over 40 countries and over 30 US states, I really do believe that New York is the greatest place on the planet. If you're reading this article and are looking for where to stay in New York, I hope you'll find the other activities on here a lot of fun! I hope that once you've had the chance to experience this destination that many dream of, you'll agree with me that New York really is the greatest place in the world!
Feel free to reach out to me via my biography for contact info if you have further questions.