What A 14-Day Quarantine in China Was Like
By Shawn Wright, Teacher in Nanjing 2019 – 2020 My experience of mandatory quarantine in China wasn't nearly as bad as you might think. It all began in early March when I flew from Edinburgh airport to Bangkok via Helsinki. The first part of my journey went very smoothly, and there weren't even any temperature checks before boarding either flight. I was planning on spending 5 days in Bangkok before returning to China, partly for a mini-break and partly because Thailand was one of the only countries that wasn't closing its borders to passengers going to and from China. The health checks began when I arrived at Bangkok airport for my flight to Shanghai. First of all, everyone was asked to complete a health questionnaire whilst waiting to check-in. The queue was long, likely with people desperate to get back home from their holidays on a flight that wasn't cancelled. The questionnaire they gave us asked basic information such as: Travel history past 14 days Whether or not I had gathered in any large crowds Whether I had come into contact with anyone diagnosed with COVID-19 Whether I was showing any symptoms myself Whether I had visited any 'high risk' countries (which at the time was Japan, Iran, Italy, South Korea and France) After waiting in line for a while, I finally managed to get on the plane. Luckily, there were 5 or 6 other westerners on the same flight and, very conveniently, we'd all been seated together at the back of the plane. Before the flight took off, they sterilised the cabin with disinfectant which was blown out of the air vents. The cabin crew wore their regular uniforms, with the addition of medical gloves and face masks. They still offered the usual in-flight services like food and drinks, although we weren't provided with pillows or blankets for hygiene reasons. Apart from that, the flight was quite normal. Some of the Chinese passengers were equipped with full protective gear including goggles, gloves, masks and in some cases, what looked like a massive plastic bag. But for the majority, face masks were enough. After we landed in Shanghai, the more serious checks began. We were kept on the flight for around an hour before disembarking. Even then, they were only letting everyone off in small groups of about 3 or 4 at a time. In the meantime, we had to remain seated until they called out our seat numbers. I'm not entirely sure what order they were doing this in as, despite being at the back of the plane, the other westerners and I were some of the first to disembark. Upon leaving the plane, we were greeted by medical staff dressed in full hazmat gear. They recorded our temperature and took note of our seat numbers before letting us into the terminal. Once in the terminal, we then had to wait for around 30-45 minutes whilst more passengers disembarked. Eventually, those of us in the terminal were herded onto a bus and taken to a makeshift health screening area which every passenger had to go through. Here, we were asked in more detail about our travel history over the past 14 days. Finally, once they determined whether or not we were at risk of having the disease, they put a sticker on our passports, which signified the following: A green sticker meant you were safe and free to self-quarantine in your own apartment for 14 days A yellow sticker meant that you had either visited a high-risk area or had been in contact with an infected person, and were therefore required to undergo a 14-day quarantine at a designated facility A red sticker meant that you were showing symptoms for COVID-19 and were required to be sent to the hospital immediately Thankfully, I was given the green sticker and was free to proceed to immigration control and pick up my luggage as normal. The whole process from the flight landing to getting out of the airport took nearly 6 hours, so it was around midnight before I was fully free to go. Since it was too late for me to get a train back to Nanjing, I managed to book a hotel and got a taxi from the airport into Shanghai. Because I had my green sticker, I was lucky enough to be able to stay overnight in a hotel and travel back to Nanjing hassle-free to self-quarantine. Without the green sticker, I would probably have had trouble finding a place to stay. The next morning, I grabbed some breakfast and hopped on the high-speed train back to Nanjing. The first night was fine; I was allowed to self-quarantine without any problems. However, the following day I received a call from my school to tell me that the police were now asking me to quarantine at a designated facility. This was due to the fact that a number of other countries, including the UK, had been added to the list of 'high-risk' countries since my flight landed. This meant that all people travelling from these countries were required to go through official quarantine. So, I packed my bags before being collected by some police officers and medical staff assigned to take me to the quaranti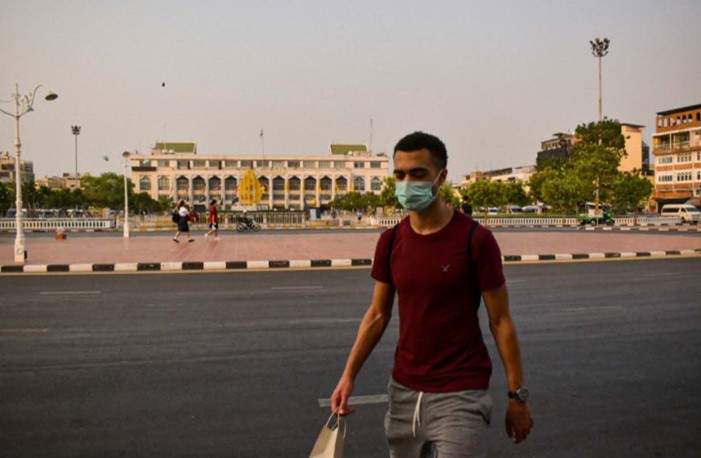 My experience of mandatory quarantine in China wasn't nearly as bad as you might think. It all began in early March when I flew from Edinburgh airport to Bangkok via Helsinki. The first part of my journey went very smoothly, and there weren't even any temperature checks before boarding either flight.
I was planning on spending 5 days in Bangkok before returning to China, partly for a mini-break and partly because Thailand was one of the only countries that wasn't closing its borders to passengers going to and from China.
The health checks began when I arrived at Bangkok airport for my flight to Shanghai. First of all, everyone was asked to complete a health questionnaire whilst waiting to check-in. The queue was long, likely with people desperate to get back home from their holidays on a flight that wasn't cancelled. The questionnaire they gave us asked basic information such as:
Travel history past 14 days
Whether or not I had gathered in any large crowds
Whether I had come into contact with anyone diagnosed with COVID-19
Whether I was showing any symptoms myself
Whether I had visited any 'high risk' countries (which at the time was Japan, Iran, Italy, South Korea and France)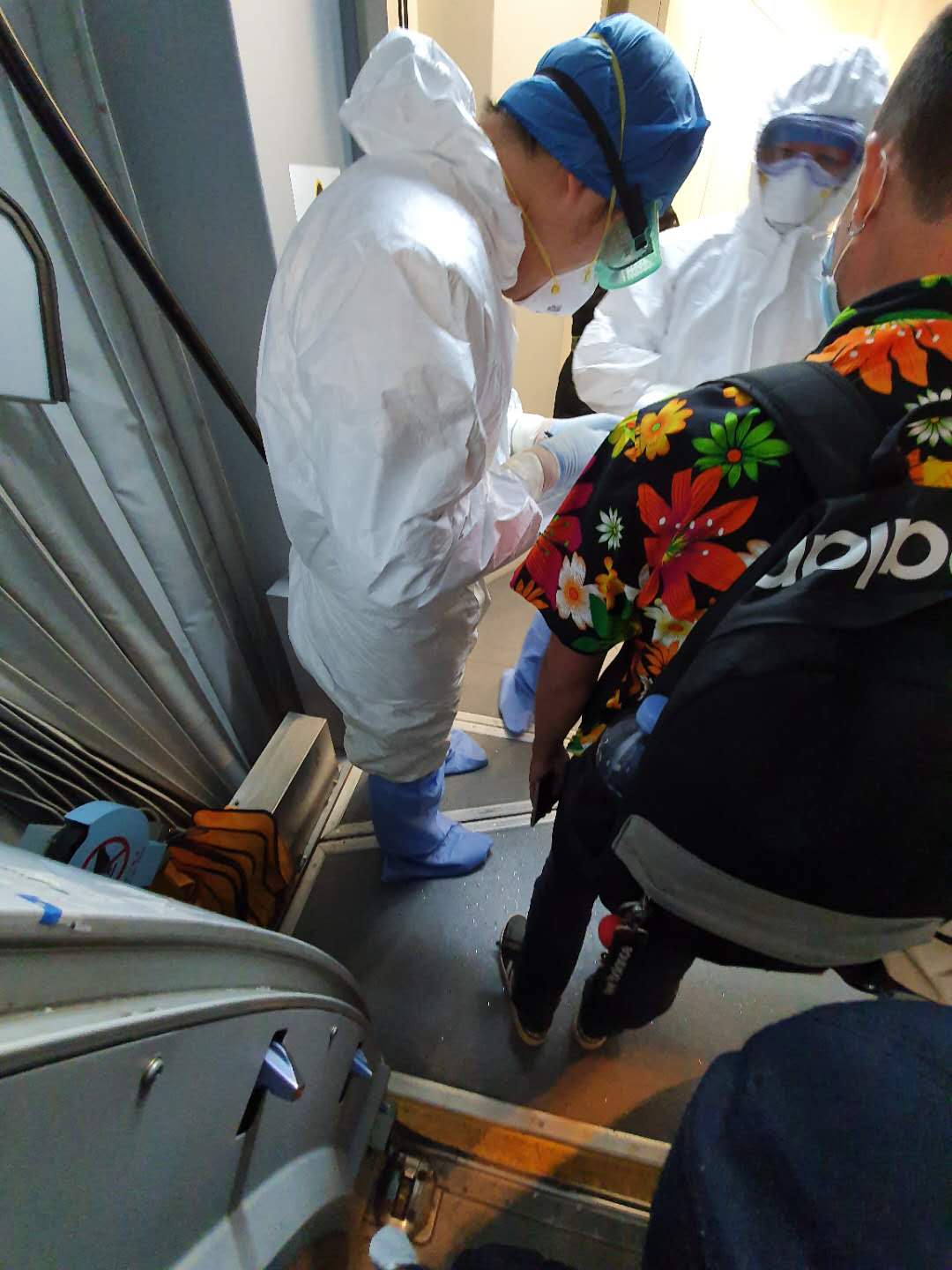 After waiting in line for a while, I finally managed to get on the plane. Luckily, there were 5 or 6 other westerners on the same flight and, very conveniently, we'd all been seated together at the back of the plane. Before the flight took off, they sterilised the cabin with disinfectant which was blown out of the air vents. The cabin crew wore their regular uniforms, with the addition of medical gloves and face masks. They still offered the usual in-flight services like food and drinks, although we weren't provided with pillows or blankets for hygiene reasons. Apart from that, the flight was quite normal. Some of the Chinese passengers were equipped with full protective gear including goggles, gloves, masks and in some cases, what looked like a massive plastic bag. But for the majority, face masks were enough.
After we landed in Shanghai, the more serious checks began. We were kept on the flight for around an hour before disembarking. Even then, they were only letting everyone off in small groups of about 3 or 4 at a time. In the meantime, we had to remain seated until they called out our seat numbers. I'm not entirely sure what order they were doing this in as, despite being at the back of the plane, the other westerners and I were some of the first to disembark. Upon leaving the plane, we were greeted by medical staff dressed in full hazmat gear. They recorded our temperature and took note of our seat numbers before letting us into the terminal.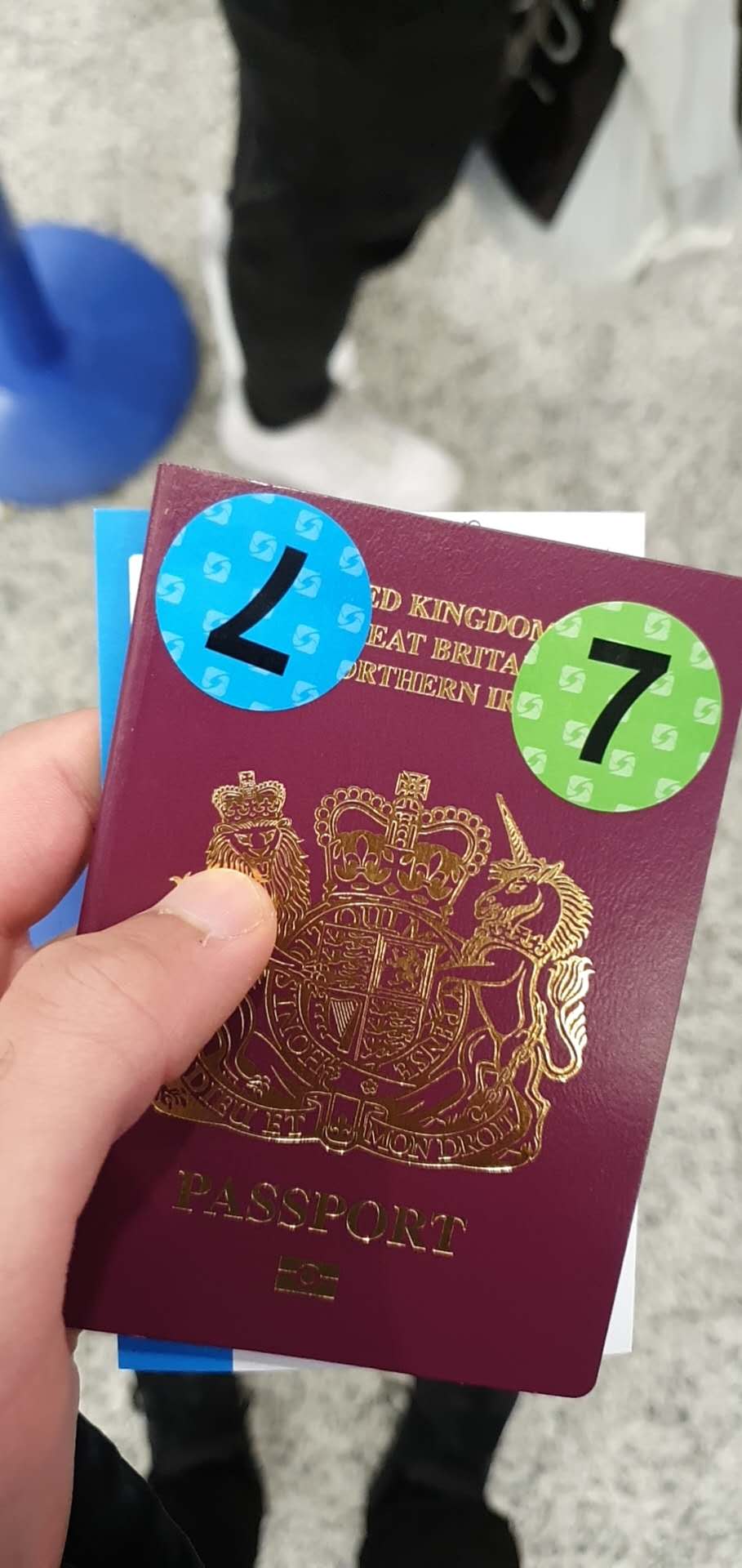 Once in the terminal, we then had to wait for around 30-45 minutes whilst more passengers disembarked. Eventually, those of us in the terminal were herded onto a bus and taken to a makeshift health screening area which every passenger had to go through. Here, we were asked in more detail about our travel history over the past 14 days. Finally, once they determined whether or not we were at risk of having the disease, they put a sticker on our passports, which signified the following:
A green sticker meant you were safe and free to self-quarantine in your own apartment for 14 days
A yellow sticker meant that you had either visited a high-risk area or had been in contact with an infected person, and were therefore required to undergo a 14-day quarantine at a designated facility
A red sticker meant that you were showing symptoms for COVID-19 and were required to be sent to the hospital immediately
Thankfully, I was given the green sticker and was free to proceed to immigration control and pick up my luggage as normal. The whole process from the flight landing to getting out of the airport took nearly 6 hours, so it was around midnight before I was fully free to go. Since it was too late for me to get a train back to Nanjing, I managed to book a hotel and got a taxi from the airport into Shanghai. Because I had my green sticker, I was lucky enough to be able to stay overnight in a hotel and travel back to Nanjing hassle-free to self-quarantine. Without the green sticker, I would probably have had trouble finding a place to stay.
The next morning, I grabbed some breakfast and hopped on the high-speed train back to Nanjing. The first night was fine; I was allowed to self-quarantine without any problems. However, the following day I received a call from my school to tell me that the police were now asking me to quarantine at a designated facility. This was due to the fact that a number of other countries, including the UK, had been added to the list of 'high-risk' countries since my flight landed. This meant that all people travelling from these countries were required to go through official quarantine. So, I packed my bags before being collected by some police officers and medical staff assigned to take me to the quarantine facility. Of course, they also wanted to retrace my journey since arriving in Shanghai the day before, asking:
My flight and seat numbers since leaving Edinburgh
My seat number on the train from Shanghai to Nanjing
The hotel I stayed at in Shanghai
What time I got on the metro in Nanjing to get back to my apartment
How I travelled from the airport into Shanghai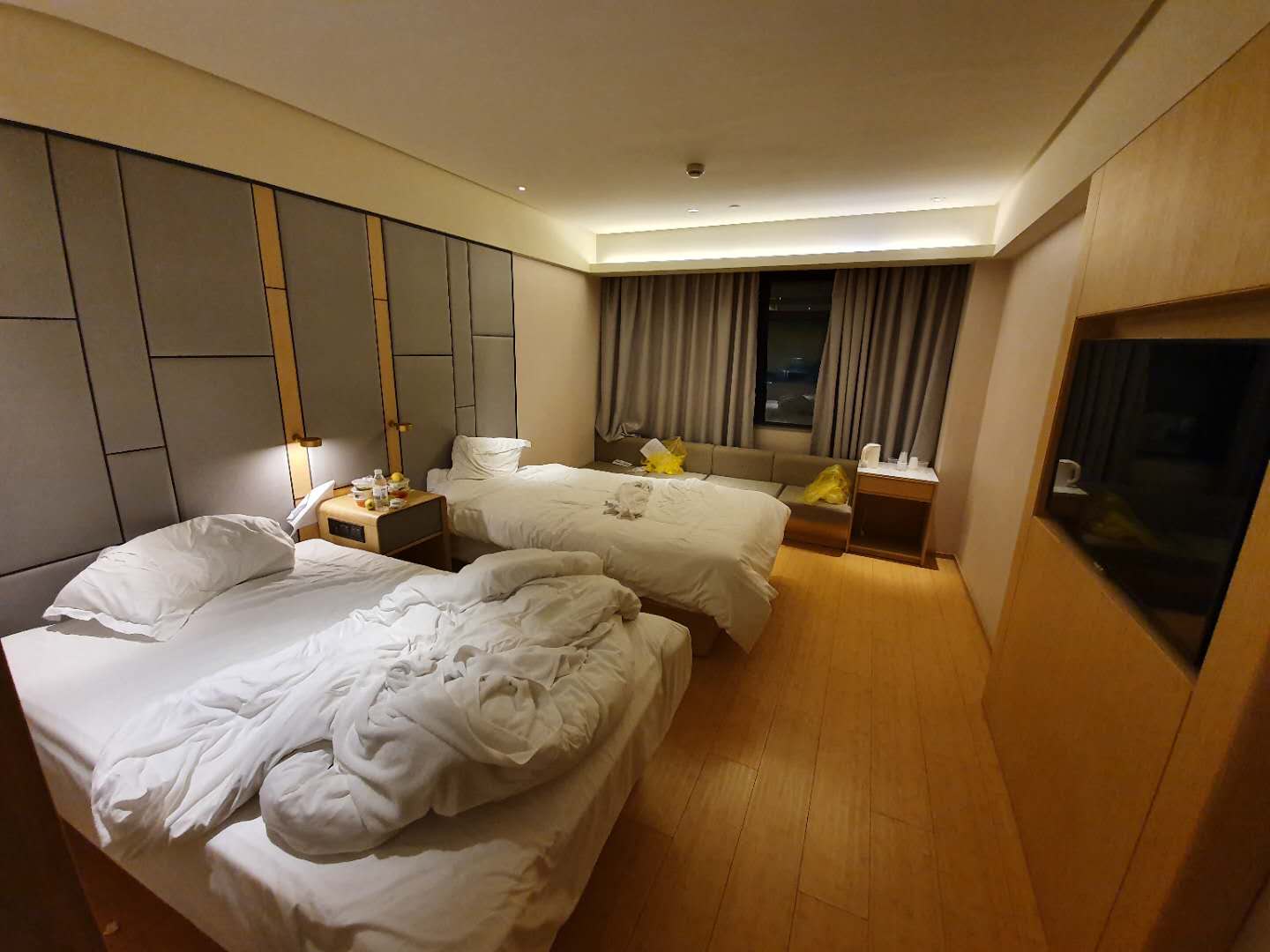 On the way to the quarantine facility, I wasn't really sure what to expect. But when I arrived, I was pleasantly surprised. The hotel I was assigned was actually very nice; the room had 2 beds, a big TV, a couch and a modern bathroom. I received breakfast, lunch and dinner at set times every day, although I wasn't given a choice in what I could eat, and I wasn't allowed to order deliveries. They would bring the meals up and leave them outside of my room whilst fully dressed in protective clothing. The food was okay; it wasn't terrible, but it did get a bit repetitive towards the end given that each meal came with plain rice.
I was required to check my temperature twice a day every day and report it back to the doctor in charge. I also had to get a throat swab twice over the course of the 14 days to test for COVID-19. This wasn't the most pleasant of experiences, but thankfully, I tested negative and received a certificate to prove it.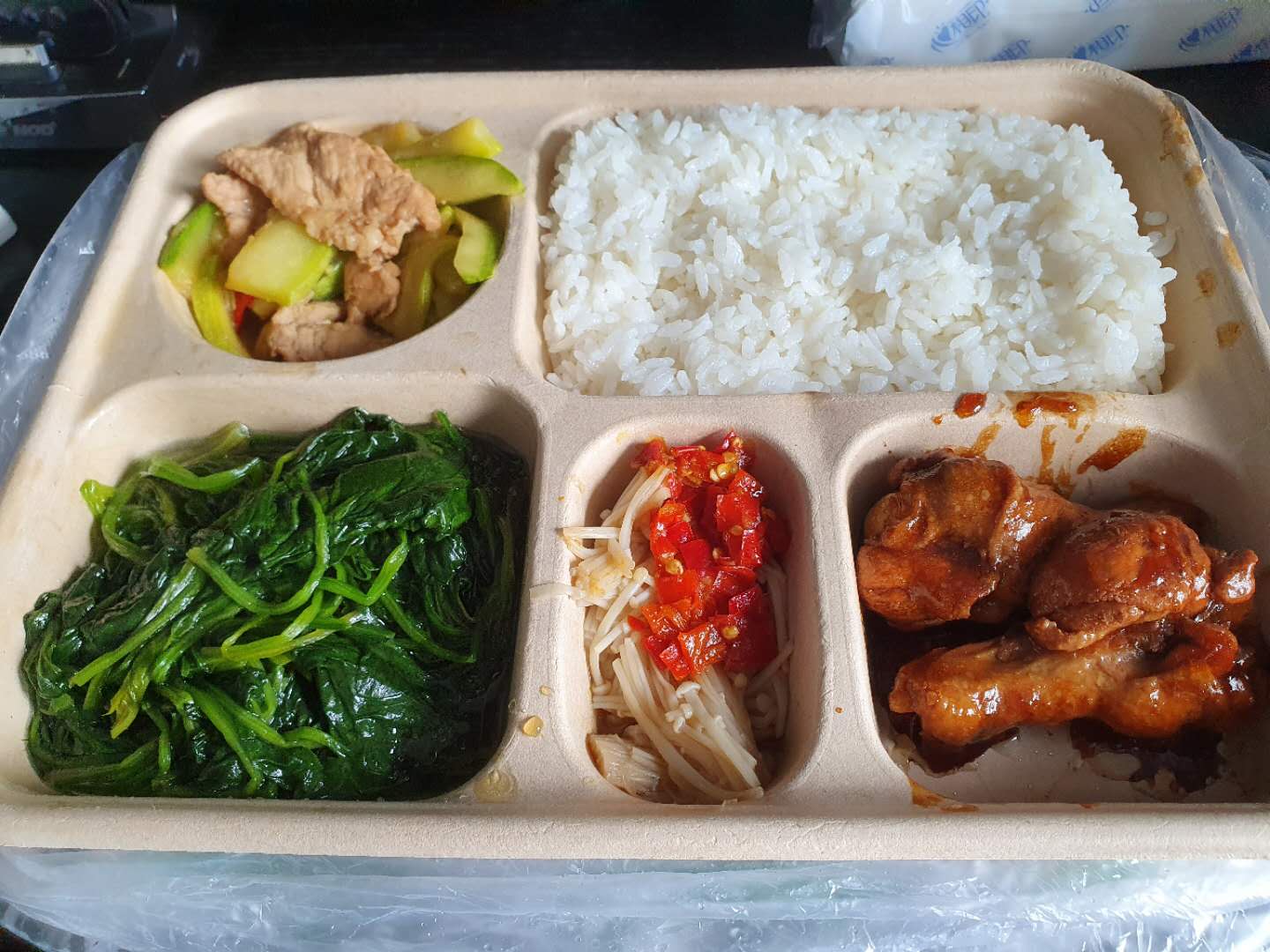 The 14-day quarantine wasn't so bad. The main thing I had to deal with was the boredom and the lack of human contact. Luckily, my room had good wi-fi, and my VPN was working, so I could binge on Netflix and talk to people back home. I would definitely recommend taking some books or games if you ever have to go through it though, as it can get quite lonely being by yourself for so long – especially if you have nothing to do.
For the last 5 days, we were moved to another hotel for some unknown reason. This new hotel was about as nice though, so it wasn't really a big deal.
The only main downside to all of this was that we were required to pay for the whole stay ourselves. Unfortunately, you don't get to choose how much you spend, so it can end up being relatively expensive. For me it cost around £500, but luckily my school agreed to reimburse the full amount, so it was fine.
After completing my quarantine period, I was handed my certificate to say that I'm healthy and was free to go on my way. The schools in my city are gradually sending students back to campus, however my classes aren't back yet, so I'm on an extended holiday with full pay. The majority of the other TEFL teachers from my school didn't make it back to China before the government decided to temporarily closed the borders to all foreigners, so my schedule will be changing for the upcoming semester.
Life in China is gradually getting back to normal; in Nanjing all of the parks, restaurants and bars have fully reopened. While we're still required to wear face masks out in public, apart from that things don't seem too bad here.
So, for now, it's time to relax a little bit and prepare for the upcoming semester. Hopefully, the world recovers as quickly as possible and life can go back to normal.