Warring sides agree to 24-hour ceasefire in Sudan
Parties in the Sudan armed conflict agreed to a 24-hour truce on Tuesday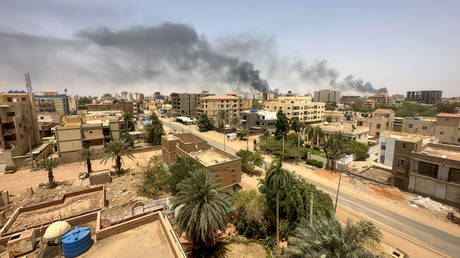 The Sudanese Armed Forces (SAF) and the rival paramilitary group Rapid Support Forces (RSF) agreed to a one-day ceasefire on Tuesday to allow for "safe passage of civilians and the evacuation of the wounded."
In a series of tweets, RSF Commander Mohamed Hamdan Dagalo said the "approval of a 24-hour armistice" had been reached following a conversation with US Secretary of State Antony Blinken and "outreach by other friendly nations."
He expressed the RSF's commitment to the truce while questioning the SAF's own willingness to follow through. Dagalo accused the SAF of violating an earlier ceasefire order and proceeding to bomb "densely populated areas from the air, endangering civilian lives."
He accused the SAF of a "flagrant violation" of international law and said the RSF awaits "further discussions with the US secretary of state."

The Sudanese army had earlier denied knowledge of the proposed armistice saying the RSF was planning to use the period to cover up for a "crushing defeat." Later, however, the SAF's top military officer, Shams al-Din Kabbashi, told the media that the army had approved the truce, which is expected to begin at 6pm local time.

Both parties agreed to a brief humanitarian pause on Sunday, but maintained the right to "respond in the event of transgressions." Sounds of heavy artillery and gunfire were still heard in various parts of the capital during that time and reportedly intensified on Monday.
Al Jazeera has reported that, as the beginning of Tuesday's agreed ceasefire nears, clashes were still going on near the presidential palace and other areas of the capital,

The armed conflict has so far killed at least 185 people and injured more than 1,800, UN envoy Volker Perthes said on Monday.

On Tuesday, Blinken told reporters in Japan that a convoy of US embassy vehicles had come under fire on Monday, with preliminary reports linking the attackers to the RSF. Blinken described the situation in Khartoum as "indiscriminate military operations" that are "recklessly endangering civilians, diplomats, including US personnel, and humanitarian personnel."

Josep Borrell, the European Union's foreign policy chief, also tweeted on Monday that the EU ambassador to Sudan "was assaulted in his own residency." The RSF denied being involved in the attack, blaming the SAF instead.

On Monday, SAF chief Abdel Fattah Al-Burhan branded the RSF a rebel organization and ordered its dissolution.