Walgreens Says it Will Not Send Abortion Pills Into Kansas
While pharmacy giant Walgreens recently indicated that it plans to obtain certification to sell the abortion medication Mifepristone in its stores across the United States, the company sent a letter to Kansas Attorney General Kris Kobach on Friday confirming that it has no plans to dispense the abortion pill in Kansas. The AG had written to Walgreens on Feb. 6 to inform the company that selling abortion pills in Kansas—or mailing such pills into the state—would be a federal crime. "I have become aware of your company's recently announced plan to provide abortifacients through its mail-order pharmacy business," Kobach wrote to Danielle Gray, Executive Vice President of Walgreens Boots Alliance, Inc. "As the chief law enforcement officer in Kansas, I am writing to advise you that this plan is illegal, and Kansas will not hesitate to enforce the law." The pharmacy giant replied to Kobach by letter on Feb. 17. "While Walgreens has publicly expressed its intent to become a certified pharmacy under the FDA's program, the company has made clear that it would do so consistent with all applicable laws and as a result would not be able to dispense Mifepristone in all locations," Danielle Gray, executive Vice President of Walgreens Boots Alliance wrote. "Additionally, Walgreens has not made any representations about using our mail-order pharmacy business to dispense this drug." The move was welcomed as a victory by pro-life organizations in the state, with Kansans for Life praising Kobach for "his firm resolve to stand for the rule of law." Walgreens Certification The Food and Drug Administration (FDA) recently dropped restrictions that prevented retail pharmacies from selling the abortion pill Mifepristone. If they were to obtain the proper certification, pharmacies were now free to dispense the drug. Walgreens and CVS drug stores subsequently announced plans to complete the FDA's certification process and start selling Mifepristone in states where abortion is allowed. Kris Kobach, Kansas attorney general. (Courtesy of Kris Kobach) Worried about newly certified retail pharmacies mailing such products into Kansas, however, Kobach cited federal criminal law, U.S. Code 1461 (2018) as saying that it is illegal to knowingly mail any article or thing designed, adapted or intended for producing abortion. According to the code, it is also illegal to mail any article, instrument, substance, drug, medicine, or thing which is advertised or described in a manner calculated to lead another to use or apply it for producing abortion. "This is a federal criminal statute, of course. And ordinarily, the national government's steadfast determination not to enforce the law would be the end of things," Kobach wrote (pdf). "But this is not a normal criminal statute, because it can be enforced by an ordinary private party lawsuit under the Racketeer Influenced and corruption organizations (RICO) Act." In addition to federal law, Kansas state law requires the abortion pill to only be administered in the same room and in the physical presence of the physician who prescribed, dispensed, or otherwise provided the drug to the patient. Mail-order prescriptions are inconsistent with this requirement, Kobach said. "President Biden is beholden to the country's most extreme pro-abortion voices who constantly advocate for expanding the abortion regime without any consideration of legality, or even a woman's safety," Kobach said. "But nothing requires you to join him. The law says what it says. I encourage you to follow it." Right-leaning attorneys general in 20 states have warned CVS and Walgreens that they could face legal consequences if they sell abortion pills by mail in those states. "Walgreens is not currently dispensing Mifepristone in any of its locations," Gray wrote. "To become certified by the FDA, participating pharmacies must satisfy a range of safety and risk mitigation requirements to dispense this drug. At this time, we are working through the certification process, which includes the evaluation of our pharmacy network to determine where we will dispense Mifepristone, and training protocols and updates for our pharmacists. Walgreens does not intend to dispense Mifepristone within your state and does not intend to ship Mifepristone into your state from any of our pharmacies."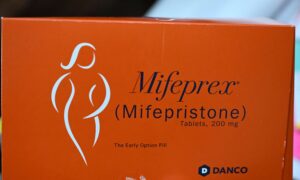 While pharmacy giant Walgreens recently indicated that it plans to obtain certification to sell the abortion medication Mifepristone in its stores across the United States, the company sent a letter to Kansas Attorney General Kris Kobach on Friday confirming that it has no plans to dispense the abortion pill in Kansas.
The AG had written to Walgreens on Feb. 6 to inform the company that selling abortion pills in Kansas—or mailing such pills into the state—would be a federal crime.
"I have become aware of your company's recently announced plan to provide abortifacients through its mail-order pharmacy business," Kobach wrote to Danielle Gray, Executive Vice President of Walgreens Boots Alliance, Inc. "As the chief law enforcement officer in Kansas, I am writing to advise you that this plan is illegal, and Kansas will not hesitate to enforce the law."
The pharmacy giant replied to Kobach by letter on Feb. 17.
"While Walgreens has publicly expressed its intent to become a certified pharmacy under the FDA's program, the company has made clear that it would do so consistent with all applicable laws and as a result would not be able to dispense Mifepristone in all locations," Danielle Gray, executive Vice President of Walgreens Boots Alliance wrote.
"Additionally, Walgreens has not made any representations about using our mail-order pharmacy business to dispense this drug."
The move was welcomed as a victory by pro-life organizations in the state, with Kansans for Life praising Kobach for "his firm resolve to stand for the rule of law."
Walgreens Certification
The Food and Drug Administration (FDA) recently dropped restrictions that prevented retail pharmacies from selling the abortion pill Mifepristone. If they were to obtain the proper certification, pharmacies were now free to dispense the drug.
Walgreens and CVS drug stores subsequently announced plans to complete the FDA's certification process and start selling Mifepristone in states where abortion is allowed.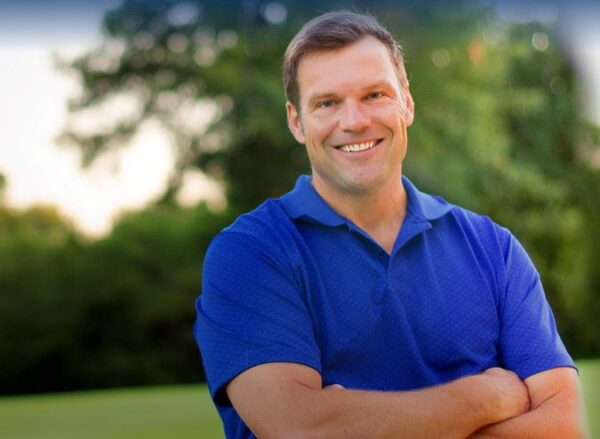 Worried about newly certified retail pharmacies mailing such products into Kansas, however, Kobach cited federal criminal law, U.S. Code 1461 (2018) as saying that it is illegal to knowingly mail any article or thing designed, adapted or intended for producing abortion.
According to the code, it is also illegal to mail any article, instrument, substance, drug, medicine, or thing which is advertised or described in a manner calculated to lead another to use or apply it for producing abortion.
"This is a federal criminal statute, of course. And ordinarily, the national government's steadfast determination not to enforce the law would be the end of things," Kobach wrote (pdf). "But this is not a normal criminal statute, because it can be enforced by an ordinary private party lawsuit under the Racketeer Influenced and corruption organizations (RICO) Act."
In addition to federal law, Kansas state law requires the abortion pill to only be administered in the same room and in the physical presence of the physician who prescribed, dispensed, or otherwise provided the drug to the patient. Mail-order prescriptions are inconsistent with this requirement, Kobach said.
"President Biden is beholden to the country's most extreme pro-abortion voices who constantly advocate for expanding the abortion regime without any consideration of legality, or even a woman's safety," Kobach said. "But nothing requires you to join him. The law says what it says. I encourage you to follow it."
Right-leaning attorneys general in 20 states have warned CVS and Walgreens that they could face legal consequences if they sell abortion pills by mail in those states.
"Walgreens is not currently dispensing Mifepristone in any of its locations," Gray wrote. "To become certified by the FDA, participating pharmacies must satisfy a range of safety and risk mitigation requirements to dispense this drug. At this time, we are working through the certification process, which includes the evaluation of our pharmacy network to determine where we will dispense Mifepristone, and training protocols and updates for our pharmacists. Walgreens does not intend to dispense Mifepristone within your state and does not intend to ship Mifepristone into your state from any of our pharmacies."