Wagner Group takes out ads on Pornhub
Russia's Wagner Group has purchased ads on Pornhub, urging young men to join the "coolest private army in the world"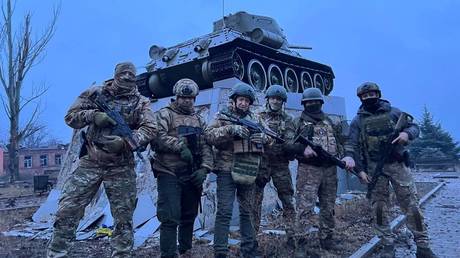 16 Mar, 2023 03:50
HomeRussia & FSU
Wagner Group takes out ads on Pornhub
The head of the Russian private military firm said the risque marketing campaign was a "very good idea"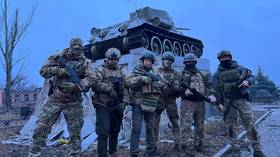 Russia's Wagner Group has purchased an advertisement on Pornhub, urging users of the massive porn site to join the "coolest private army in the world." The military company recently expanded its recruitment efforts as it fights to take a key Donbass city.
Spotted by Russian Telegram users earlier this week, the ad features a woman licking a lollipop suggestively as a female voice invites viewers to sign up with Wagner. It was reportedly only visible to those accessing the site from Russia.
"We are the f**king coolest private army in the world. We are recruiting fighters from all regions of Russia. Don't w**ck off – go work for PMC Wagner," the Russian-language ad says, before a phone number appears on screen.
Asked about the salacious promo video, Wagner Group's head Evgeny Prigozhin later appeared to confirm that the ad was genuine.
"I don't know which ones, but advertising PMC Wagner on porn sites is a very good idea of ​​our marketers," he said as cited by his press service. "I absolutely completely agree with them, and this advertisement says: 'Go to fight in the Wagner PMC, stop j**king off.' Who disagrees with this argument?"
While it is unclear how long the ad remained live, Pornhub said it was removed from the site on Wednesday, telling Newsweek that it violated its policy against politically related advertisements.
In addition to its ad campaign on the world's largest porn site, Wagner has expanded its recruitment drive in other ways in recent weeks, announcing the creation of 42 new outreach centers across Russia earlier this month.
Wagner has played a significant role in Russia's ongoing military operation in Ukraine, and is currently taking part in fierce fighting to capture the strategic city of Artyomovsk (also known as Bakhmut in Ukraine) in the Donbass region.
On Wednesday, Ukrainian President Vladimir Zelensky vowed to reinforce the city, despite reports that it is largely encircled by Wagner troops and regular Russian forces. He previously warned that should Artyomovsk come under total Russian control, it would leave an "open road" to other parts of the region still held by Kiev.