Viagra supplies halted to Russia – official
The government vows to produce a domestic equivalent with the same active ingredient Viatris, the US pharmaceutical company that manufactures the erectile dysfunction drug Viagra, has suspended deliveries of the pill to Russia, the Russian Trade Ministry said on Wednesday.  Viagra's brand owner notified the Russian government of its decision to halt supplies last year in light of the conflict in Ukraine.   "The medicine with the trade name Viagra corresponds to the International Nonproprietary Name (INN) Sildenafil, its production is not localized in Russia. In 2022, Viatris informed about the suspension of the supply of Viagra medicine in the dosage form of a tablet," the ministry told the news agency Interfax.   However, domestic manufacturers have the capacity to produce their own versions of Viagra with the same active ingredient, the ministry said, adding that clinical trials of the drug are already underway.  Russia's Health Ministry said pharmacies still have Viagra in stock and face no shortage of the medicine.   READ MORE: EU adds Russia to tax haven blacklist The country's pharmaceutical industry boosted production of drugs containing Sildenafil by 11% over January-September 2022, according to Interfax. Sales of the medication that treats sexual dysfunction were up 15% year-on-year.  Russians bought 2.7 million erectile dysfunction pills worth 2.1 billion rubles ($28.1 million) from July to September 2022, which was an 88% jump compared to the same period in 2021, according to the business daily Kommersant.   The Russian pharmaceuticals registry said that Russia has approved more than 40 domestic drugs with Sildenafil that are now manufactured by eight domestic companies and are already available at Russian pharmacies.For more stories on economy & finance visit RT's business section You can share this story on social media: Follow RT on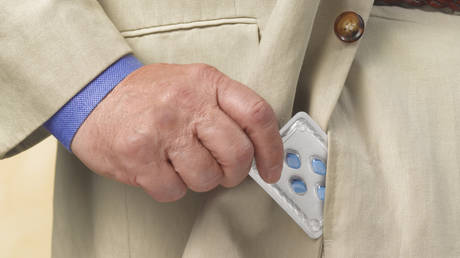 The government vows to produce a domestic equivalent with the same active ingredient
Viatris, the US pharmaceutical company that manufactures the erectile dysfunction drug Viagra, has suspended deliveries of the pill to Russia, the Russian Trade Ministry said on Wednesday.  
Viagra's brand owner notified the Russian government of its decision to halt supplies last year in light of the conflict in Ukraine.   
"The medicine with the trade name Viagra corresponds to the International Nonproprietary Name (INN) Sildenafil, its production is not localized in Russia. In 2022, Viatris informed about the suspension of the supply of Viagra medicine in the dosage form of a tablet," the ministry told the news agency Interfax.   
However, domestic manufacturers have the capacity to produce their own versions of Viagra with the same active ingredient, the ministry said, adding that clinical trials of the drug are already underway.  
Russia's Health Ministry said pharmacies still have Viagra in stock and face no shortage of the medicine.  
The country's pharmaceutical industry boosted production of drugs containing Sildenafil by 11% over January-September 2022, according to Interfax. Sales of the medication that treats sexual dysfunction were up 15% year-on-year.  
Russians bought 2.7 million erectile dysfunction pills worth 2.1 billion rubles ($28.1 million) from July to September 2022, which was an 88% jump compared to the same period in 2021, according to the business daily Kommersant.   
The Russian pharmaceuticals registry said that Russia has approved more than 40 domestic drugs with Sildenafil that are now manufactured by eight domestic companies and are already available at Russian pharmacies.
For more stories on economy & finance visit RT's business section
You can share this story on social media: