US Unemployment Claims Tick Up to 245,000, but Still Low
WASHINGTON—The number of Americans applying for unemployment benefits rose last week but remains low by historic standards. U.S. jobless claims rose by 5,000 to 245,000, the Labor Department reported Thursday. The four-week moving average of claims, which evens out week-to-week ups and downs, fell by 500 to 239,750. At the start of the year, weekly claims were running around 200,000 and they have gradually moved higher. Overall, 1.866 million people were collecting unemployment benefits the week that ended April 8, up from 1.80 million the previous week and from 1.53 million a year earlier. The weekly claims numbers are a proxy for layoffs, and they show that American workers enjoy unusual job security despite rising interest rates, economic uncertainty, and fears of a looming recession. The U.S. job market is healthy overall. At 3.5 percent last month, the unemployment was a tick above January's half-century low 3.4 percent. Employers added 236,000 jobs in March, down from 472,000 in January and 326,000 in February but still strong by historic standards. The inflation fighters at the Federal Reserve worry that a tight job market puts upward pressure on wages—and on overall prices. They have raised their benchmark interest rate nine times in just over a year. Inflation has edged lower since hitting four-decade highs last year. But March's 5 percent year-over-year inflation rate remained well above the Fed's 2 percent target. "While the (claims) levels are still historically low, the number of people collecting unemployment benefits has definitely been on the rise this year, another signal that the labor market, though still hot, is coming back toward a more balanced/normal state," Stephen Stanley, chief U.S. economist at Santander, said in a research note. The Fed is hoping to achieve a so-called soft landing—lowering growth just enough to bring inflation under control without causing a recession. Economists are skeptical. Many expect the United States to enter a recession later this year. By Paul Wiseman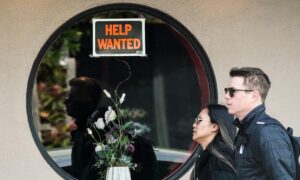 WASHINGTON—The number of Americans applying for unemployment benefits rose last week but remains low by historic standards.
U.S. jobless claims rose by 5,000 to 245,000, the Labor Department reported Thursday.
The four-week moving average of claims, which evens out week-to-week ups and downs, fell by 500 to 239,750. At the start of the year, weekly claims were running around 200,000 and they have gradually moved higher.
Overall, 1.866 million people were collecting unemployment benefits the week that ended April 8, up from 1.80 million the previous week and from 1.53 million a year earlier.
The weekly claims numbers are a proxy for layoffs, and they show that American workers enjoy unusual job security despite rising interest rates, economic uncertainty, and fears of a looming recession.
The U.S. job market is healthy overall. At 3.5 percent last month, the unemployment was a tick above January's half-century low 3.4 percent. Employers added 236,000 jobs in March, down from 472,000 in January and 326,000 in February but still strong by historic standards.
The inflation fighters at the Federal Reserve worry that a tight job market puts upward pressure on wages—and on overall prices. They have raised their benchmark interest rate nine times in just over a year. Inflation has edged lower since hitting four-decade highs last year. But March's 5 percent year-over-year inflation rate remained well above the Fed's 2 percent target.
"While the (claims) levels are still historically low, the number of people collecting unemployment benefits has definitely been on the rise this year, another signal that the labor market, though still hot, is coming back toward a more balanced/normal state," Stephen Stanley, chief U.S. economist at Santander, said in a research note.
The Fed is hoping to achieve a so-called soft landing—lowering growth just enough to bring inflation under control without causing a recession. Economists are skeptical. Many expect the United States to enter a recession later this year.