US Single-Family Housing Starts Drop in November Due to High Mortgage Rates
Monthly construction of new single-family homes and building permits fell to a two and a half year low in November.This was caused by higher mortgage rates combined with inflation, which further weakened housing market activity, according to a report from the U.S. Census Bureau, on Dec. 20. The single-family housing market once boomed during the pandemic, as Americans bought properties work at home; but now, the pendulum has now swung in favor of multi-family units. The news comes after National Association of Home Builders (NAHB)/Wells Fargo Housing Market Index (HMI) reported that homebuilder confidence plunged for a record twelfth month in December, to the lowest level since June 2012, excepting the early part of the pandemic. "The silver lining in this HMI report is that it is the smallest drop in the index in the past six months, indicating that we are possibly nearing the bottom of the cycle for builder sentiment," said Robert Dietz, NAHB's chief economist. Home Construction Continues to Slow Nationwide Residential starts decreased 0.5 percent last month, to a 1.43 million annualized rate, while single-family homebuilding dropped to an annualized rate of 828,000, to the lowest level since May 2020 during the first months of the pandemic. Total building applications—a proxy for future home construction—dropped 11.2 percent, to an annualized 1.342 million units in November, the lowest level since June 2020. Permits for single-family unit construction last month fell 7.1 percent, to a rate of 781,000 units, for the weakest pace since 2020. Multi-family housing permits are also facing problems, with a plunge of 17.9 percent, to a rate of 509,000 units (despite an increase in starts), to the lowest level since May 2021. Starts for multi-family housing projects rose 4.8 percent, to a rate of 584,000 units, the highest level since April, due to strong demand for rentals, as higher mortgage rates force many prospective homebuyers out of the market. High Mortgage Rates Due to an Aggressive Fed Take a Toll on the Housing Market The Federal Reserve's aggressive interest-rate policy has taken a toll on the housing market in its fight to combat the highest inflation numbers in 40 years. The central bank's policies have caused the 30-year fixed mortgage rate to rise above 7 percent a few months ago, to its highest level since 2002, according to mortgage lender Freddie Mac. The borrowing rate has since fallen as of last week, to an average of 6.31 percent—but it is double of what it was a year ago. However, the 30-year rate may start to increase again, after the Fed signaled additional rate increases by the end of next year, at its Federal Open Market Committee policy meeting on Dec- 13–14, causing Treasury yields to rise, as mortgage rates usually move in sync with it. Rising home borrowing rates combined with the growing fears of a recession will likely keep the housing market down into next year. "The Fed's rate hikes are doing what they are supposed to, further deepening the recession in the residential housing construction markets," Christopher Rupkey, chief economist at FWDBONDS in New York, told Reuters. "There's no where for homebuilders to hide. We don't know about the rest of the economy, but the housing market is clearly in recession." Residential investments contracted for the the sixth consecutive quarter, and is expected to decline into the next one, which would be the longest downturn since the collapse of the housing bubble right before the Great Recession of 2008–09. The decline in housing investments are expected to have a negative impact of around 0.7 percent on U.S. GDP in the fourth quarter. GDP growth estimates for this quarter are expected to be at a 2.8 percent annual pace, after growing 2.9 percent in the third quarter. Housing Inventory Witnesses Increases The slowdown in new home construction, due to the rise in mortgage rates this year, has suppressed buyer demand, with negative results for the broader housing market. The tight labor market and rising materials costs have also made it very difficult for builders to preserve their margins while employing incentives to lure back buyers. "It's no surprise that single-family starts are running at their lowest level since May 2020, given that builder sentiment has dropped for 12 consecutive months as builders remain fixated on rising building material costs and supply chain bottlenecks, with electrical transformers in particular being in short supply," said Jerry Konter, chairman of the NAHB. Two-thirds of homebuilders have said they were offering financial incentives to encourage buyers, such as mortgage rate buy-downs and paying points to prospective customers, reported Bloomberg. The inventory of single-family housing under construction fell 1.3 percent, to a rate of 777,000 million units, the lowest level since December 2021. Single-family home construction decreased in the South and Midwest, but increased in the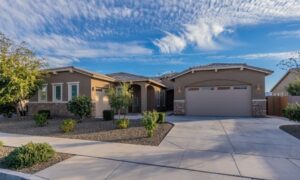 Monthly construction of new single-family homes and building permits fell to a two and a half year low in November.
This was caused by higher mortgage rates combined with inflation, which further weakened housing market activity, according to a report from the U.S. Census Bureau, on Dec. 20.
The single-family housing market once boomed during the pandemic, as Americans bought properties work at home; but now, the pendulum has now swung in favor of multi-family units.
The news comes after National Association of Home Builders (NAHB)/Wells Fargo Housing Market Index (HMI) reported that homebuilder confidence plunged for a record twelfth month in December, to the lowest level since June 2012, excepting the early part of the pandemic.
"The silver lining in this HMI report is that it is the smallest drop in the index in the past six months, indicating that we are possibly nearing the bottom of the cycle for builder sentiment," said Robert Dietz, NAHB's chief economist.
Home Construction Continues to Slow Nationwide
Residential starts decreased 0.5 percent last month, to a 1.43 million annualized rate, while single-family homebuilding dropped to an annualized rate of 828,000, to the lowest level since May 2020 during the first months of the pandemic.
Total building applications—a proxy for future home construction—dropped 11.2 percent, to an annualized 1.342 million units in November, the lowest level since June 2020.
Permits for single-family unit construction last month fell 7.1 percent, to a rate of 781,000 units, for the weakest pace since 2020.
Multi-family housing permits are also facing problems, with a plunge of 17.9 percent, to a rate of 509,000 units (despite an increase in starts), to the lowest level since May 2021.
Starts for multi-family housing projects rose 4.8 percent, to a rate of 584,000 units, the highest level since April, due to strong demand for rentals, as higher mortgage rates force many prospective homebuyers out of the market.
High Mortgage Rates Due to an Aggressive Fed Take a Toll on the Housing Market
The Federal Reserve's aggressive interest-rate policy has taken a toll on the housing market in its fight to combat the highest inflation numbers in 40 years.
The central bank's policies have caused the 30-year fixed mortgage rate to rise above 7 percent a few months ago, to its highest level since 2002, according to mortgage lender Freddie Mac.
The borrowing rate has since fallen as of last week, to an average of 6.31 percent—but it is double of what it was a year ago.
However, the 30-year rate may start to increase again, after the Fed signaled additional rate increases by the end of next year, at its Federal Open Market Committee policy meeting on Dec- 13–14, causing Treasury yields to rise, as mortgage rates usually move in sync with it.
Rising home borrowing rates combined with the growing fears of a recession will likely keep the housing market down into next year.
"The Fed's rate hikes are doing what they are supposed to, further deepening the recession in the residential housing construction markets," Christopher Rupkey, chief economist at FWDBONDS in New York, told Reuters.
"There's no where for homebuilders to hide. We don't know about the rest of the economy, but the housing market is clearly in recession."
Residential investments contracted for the the sixth consecutive quarter, and is expected to decline into the next one, which would be the longest downturn since the collapse of the housing bubble right before the Great Recession of 2008–09.
The decline in housing investments are expected to have a negative impact of around 0.7 percent on U.S. GDP in the fourth quarter.
GDP growth estimates for this quarter are expected to be at a 2.8 percent annual pace, after growing 2.9 percent in the third quarter.
Housing Inventory Witnesses Increases
The slowdown in new home construction, due to the rise in mortgage rates this year, has suppressed buyer demand, with negative results for the broader housing market.
The tight labor market and rising materials costs have also made it very difficult for builders to preserve their margins while employing incentives to lure back buyers.
"It's no surprise that single-family starts are running at their lowest level since May 2020, given that builder sentiment has dropped for 12 consecutive months as builders remain fixated on rising building material costs and supply chain bottlenecks, with electrical transformers in particular being in short supply," said Jerry Konter, chairman of the NAHB.
Two-thirds of homebuilders have said they were offering financial incentives to encourage buyers, such as mortgage rate buy-downs and paying points to prospective customers, reported Bloomberg.
The inventory of single-family housing under construction fell 1.3 percent, to a rate of 777,000 million units, the lowest level since December 2021.
Single-family home construction decreased in the South and Midwest, but increased in the Northeast and West, while while permits declined in three out of four regions.
The number of homes approved for construction, but still pending, fell 2.0 percent, to 293,000 units.
However, the number of homes completed surged by nearly 11 percent, to an annualized 1.49 million, the highest since August 2007.
The backlog of single-family home building fell 3.4 percent, to 143,000 units, while the completions rate for this category rose 9.5 percent, to a rate of 1.047 million units.
This is a sign that builders have made more progress on backlogs amid a decline in housing demand.