US hate crimes hit record high – FBI
Statistics indicate a rise in crimes motivated by prejudice against race, religion and sexual orientation Hate crimes in the United States have continued to rise sharply and have now reached their highest level since records began, according to data from 2021 analyzed by the Federal Bureau of Investigation (FBI) which was released on Monday.Overall, 9,065 hate crimes were recorded in 2021, compared to 8,120 in 2020, marking a rise of 12%.Initial data appeared to suggest that there had been a drop in hate crimes until numbers from some of the most populous cities including New York and Los Angeles were factored in."We are in a unique and disturbing era where hate crimes overall stay elevated for longer, punctuated by broken records," Brian Levin, director of the Center for the Study of Hate & Extremism at California State University-San Bernardino, told Associated Press. The data shows that black people were the largest group to have been targeted with bias or prejudice, with 2,233 instances noted in the report. The FBI added that 64.5% of hate-crime victims were targeted due to either their race, ethnicity or ancestry – with 15.9% of recorded cases linked to bias against sexual orientation and 14.1% to prejudice against religious beliefs.Of the subset facing bias due to their religion, Jewish people accounted for a little over half of the incidents. Anti-white prejudice was noted in 948 cases, slightly less than members of the LGBTQ community.US Attorney General Merrick Garland has promised to take more steps to ensure his Justice Department effectively combats hate crimes across the country. In 2021, following a "racially motivated" shooting of ten black people in Buffalo, New York, Garland said the threats the country faces are "evolving" and that the DOJ must also evolve to "make better use of our non-criminal tools."In a statement accompanying the latest report, Associate Attorney General Vanita Gupta said the department is committed to increasing reporting to get "a more complete picture of hate crimes nationwide." You can share this story on social media: Follow RT on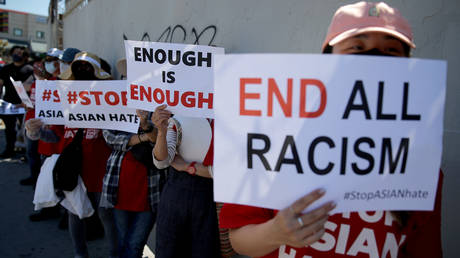 Statistics indicate a rise in crimes motivated by prejudice against race, religion and sexual orientation
Hate crimes in the United States have continued to rise sharply and have now reached their highest level since records began, according to data from 2021 analyzed by the Federal Bureau of Investigation (FBI) which was released on Monday.
Overall, 9,065 hate crimes were recorded in 2021, compared to 8,120 in 2020, marking a rise of 12%.
Initial data appeared to suggest that there had been a drop in hate crimes until numbers from some of the most populous cities including New York and Los Angeles were factored in.
"We are in a unique and disturbing era where hate crimes overall stay elevated for longer, punctuated by broken records," Brian Levin, director of the Center for the Study of Hate & Extremism at California State University-San Bernardino, told Associated Press.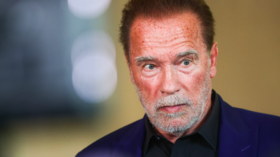 The data shows that black people were the largest group to have been targeted with bias or prejudice, with 2,233 instances noted in the report. The FBI added that 64.5% of hate-crime victims were targeted due to either their race, ethnicity or ancestry – with 15.9% of recorded cases linked to bias against sexual orientation and 14.1% to prejudice against religious beliefs.
Of the subset facing bias due to their religion, Jewish people accounted for a little over half of the incidents. Anti-white prejudice was noted in 948 cases, slightly less than members of the LGBTQ community.
US Attorney General Merrick Garland has promised to take more steps to ensure his Justice Department effectively combats hate crimes across the country. In 2021, following a "racially motivated" shooting of ten black people in Buffalo, New York, Garland said the threats the country faces are "evolving" and that the DOJ must also evolve to "make better use of our non-criminal tools."
In a statement accompanying the latest report, Associate Attorney General Vanita Gupta said the department is committed to increasing reporting to get "a more complete picture of hate crimes nationwide."