US economy 'crashing' – Trump
The American economy is on the brink of collapse and inflation is "out of control," former President Donald Trump believes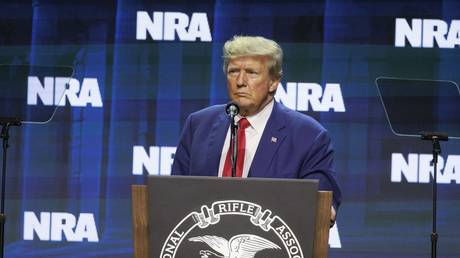 America and its economy are facing major challenges that could undermine Washington's position in the world, former US President Donald Trump told a National Rifle Association (NRA) convention in the state of Indiana last week.
The Biden administration has pushed the country to the brink of collapse with both its foreign and domestic policies, Trump claimed as he spoke about his ambitions for the 2024 presidential campaign.
"The USA is a mess. Our economy is crashing, inflation is out of control," the former president stated. The US dollar is "crashing" as well, he claimed, adding that the American currency "will soon no longer be the world's standard." This would amount to Washington's "greatest defeat in 200 years" and was "unthinkable just a few years ago," Trump said as he addressed the NRA convention in Indianapolis last Friday.
The Biden administration's failures in the foreign policy field have seen Russia join forces with China, the former president said, adding that, together with Iran and North Korea, Moscow and Beijing have now formed a "menacing and destructive coalition."
"We have never been in such danger in our lives. I believe it is the most dangerous time in the history of our country," he said, noting that the Biden administration had been unable to avoid an escalation between Washington and Moscow, and the use of nuclear weapons is now being mentioned, including by Russian President Vladimir Putin.
According to Trump, the current administration has done more "damage" to the US than the "five worst" presidents in the country's history, although he did not identify the former leaders to whom he was referring.
We are a failing nation, we are a nation in decline.
Trump, who has confirmed his intention to seek the Republican nomination for the 2024 presidential election, vowed to "make America great again" if elected. He remains mired in several legal issues, however, including a criminal case relating to campaign finances.
During his speech on Friday, Trump repeatedly described this prosecution as election interference instigated by the Democrats, and maintains that his legal issues will not derail his bid to return to the White House.