US deploys nuclear sub to Middle East
The US Navy has announced the deployment of a nuclear-powered submarine to the Middle East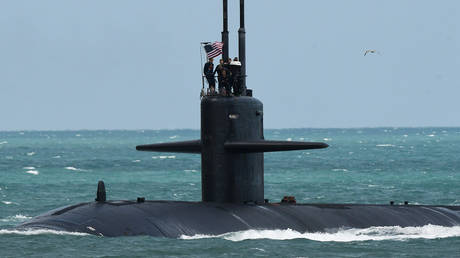 US deploys nuclear sub to Middle East
The move comes amid protracted tensions between Washington and Tehran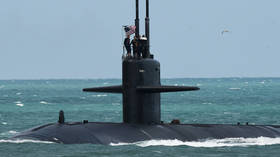 The US Navy has broken with its regular protocol in announcing the deployment to the Middle East of a nuclear submarine capable of launching 154 Tomahawk missiles. The show-of-force move comes amid ongoing tensions with Iran.
"[The submarine] is capable of carrying up to 154 Tomahawk land-attack cruise missiles and is deployed to US 5th Fleet to help ensure regional maritime security and stability," said Cmdr. Timothy Hawkins, a spokesman for the 5th Fleet based in Bahrain, on Saturday.
Hawkins added that that submarine had passed through the Suez Canal on Friday on its route to an undisclosed location in the Middle East. He declined to comment on the specifics of the submarine's mission or what had led to its deployment.
The US Navy rarely discloses information about the locations or deployments of its submarines. Its 5th Fleet operates in the Persian Gulf, Red Sea, Arabian Sea and some parts of the Indian Ocean. The Strait of Hormuz, a narrow passageway through which around 20% of all oil is transported, is also under the fleet's remit.
The US and UK, and others, have accused Iran in recent years of attacks on commercial oil tankers, including the 2019 assaults on Norwegian and Japanese vessels, which forced both crews to abandon ship. Tehran has vigorously denied the allegations.
The US has also accused Iran of "dangerous and harassing approaches" towards its navy in recent years in the Persian Gulf. Tensions between the two were renewed last month after the US launched missile attacks on Iran-backed forces in Syria. This was in retaliation for the killing of a US contractor in a rocket attack in the northeast of the country. Seven other Americans were injured in the attack.
The rise in tensions was then fueled after then-President Donald Trump withdrew from a 2015 accord to provide Iran with sanctions relief, and despite the Biden administration's attempts to seek a diplomatic remedy.
Washington has also expressed concern at Tehran's support for Russian forces in Ukraine. The US also objects to Iran's position as it relates to Israel – with whom it has a so-called proxy conflict – and to China, who brokered the restoration of diplomatic ties last month between Iran and Saudi Arabia.