UN workers killed in Sudan violence
Three UN aid workers in Sudan were killed on Sunday amid the armed conflict there, the international agency said R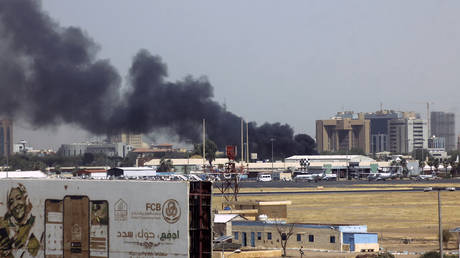 UN workers killed in Sudan violence
Three humanitarian aid staff have died during the fighting between two branches of the country's security forces, an official said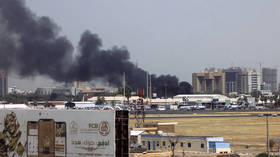 Three employees of the UN World Food Programme (WFP) were killed and two more injured during armed clashes in Sudan, the international agency's executive director Cindy McCain said on Sunday. The agency has temporarily halted operations in the country, she added.
UN workers were slain on Saturday in the Kabkabiya District in the western part of the country, McCain said. She added that a WFP-operated aircraft was "significantly damaged" at Khartoum International Airport the same day.
"Any loss of life in humanitarian service is unacceptable and I demand immediate steps to guarantee the safety of those who remain," McCain said, adding that "aid workers are neutral and should never be a target."
"While we review the evolving security situation, we are forced to temporarily halt all operations in Sudan," the WFP boss announced.
On Saturday, clashes broke out in the capital Khartoum and other cities between the Sudanese Armed Forces (SAF) and the Rapid Support Forces (RSF), an independent security branch with roots in pro-government militias. Each side has accused the other of starting hostilities.
In 2019, Omar al-Bashir, Sudan's ruler of more than 25 years, was overthrown in a coup. The country has since been governed by the Transitional Sovereignty Council (TSC) that was briefly dissolved and then reinstated in the wake of another coup in 2021. The current conflict comes after a failed attempt to mediate growing tensions between army chief and TSC chairman Abdel Fattah al-Burhan and RSF commander Mohamed Hamdan Dagalo, who is also the body's deputy chairman.
Fighting was reported around the airport and the presidential palace, as well as around military bases. Dagalo claimed on Sky News Arabia on Saturday that his troops were in control of "more than 90% of strategic sites in Khartoum."
The Sudan Tribune, meanwhile, cited a SAF statement on Sunday as saying that the army has captured seven RSF bases across the country, including one in the capital.
Egypt and South Sudan, sharing a border with Sudan, have called for a ceasefire. Egyptian President Abdel Fattah el-Sisi spoke over the phone with his South Sudanese counterpart, Salva Kiir, on Sunday. The leaders expressed readiness to mediate the end of the conflict, according to Sisi's spokesman, Ahmad Fahmy.
At least 56 civilians were killed as of Sunday and 595 people, including soldiers, wounded, the Sudanese Doctors' Union said, as cited by Al Jazeera.