UK's Sunak Sets Out Ambitions for Economy, Health, Immigration in Keynote Speech
UK Prime Minister Rishi Sunak has set out five pledges for the year ahead, vowing to tackle major issues ranging from inflation to illegal immigration.In his first major speech of 2023, Sunak acknowledged that many Britons are looking ahead to the future "with apprehension," and promised he will work "night and day" to improve the situation. Speaking in Stratford, east London, on Wednesday, the prime minister made five promises, which he said would "deliver peace of mind" and provide the "foundations on which to build a better future for our children and grandchildren." The first three pledges involve the economy. Sunak promised to "halve inflation this year," "grow the economy," and make sure the UK's national debt is falling. He also promised to cut National Health Service (NHS) waiting lists, so that "people will get the care they need more quickly." Further, Sunak vowed to stop illegal immigration, especially via small boats in the English Channel, by passing new laws under which "if you come to this country illegally, you are detained and swiftly removed." The prime minister said he would "rebuild trust in politics through action." "I guarantee that your priorities will be my priorities," Sunak said. "I pledge that I will be honest about the challenges we face. And I will take the tough but necessary decisions to ensure our great country achieves its enormous potential. "I will only promise what I can deliver, and I will deliver what I promise." Tax Cuts 'As Soon As We Can' Sunak pledged to reduce the tax burden as soon as possible. Since becoming prime minister in October, the Conservative Party leader has reversed the economic policy of his predecessor Liz Truss, whose ill-fated "mini-budget"—which promised massive tax cuts funded by government borrowing—spooked financial markets, causing the pound to fall steeply against the dollar and leading to an increase in borrowing costs for both the government and British households. In his autumn budget statement, delivered in November, chancellor of the exchequer Jeremy Hunt said his budget decisions would lead to a "substantial tax increase." However, in his New Year's speech, Sunak said: "As soon as we can, the government will reduce the burden of taxation on working people." Answering reporter's questions after the speech, he said work is "really important" as it "provides people with purpose, provides them with dignity and confidence." "It's something to be celebrated and rewarded, which is why as soon as we are able to I want to cut taxes on working people. That's something that I think the chancellor is also aligned on, but right now we've got a set of challenges that we're grappling with, and that's the priority." Boosting Math Literacy Sunak also announced a commitment to tackle low math literacy rates by ensuring that all school pupils in England study some form of math before the age of 18. Emphasising the importance of improving math skills, he promised to make it a central objective of the UK education system. He told the audience: "This is personal for me. Every opportunity I've had in life began with the education I was so fortunate to receive. And it's the single most important reason why I came into politics: to give every child the highest possible standard of education." The prime minister said: "One of the biggest changes in mindset we need in education today is to reimagine our approach to numeracy. Right now, just half of all 16 to 19-year-olds study any maths at all. Yet in a world where data is everywhere and statistics underpin every job, our children's jobs will require more analytical skills than ever before. And letting our children out into the world without those skills is letting our children down." "Just imagine what greater numeracy will unlock for people—the skills to feel confident with your finances, to find the best mortgage deal, the ability to do your job better and get paid more, and greater self-confidence to navigate a changing world," he added. No Timeframe Despite his promises, the prime minister refused to give a timeframe for their execution. Taking questions from reporters, Sunak said that he had intentionally decided not to set out specific timeframes for the pledges. He said: "I've deliberately not put a specific month on each of them because I don't think that's responsible or the right thing to do with goals that are so complicated, where many of the forces that will impact our ability to hit them are out of my control as well. "We've seen that over the past year or two. But what I am being very clear about is what I am prioritizing, what I am keen to deliver for the country in terms that I think are easy to understand and unambiguous." Responding to the speech, Angela Rayner, deputy leader of the opposition Labour Party, described Sunak as the "do-nothing prime minister" who is "too weak to stand up to his party or vested interests." She added: "That means that from housing and pl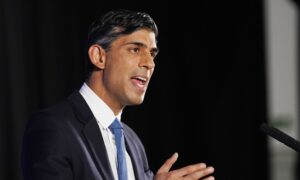 UK Prime Minister Rishi Sunak has set out five pledges for the year ahead, vowing to tackle major issues ranging from inflation to illegal immigration.
In his first major speech of 2023, Sunak acknowledged that many Britons are looking ahead to the future "with apprehension," and promised he will work "night and day" to improve the situation.
Speaking in Stratford, east London, on Wednesday, the prime minister made five promises, which he said would "deliver peace of mind" and provide the "foundations on which to build a better future for our children and grandchildren."
The first three pledges involve the economy. Sunak promised to "halve inflation this year," "grow the economy," and make sure the UK's national debt is falling.
He also promised to cut National Health Service (NHS) waiting lists, so that "people will get the care they need more quickly."
Further, Sunak vowed to stop illegal immigration, especially via small boats in the English Channel, by passing new laws under which "if you come to this country illegally, you are detained and swiftly removed."
The prime minister said he would "rebuild trust in politics through action."
"I guarantee that your priorities will be my priorities," Sunak said. "I pledge that I will be honest about the challenges we face. And I will take the tough but necessary decisions to ensure our great country achieves its enormous potential.
"I will only promise what I can deliver, and I will deliver what I promise."
Tax Cuts 'As Soon As We Can'
Sunak pledged to reduce the tax burden as soon as possible.
Since becoming prime minister in October, the Conservative Party leader has reversed the economic policy of his predecessor Liz Truss, whose ill-fated "mini-budget"—which promised massive tax cuts funded by government borrowing—spooked financial markets, causing the pound to fall steeply against the dollar and leading to an increase in borrowing costs for both the government and British households.
In his autumn budget statement, delivered in November, chancellor of the exchequer Jeremy Hunt said his budget decisions would lead to a "substantial tax increase."
However, in his New Year's speech, Sunak said: "As soon as we can, the government will reduce the burden of taxation on working people."
Answering reporter's questions after the speech, he said work is "really important" as it "provides people with purpose, provides them with dignity and confidence."
"It's something to be celebrated and rewarded, which is why as soon as we are able to I want to cut taxes on working people. That's something that I think the chancellor is also aligned on, but right now we've got a set of challenges that we're grappling with, and that's the priority."
Boosting Math Literacy
Sunak also announced a commitment to tackle low math literacy rates by ensuring that all school pupils in England study some form of math before the age of 18.
Emphasising the importance of improving math skills, he promised to make it a central objective of the UK education system.
He told the audience: "This is personal for me. Every opportunity I've had in life began with the education I was so fortunate to receive. And it's the single most important reason why I came into politics: to give every child the highest possible standard of education."
The prime minister said: "One of the biggest changes in mindset we need in education today is to reimagine our approach to numeracy. Right now, just half of all 16 to 19-year-olds study any maths at all. Yet in a world where data is everywhere and statistics underpin every job, our children's jobs will require more analytical skills than ever before. And letting our children out into the world without those skills is letting our children down."
"Just imagine what greater numeracy will unlock for people—the skills to feel confident with your finances, to find the best mortgage deal, the ability to do your job better and get paid more, and greater self-confidence to navigate a changing world," he added.
No Timeframe
Despite his promises, the prime minister refused to give a timeframe for their execution.
Taking questions from reporters, Sunak said that he had intentionally decided not to set out specific timeframes for the pledges.
He said: "I've deliberately not put a specific month on each of them because I don't think that's responsible or the right thing to do with goals that are so complicated, where many of the forces that will impact our ability to hit them are out of my control as well.
"We've seen that over the past year or two. But what I am being very clear about is what I am prioritizing, what I am keen to deliver for the country in terms that I think are easy to understand and unambiguous."
Responding to the speech, Angela Rayner, deputy leader of the opposition Labour Party, described Sunak as the "do-nothing prime minister" who is "too weak to stand up to his party or vested interests."
She added: "That means that from housing and planning laws to closing tax avoidance loopholes, he can't take the big decisions to put the country first."
"For weeks this speech was hyped up as his big vision," she said. "Now he's delivered it, the country is entitled to ask: is that it?"
PA Media contributed to this report.