Ukraine considers LGBTQ breakthrough
Legalizing same-sex unions for soldiers would also please Kiev's "Western allies"  Ukraine's former deputy culture minister has proposed legalizing same-sex civil partnerships, arguing it would both reward the service of LGBTQ soldiers and please Kiev's foreign backers. Inna Sovsun of the Golos party announced on Tuesday that she has submitted the bill to the Verkhovna Rada for consideration."Legalization of single-sex relationships is very important to me now, because if I come home [dead], my partner can't even bury me," was one of the arguments from the Ukrainian LGBT Soldiers and Allies' Facebook community that Sovsun quoted in announcing her bill.The bill is a product of nine months of work, involving two NGOs. It would establish legal grounds for people in same-sex relationships to regulate property ownership, inheritance, pensions and death benefits, Sovsun argued. "I could say that this is what our Western allies are demanding of us – and it is true, they are," but 56% of Ukrainians agree that LGBTQ people should be entitled to civil partnerships, she wrote. "As a society, we have matured beyond the 'Russian swamp' and Soviet worldview." Because Ukraine values "human dignity and freedom," Ukrainians are "simply a different biological species" than Russians, she concluded.While Sovsun did not provide a source for her figures, the percentage correlates to a 2017 online survey commissioned by the International Lesbian, Gay, Bisexual, Trans and Intersex Association (ILGA). Ukraine decriminalized homosexuality in 1991, but its constitution defines marriage as a voluntary union between a man and a woman (Article 51). As late as 2018, the Justice Ministry in Kiev argued there were no legal grounds for same-sex civil partnerships. Sovsun represents Golos, a self-described "liberal" and "pro-European" party that supports President Vladimir Zelensky's ruling majority. They won 20 seats – out of 450 – in the 2019 election, though 11 MPs have since broken away to set up their own party, called 'Justice.' Sovsun herself was deputy minister of science and education between 2014 and 2016 – following the US-backed coup in Kiev – when the government's move to restrict the use of Russian language helped touch off the unrest in Donbass. You can share this story on social media: Follow RT on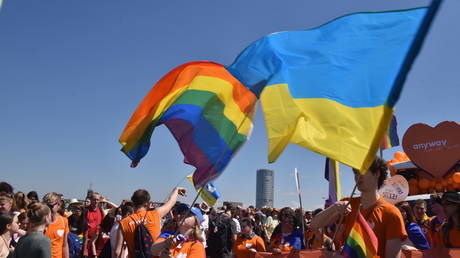 Legalizing same-sex unions for soldiers would also please Kiev's "Western allies"
Ukraine's former deputy culture minister has proposed legalizing same-sex civil partnerships, arguing it would both reward the service of LGBTQ soldiers and please Kiev's foreign backers. Inna Sovsun of the Golos party announced on Tuesday that she has submitted the bill to the Verkhovna Rada for consideration.
"Legalization of single-sex relationships is very important to me now, because if I come home [dead], my partner can't even bury me," was one of the arguments from the Ukrainian LGBT Soldiers and Allies' Facebook community that Sovsun quoted in announcing her bill.
The bill is a product of nine months of work, involving two NGOs. It would establish legal grounds for people in same-sex relationships to regulate property ownership, inheritance, pensions and death benefits, Sovsun argued.
"I could say that this is what our Western allies are demanding of us – and it is true, they are," but 56% of Ukrainians agree that LGBTQ people should be entitled to civil partnerships, she wrote. "As a society, we have matured beyond the 'Russian swamp' and Soviet worldview."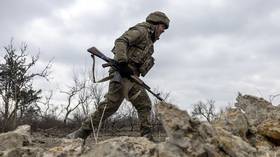 Because Ukraine values "human dignity and freedom," Ukrainians are "simply a different biological species" than Russians, she concluded.
While Sovsun did not provide a source for her figures, the percentage correlates to a 2017 online survey commissioned by the International Lesbian, Gay, Bisexual, Trans and Intersex Association (ILGA).
Ukraine decriminalized homosexuality in 1991, but its constitution defines marriage as a voluntary union between a man and a woman (Article 51). As late as 2018, the Justice Ministry in Kiev argued there were no legal grounds for same-sex civil partnerships.
Sovsun represents Golos, a self-described "liberal" and "pro-European" party that supports President Vladimir Zelensky's ruling majority. They won 20 seats – out of 450 – in the 2019 election, though 11 MPs have since broken away to set up their own party, called 'Justice.' Sovsun herself was deputy minister of science and education between 2014 and 2016 – following the US-backed coup in Kiev – when the government's move to restrict the use of Russian language helped touch off the unrest in Donbass.