Ukraine accuses Poland of violating deal
Ukraine has criticized Poland's decision to ban agriculture imports from the country, accusing it of violating a recent deal on the matter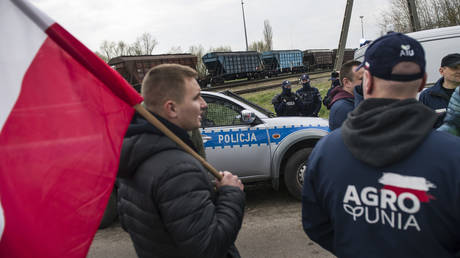 Ukraine accuses Poland of violating deal
Warsaw imposed a "temporary" ban on Ukrainian agricultural products, citing the need to protect the local market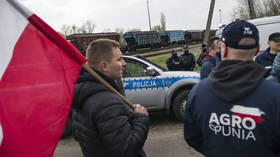 Kiev lashed out at Warsaw's decision to impose a ban on Ukrainian grain and other agricultural products, accusing it of violating a deal reached by the two countries this month. Poland rolled out the restrictions earlier in the day, citing the need to protect local markets from "destabilization" caused by the inflow of cheap produce from Ukraine.
Ukraine's Agriculture Ministry claimed the move violated an agreement reached last week in the wake of mass protests by Polish farmers. At the time, Warsaw said Kiev had "agreed to limit and, for now, halt exports to Poland."
"We understand that Polish farmers are facing a difficult situation, but we are emphasizing that now the most difficult situation is for Ukraine's farmers," the ministry said, adding that "resolving various issues by unilateral drastic actions will not accelerate a positive resolution of the situation." At the same time, the ministry called upon Warsaw to strike a new agreement on the matter as soon as possible, addressing the concerns of both sides.
Announcing the ban, the leader of Poland's ruling Law and Justice Party (PiS), Jaroslaw Kaczynski, insisted the country remains "unchanged friends and allies of Ukraine."
"Today, the government has decided on a regulation that prohibits the entry and importation of grain into Poland, but also dozens of other types of food [from Ukraine]," Kaczynski said during his party convention. The banned items range "from grain to honey products, very, very many things," he added.
Later in the day, another Eastern European nation, Hungary, rolled out a ban of its own on Ukrainian agriculture imports. Announcing the move, Hungarian Prime Minister Viktor Orban said the restrictions were needed since the status quo would cause severe damage to local farmers.
Multiple Eastern European nations, namely Bulgaria, Hungary, Poland, Romania, and Slovakia, have sounded the alarm over the inflow of cheap agriculture goods from Ukraine lately. Last month, they demanded action from the EU Commission on the issue, urging it to re-impose import tariffs on the produce.
Last year, agriculture products from Ukraine were allowed duty-free entry into the bloc, with Brussels advertising the move as a way to help Ukraine reach its customers in the Middle East and Africa amid the ongoing conflict with Russia. However, much of the produce ended up in Eastern Europe, creating logistics bottlenecks and sending prices into a downward spiral, with the situation affecting local producers.