UK Government Works to Minimize SVB Fallout
Prime Minister Rishi Sunak said the British government was working to find a solution to limit the potential hit to companies resulting from the collapse of U.S. lender Silicon Valley Bank. Sunak said he understood "the anxiety and the concerns customers of the bank have," in comments made to reporters flying with him to the United States. He and the government were "making sure we can work to find a solution that secures people's operational liquidity and cash-flow needs", he said. Friday's dramatic failure of SVB Financial Group, which focuses on tech startups, was the biggest bank collapse in the United States since the 2008 financial crisis. The collapse could have a significant impact on British technology companies, given the importance of the lender to some customers, Finance Minister Jeremy Hunt said earlier on Sunday, "We've been working at pace over the weekend, through the night," Hunt told Sky News. "We will bring forward very soon plans to make sure people are able to meet their cash-flow requirements to pay their staff." Hunt said efforts are focused on finding a "longer-term solution that minimizes, or even avoids completely, losses to some of our most promising companies." Under insolvency proceedings for banks in Britain, some depositors are eligible for up to 85,000 pounds ($102,000) of compensation for cash held at lenders, or 170,000 pounds for joint accounts. Customers may not be able to recover deposits in excess of those sums, which are small relative to the deposits some startups had with the bank. Hunt reiterated comments by the Bank of England that overall, Silicon Valley Bank had a limited presence in Britain and did not perform functions critical to the financial system. The pledge to find emergency support was welcomed by tech firms and lobby groups, including the startup industry body Codec, calling it "an acknowledgement of the scale of the challenge." OakNorth Chief Executive Rishi Khosla told Reuters earlier this month—before SVB's implosion—the bank could make a "nine figure" acquisition in cash given its reserves, and that it was looking at potentially buying another bank in Britain. The opposition Labour shadow finance minister Rachel Reeves urged Hunt to offer more than "warm words" to companies, saying the government had to come up with a plan by the time financial markets open on Monday morning. Sunak has said he wants to turn Britain into the "next Silicon Valley." Britain is behind only the United States and China in terms of the level of venture capital funding for the sector, according to the government. ($1 = 0.8314 pounds)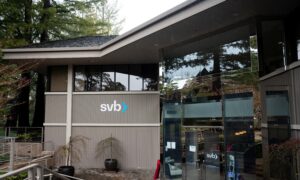 Prime Minister Rishi Sunak said the British government was working to find a solution to limit the potential hit to companies resulting from the collapse of U.S. lender Silicon Valley Bank.
Sunak said he understood "the anxiety and the concerns customers of the bank have," in comments made to reporters flying with him to the United States. He and the government were "making sure we can work to find a solution that secures people's operational liquidity and cash-flow needs", he said.
Friday's dramatic failure of SVB Financial Group, which focuses on tech startups, was the biggest bank collapse in the United States since the 2008 financial crisis.
The collapse could have a significant impact on British technology companies, given the importance of the lender to some customers, Finance Minister Jeremy Hunt said earlier on Sunday,
"We've been working at pace over the weekend, through the night," Hunt told Sky News. "We will bring forward very soon plans to make sure people are able to meet their cash-flow requirements to pay their staff."
Hunt said efforts are focused on finding a "longer-term solution that minimizes, or even avoids completely, losses to some of our most promising companies."
Under insolvency proceedings for banks in Britain, some depositors are eligible for up to 85,000 pounds ($102,000) of compensation for cash held at lenders, or 170,000 pounds for joint accounts. Customers may not be able to recover deposits in excess of those sums, which are small relative to the deposits some startups had with the bank.
Hunt reiterated comments by the Bank of England that overall, Silicon Valley Bank had a limited presence in Britain and did not perform functions critical to the financial system.
The pledge to find emergency support was welcomed by tech firms and lobby groups, including the startup industry body Codec, calling it "an acknowledgement of the scale of the challenge."
OakNorth Chief Executive Rishi Khosla told Reuters earlier this month—before SVB's implosion—the bank could make a "nine figure" acquisition in cash given its reserves, and that it was looking at potentially buying another bank in Britain.
The opposition Labour shadow finance minister Rachel Reeves urged Hunt to offer more than "warm words" to companies, saying the government had to come up with a plan by the time financial markets open on Monday morning.
Sunak has said he wants to turn Britain into the "next Silicon Valley." Britain is behind only the United States and China in terms of the level of venture capital funding for the sector, according to the government.
($1 = 0.8314 pounds)