UBS Reaps $28 Billion in New Money Amid Credit Suisse Fallout
GENEVA—Swiss banking giant UBS said Tuesday that it took in $28 billion in new money from wealthy clients in the first three months of the year, with $7 billion of that coming in the 10 days after the announcement it was taking over ailing rival Credit Suisse. Zurich-based UBS, which is set to become Switzerland's single banking titan after the merger closes in the coming months, said it also drew $14 billion in new money to its asset management business. "Our performance this quarter demonstrates that we continue to be a source of stability for our clients during periods of significant uncertainty," said CEO Sergio Ermotti, who came back to UBS last month to shepherd the Credit Suisse takeover. "Our strong flows across global wealth management and asset management reflect our clients' continued confidence and trust in us." UBS posted net profit of nearly $1.04 billion in the first quarter, down 52 percent from the same period a year ago despite the new inflows. Profit was reduced as the bank set aside $665 million to deal with additional expected costs of a U.S. Justice Department lawsuit alleging that the bank defrauded American investors with the sale of residential mortgage-backed securities that contributed to the 2008 global financial crisis. "We are in advanced discussions with the U.S. Department of Justice, and I'm pleased that we are making progress toward resolving this legacy matter that dates back 15 years," Ermotti said in a webcast. UBS said it bought back $1.3 billion in shares during the quarter but reiterated that the share-buyback program has been temporarily suspended ahead of the closing of the 3 billion Swiss franc ($3.25 billion) government-engineered takeover of Credit Suisse announced March 19. The client inflows at UBS came in marked contrast to the 61 billion Swiss francs (nearly $69 billion) in outflows that Credit Suisse reported Monday for the first three months of the year. The troubled bank said clients are still withdrawing assets. The forced marriage of Switzerland's two biggest banks—arranged by the Swiss executive branch, central bank, and financial markets regulator—was designed to rescue Credit Suisse and help stabilize the global financial system after the collapse of two U.S. banks last month. The reputation of 167-year-old Credit Suisse had been pummeled in recent years over stock price declines, a string of scandals and the flight of customers worried about the bank's future. UBS said it expects the takeover "to strengthen our position as a leading and truly global wealth manager," while also acknowledging that it "will require sustained diligent effort." Chairman Colm Kelleher has said there's a "huge amount of risk" in combining the two global banks but also "huge opportunities." The bank also pointed to high inflation, slow economic growth, geopolitical tensions such as Russia's war in Ukraine and concerns about the stability of banks being a possible drag in the coming months. "The macroeconomic situation going forward remains uncertain, and while concerns about the stability of banks have abated, they have not gone away," UBS said in a statement. "As a result, client activity levels could remain subdued in the second quarter of 2023." UBS shares closed down nearly 2.2 percent in trading in Switzerland. By Jamey Keaten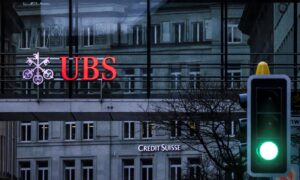 GENEVA—Swiss banking giant UBS said Tuesday that it took in $28 billion in new money from wealthy clients in the first three months of the year, with $7 billion of that coming in the 10 days after the announcement it was taking over ailing rival Credit Suisse.
Zurich-based UBS, which is set to become Switzerland's single banking titan after the merger closes in the coming months, said it also drew $14 billion in new money to its asset management business.
"Our performance this quarter demonstrates that we continue to be a source of stability for our clients during periods of significant uncertainty," said CEO Sergio Ermotti, who came back to UBS last month to shepherd the Credit Suisse takeover. "Our strong flows across global wealth management and asset management reflect our clients' continued confidence and trust in us."
UBS posted net profit of nearly $1.04 billion in the first quarter, down 52 percent from the same period a year ago despite the new inflows. Profit was reduced as the bank set aside $665 million to deal with additional expected costs of a U.S. Justice Department lawsuit alleging that the bank defrauded American investors with the sale of residential mortgage-backed securities that contributed to the 2008 global financial crisis.
"We are in advanced discussions with the U.S. Department of Justice, and I'm pleased that we are making progress toward resolving this legacy matter that dates back 15 years," Ermotti said in a webcast.
UBS said it bought back $1.3 billion in shares during the quarter but reiterated that the share-buyback program has been temporarily suspended ahead of the closing of the 3 billion Swiss franc ($3.25 billion) government-engineered takeover of Credit Suisse announced March 19.
The client inflows at UBS came in marked contrast to the 61 billion Swiss francs (nearly $69 billion) in outflows that Credit Suisse reported Monday for the first three months of the year. The troubled bank said clients are still withdrawing assets.
The forced marriage of Switzerland's two biggest banks—arranged by the Swiss executive branch, central bank, and financial markets regulator—was designed to rescue Credit Suisse and help stabilize the global financial system after the collapse of two U.S. banks last month.
The reputation of 167-year-old Credit Suisse had been pummeled in recent years over stock price declines, a string of scandals and the flight of customers worried about the bank's future.
UBS said it expects the takeover "to strengthen our position as a leading and truly global wealth manager," while also acknowledging that it "will require sustained diligent effort." Chairman Colm Kelleher has said there's a "huge amount of risk" in combining the two global banks but also "huge opportunities."
The bank also pointed to high inflation, slow economic growth, geopolitical tensions such as Russia's war in Ukraine and concerns about the stability of banks being a possible drag in the coming months.
"The macroeconomic situation going forward remains uncertain, and while concerns about the stability of banks have abated, they have not gone away," UBS said in a statement. "As a result, client activity levels could remain subdued in the second quarter of 2023."
UBS shares closed down nearly 2.2 percent in trading in Switzerland.