Turkish stocks soar as market reopens
Türkiye's stock market rebounded on Wednesday after reopening following a week-long closure in the wake of devastating earthquakes that hit the nation. The benchmark Borsa Istanbul 100 Index (BIST 100) soared 9.8% and is on track for its biggest rise since 2008, according to Refinitiv data. The BIST 100, which was one of the best performers in 2022, is currently down around 10% for the year. The BIST 100's rise follows a series of measures announced by the government in an effort to prop up the market. The nation's sovereign wealth fund, known as TVF, will reportedly set up a mechanism to support stocks during times of volatility. President Recep Tayyip Erdogan said earlier that Turkish banks would allocate 50 billion liras ($2.7 billion) from their 2022 income to help the effort. That will add to the government's pledge of an initial 100 billion liras ($5.3 billion), an amount that is expected to increase. "The measures will likely help at least balance or limit losses in the market," Burak Cetinceker, a money manager at Strateji Portfoy in Istanbul, told Bloomberg, adding that "the first few days are likely to be still volatile." Trading on the Istanbul bourse was suspended on February 8 following deadly earthquakes two days earlier.   READ MORE: Türkiye has message for other nations A 7.8-magnitude earthquake wreaked havoc across southern Türkiye and northern Syria on February 6, and was followed by dozens of aftershocks and a second quake on a nearby fault line, which caused further destruction. Many buildings collapsed, killing tens of thousands of people and trapping many others under rubble. The combined death toll in Türkiye and Syria has exceeded 40,000, according to Turkish officials and the Syrian Observatory for Human Rights.For more stories on economy & finance visit RT's business section You can share this story on social media: Follow RT on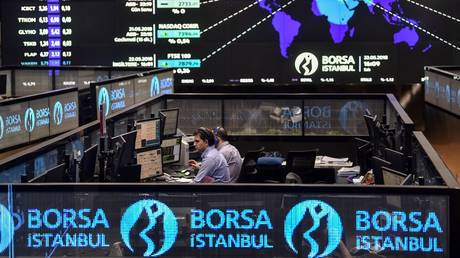 Türkiye's stock market rebounded on Wednesday after reopening following a week-long closure in the wake of devastating earthquakes that hit the nation. 
The benchmark Borsa Istanbul 100 Index (BIST 100) soared 9.8% and is on track for its biggest rise since 2008, according to Refinitiv data. The BIST 100, which was one of the best performers in 2022, is currently down around 10% for the year. 
The BIST 100's rise follows a series of measures announced by the government in an effort to prop up the market. The nation's sovereign wealth fund, known as TVF, will reportedly set up a mechanism to support stocks during times of volatility. 
President Recep Tayyip Erdogan said earlier that Turkish banks would allocate 50 billion liras ($2.7 billion) from their 2022 income to help the effort. That will add to the government's pledge of an initial 100 billion liras ($5.3 billion), an amount that is expected to increase. 
"The measures will likely help at least balance or limit losses in the market," Burak Cetinceker, a money manager at Strateji Portfoy in Istanbul, told Bloomberg, adding that "the first few days are likely to be still volatile." 
Trading on the Istanbul bourse was suspended on February 8 following deadly earthquakes two days earlier.  
A 7.8-magnitude earthquake wreaked havoc across southern Türkiye and northern Syria on February 6, and was followed by dozens of aftershocks and a second quake on a nearby fault line, which caused further destruction. Many buildings collapsed, killing tens of thousands of people and trapping many others under rubble. 
The combined death toll in Türkiye and Syria has exceeded 40,000, according to Turkish officials and the Syrian Observatory for Human Rights.
For more stories on economy & finance visit RT's business section
You can share this story on social media: