Turkish evacuation aircraft comes under fire in Sudan – ministry
Armed men opened fire on a Turkish evacuation plane at an airport outside Sudan's capital, Khartoum R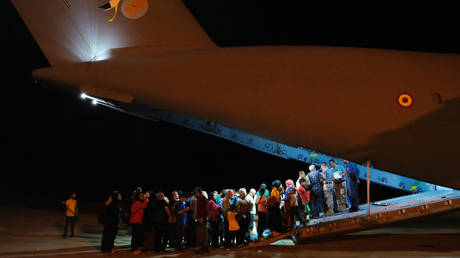 Turkish evacuation aircraft comes under fire in Sudan – ministry
The C-130 landed safely with no injuries to personnel, officials in Ankara have said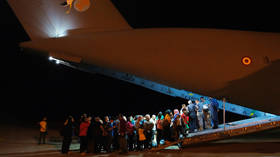 A Turkish plane attempting to evacuate citizens from Sudan's capital Khartoum was shot at on Friday, amid ongoing fighting despite the extension of a 72-hour ceasefire to permit humanitarian access.
The Turkish Defense Ministry said "light weapons were fired" at a C-130 evacuation plane which had been sent to the Wadi Sayidna airbase to evacuate nationals. The ministry added the aircraft had landed safely with no injuries to the crew, but that it required repairs.
The Rapid Support Forces (RSF) paramilitary group has denied accusations from the Sudanese Armed Forces (SAF) that it carried out the attack, dismissing the claims as unsupported by any "factual evidence."
"Our forces have remained strictly committed to the humanitarian truce that we agreed upon since midnight, and it is not true that we targeted any aircraft in the sky of Wadi Sayidna in Omdurman," the RSF said in a statement.
Foreign troops have secured the Wadi Sayidna airfield, which lies 20km to the north of Khartoum and has been utilized to evacuate citizens from countries such as Germany, the UK, the US, France, and others after violent clashes erupted in Sudan on April 15.
The Turkish Embassy in the Sundanese capital announced on Thursday that about 1,500 civilians, including 1,383 Turks, had been removed, with efforts underway to evacuate additional people.
The conflict between the army and the rival paramilitary force, now in its 14th day, has resulted in the deaths of at least 512 people, according to figures released by the Sudanese Health Ministry. The United Nations High Commission for Refugees (UNHCR) reported on Wednesday that the current number of 3.7 million internally displaced people in Sudan is rapidly increasing.
At least 20,000 Sudanese have fled to Chad, while 4,000 South Sudanese, who are part of the 1.1 million refugees hosted by Sudan from neighboring countries, have been forced to return home, according to the head of the UNHCR, Filippo Grandi.