Trump's arrest: What we know so far
Donald Trump is arraigned in New York after becoming the first current or former US president to be criminally charged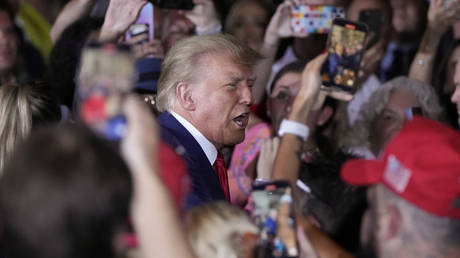 5 Apr, 2023 00:38
HomeWorld News
Trump's arrest: What we know so far
The former US president has been arraigned in New York on 34 criminal charges, marking a potentially dark new chapter in US politics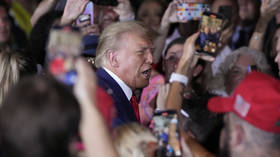 Former US President Donald Trump made ignominious history on Tuesday as the nation's first former head of state to be arrested on criminal charges. The ex-reality TV star traveled to New York City to plead not guilty to 34 counts of falsifying business records.
What happened?
The 76-year-old Trump surrendered for arrest at a courthouse in Lower Manhattan after a grand jury voted last week to indict him for allegedly falsifying business records. After being fingerprinted, he was ushered into the courtroom for arraignment by Judge Juan Merchan. Flanked by his lawyers and showing little emotion, he firmly answered "not guilty" when asked how he pleaded.
Trump was then released, and he ignored questions from reporters as he left the courthouse. He was brought in and out of a building through a door out of view by protestors, who were confined to a park across the street. He reportedly flew back to his home at Mar-a-Lago in Palm Beach, Florida, where he was expected to deliver remarks to supporters on Tuesday night.
What happens next?
Trump's next court hearing is scheduled for December 4, where Merchan may rule on legal motions in the case. For instance, Trump's lawyers will almost certainly file a motion to dismiss the case. It's not clear whether the former president will have to attend the next hearing.
Trump will continue running for president in the 2024 election. The Republican primary season kicks off just two months after his next court hearing. While the law doesn't prohibit him from being a presidential candidate, even as he faces criminal charges, the case could disrupt his campaign. However, polling shows that the indictment will boost his popularity among Republican voters, at least temporarily. Twitter owner Elon Musk predicted last month that Trump would win the 2024 election "in a landslide" if Democrats dared to indict him.
What is the case about?
The indictment stems from a $130,000 hush money payment made to porn star Stormy Daniels in 2016, when Trump was on the way to winning that year's presidential election. The payment itself wasn't illegal. The US Department of Justice and the Federal Election Commission declined to pursue the matter as a campaign finance violation, which would have been based on the notion that the payment was made solely for the purpose of aiding Trump's election prospects.
However, Manhattan District Attorney Alvin Bragg, who campaigned for office on a pledge to prosecute Trump, has pursued the case based on allegations that Trump didn't properly report the hush money expense on his business records. The DA has accused Trump of falsely reporting the cost as a payment for legal services. "The evidence will show he did so to cover up crimes relating to the 2016 election," Bragg claimed on Tuesday. Presumably, those would be the same alleged offenses that federal authorities found unworthy of pursuing.
The indictment also cited allegations of a $30,000 payment to a Trump Tower doorman who claimed that the billionaire developer fathered a child out of wedlock, as well as a $150,000 payment to a Playboy model who said she had an affair with Trump. The former president has denied all wrongdoing and called the case against him a political "witch hunt."
What are the repercussions?
The indictment marks a new era in American politics. It's not only the first indictment of a former president, but also a criminal prosecution of the opposition party's leading candidate (at the moment) in the upcoming presidential election. Arresting political opponents is the stuff of banana republics, many observers have argued.
"Today is a bad day for all of us, and we are all going to regret it for a very long time," Senator Marco Rubio, a Florida Republican, said on Tuesday. "Today, American politics crosses a line that it's never going to come back from." He warned that today's indictment will embolden prosecutors around the country to go after rival politicians to make names for themselves. Democrats, such as President Joe Biden, won't be immune from such tactics.
Trump called his arrest "surreal," adding, "can't believe this is happening in America." He could face even more legal troubles, including possible indictments by Biden's Department of Justice related to his handling of classified documents and his alleged incitement of the US Capitol riot. He also faces an investigation in Georgia for alleged meddling in Fulton County's 2020 election results.