Trump unveils fresh nickname for Biden
The former president repurposed the moniker he once used against Democratic candidate Hillary Clinton Former US President Donald Trump unveiled a new nickname for his chief Democratic rival during a campaign event in New Hampshire on Thursday, dubbing the incumbent "Crooked Joe" days after US President Joe Biden officially announced his reelection campaign. Explaining he was relieving his 2016 Democratic nemesis Hillary Clinton of her "Crooked Hillary" moniker, Trump declared, "I'm going to retire the name 'Crooked' so that we can use the name for Joe Biden, because he'll be known from now on as Crooked Joe Biden." "There's never been anyone in the history of American politics so crooked or dishonest as Joe Biden," the Republican presidential hopeful concluded.The 2024 frontrunner joked that Clinton was "out there some place celebrating" having been relieved of the epithet he'd tagged her with seven years ago, teasing the audience that he'd rename his one-time enemy "Lovely Hillary, or Beautiful Hillary."   Trump told the audience that a Biden rematch gave voters the chance to choose between "strength and weakness, success or failure, safety or anarchy, peace or conflict, and prosperity or catastrophe.""We are living in a catastrophe," he lamented, denouncing his rival as a "threat to democracy" who "doesn't have a clue" and vowing to "settle our unfinished business."  Trump has never stopped claiming he won the 2020 election, dismissing the official totals as "rigged." While Trump lost New Hampshire in the 2016 and 2020 general elections, he won the state's Republican presidential primary in 2016 and held that lead through the convention, shocking establishment favorites such as former Florida Governor Jeb Bush and Texas Senator Ted Cruz. While he remains the clear front-runner in the Republican field, leading his strongest challenger, Florida Governor Ron DeSantis, by 32 points, DeSantis – or "DeSanctus" as Trump has nicknamed him – has not officially announced his candidacy yet. Trump dismissed the notion of debating his lesser rivals, including former New Jersey Governor Chris Christie and New Hampshire Governor John Sununu, suggesting it was beneath him. The first former president ever to be indicted, Trump faces 34 felony counts in New York over his alleged payments of hush money to a porn star seven years ago. The candidate and his supporters have denounced the charges as politically motivated persecution, and his campaign took in millions in first-time donations in the 48 hours following the indictment. You can share this story on social media: Follow RT on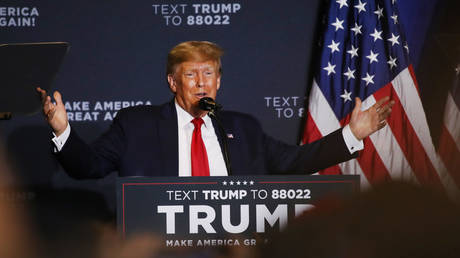 The former president repurposed the moniker he once used against Democratic candidate Hillary Clinton
Former US President Donald Trump unveiled a new nickname for his chief Democratic rival during a campaign event in New Hampshire on Thursday, dubbing the incumbent "Crooked Joe" days after US President Joe Biden officially announced his reelection campaign.
Explaining he was relieving his 2016 Democratic nemesis Hillary Clinton of her "Crooked Hillary" moniker, Trump declared, "I'm going to retire the name 'Crooked' so that we can use the name for Joe Biden, because he'll be known from now on as Crooked Joe Biden."
"There's never been anyone in the history of American politics so crooked or dishonest as Joe Biden," the Republican presidential hopeful concluded.
The 2024 frontrunner joked that Clinton was "out there some place celebrating" having been relieved of the epithet he'd tagged her with seven years ago, teasing the audience that he'd rename his one-time enemy "Lovely Hillary, or Beautiful Hillary."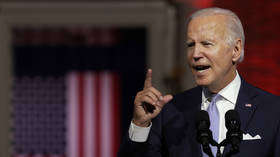 Trump told the audience that a Biden rematch gave voters the chance to choose between "strength and weakness, success or failure, safety or anarchy, peace or conflict, and prosperity or catastrophe."
"We are living in a catastrophe," he lamented, denouncing his rival as a "threat to democracy" who "doesn't have a clue" and vowing to "settle our unfinished business."
Trump has never stopped claiming he won the 2020 election, dismissing the official totals as "rigged."
While Trump lost New Hampshire in the 2016 and 2020 general elections, he won the state's Republican presidential primary in 2016 and held that lead through the convention, shocking establishment favorites such as former Florida Governor Jeb Bush and Texas Senator Ted Cruz.
While he remains the clear front-runner in the Republican field, leading his strongest challenger, Florida Governor Ron DeSantis, by 32 points, DeSantis – or "DeSanctus" as Trump has nicknamed him – has not officially announced his candidacy yet. Trump dismissed the notion of debating his lesser rivals, including former New Jersey Governor Chris Christie and New Hampshire Governor John Sununu, suggesting it was beneath him.
The first former president ever to be indicted, Trump faces 34 felony counts in New York over his alleged payments of hush money to a porn star seven years ago. The candidate and his supporters have denounced the charges as politically motivated persecution, and his campaign took in millions in first-time donations in the 48 hours following the indictment.