Trump trails popular governor in 2024 Republican race
Poll shows Florida Governor Ron DeSantis leading former US President Donald Trump in race for the 2024 Republican presidential nomination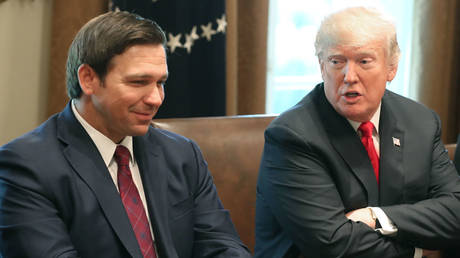 Trump trails popular governor in 2024 Republican race
Florida's Ron DeSantis leads the one-on-one battle, but a divided opposition could help the former US president win, a poll shows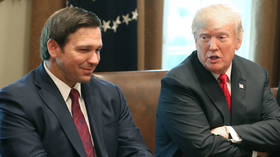 Donald Trump would be hard-pressed to beat Florida Governor Ron DeSantis in the Republican Party's 2024 presidential race, but other candidates could hive off enough votes for the former US president to win a plurality of delegates in a crowded field, according to a new Yahoo/YouGov poll published on Wednesday.
The survey found that in a head-to-head race, DeSantis leads Trump by a margin of 45% to 41%, similar to the 45-42 lead that he held last month. However, when former South Carolina Governor Nikki Haley is offered as an option, she is preferred by 11% of voters, essentially dividing up the anti-Trump vote and enabling the ex-president to take a 38-35 lead over DeSantis. In a field expanded to include nine likely candidates, Trump leads the Florida governor by 37-36.
Various polls have shown that Trump has lost much of his support among Republican voters since November's congressional midterm elections, in which candidates he endorsed fared worse than expected. In contrast, DeSantis won re-election as governor by the state's largest margin in 40 years, and he led a Republican ticket in which Florida candidates helped the GOP win back control of the US House of Representatives. A December poll by USA Today showed that by a margin of nearly 2-to-1, Republican voters want someone other than Trump to win the party's 2024 presidential nomination.
Nevertheless, even if Trump retains the unwavering support of, say, 3 in 10 Republican voters, he could win a plurality of votes as his rivals compete with each other for the remaining 70%. Such a result could doom Republicans to defeat in the general election. Other Yahoo/YouGov polling shows that President Joe Biden has a 46-40 lead over Trump in a head-to-head rematch of the 2020 election. The incumbent's lead over DeSantis is 44-42.
DeSantis has the highest net favorability among current top contenders from both parties, at plus 11, based on 49% or respondents viewing him favorably and 38% having an unfavorable view. Trump, by comparison, is at minus 5, while Biden is at minus 8 and Vice President Kamala Harris is at minus 16.
Trump has already begun to take shots at DeSantis, whom he nicknamed "Ron Desanctimonious." The latest insult came on Tuesday, when Trump amplified a Truth Social post accusing the governor of "grooming high school girls" when he was a teacher. DeSantis responded by saying, "I don't spend my time trying to smear other Republicans."