Truck with hazardous chemicals crashes in US
A community near Tucson, Arizona was evacuated after a truck carrying hazardous chemicals overturned on Interstate 10 on Tuesday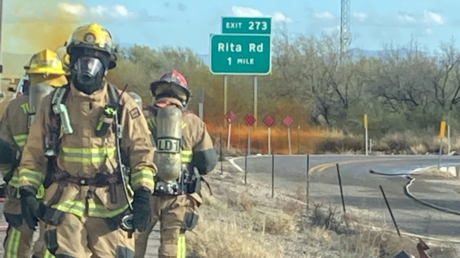 Truck with hazardous chemicals crashes in US
Tucson, Arizona residents urged to stay inside after an 18-wheeler with chemicals flipped over on I-10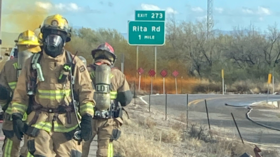 After a tractor-trailer carrying chemicals flipped over on Interstate 10 south of Tucson on Tuesday, Arizona authorities worked to evacuate residents in a mile's radius and urged others to close windows and turn off air conditioners.
"HAZMAT release on I-10. Individuals within 1 mile radius should shelter in place," said an emergency alert that went out around 4:30 pm local time.
The truck was reportedly carrying nitric acid, commonly used as an oxidizing agent and in the production of fertilizer, inks, dyes and explosives.
The spill threatened the Rita Ranch community, southeast of Tucson. Local residents were told to seek shelter "immediately" and turn off any device that used outside air.
"The Department's Hazardous Materials Response Unit, along with partner agencies are working together to mitigate the incident," the Arizona Department of Public Safety (DPS) said in a statement. "Out of an abundance of caution first responders are working to evacuate a perimeter around the area of the incident."
The state Department of Transportation said the section of Interstate 10 between Kolb Road and Houghton Road was closed in both directions, with "no timetable" to reopen.
The Tucson highway incident comes amid the heightened scrutiny of US chemical transport infrastructure. Earlier this month, a train carrying hazardous chemicals derailed in eastern Ohio, forcing the evacuation of several thousand people from the town of East Palestine.
Though the local authorities said all the environmental readings were normal as of Sunday, the locals who returned shared photos of dogs, foxes, chickens, fish and frogs who died or were injured in the area affected by the poisonous cloud.