Top News This Week (4th Week Of March 2023)
The 4th week of March has been the definition of eventful as there were many breaking news, development, and events that made many duly shocked, excited, and full of anticipation. This week in K-Pop and K-Drama, we had impressive comebacks and performances, military enlistments, a shocking outfit design that caused an uproar on social media, a new NCT sub-unit debut date, and a new boy group debut from a famous agency. As fans of both K-Pop and K-Drama, we recognize that news and updates from your favorite stars might be fleeting and chances are that you may have missed a bit of information or two during the fast-paced news cycle. With this themed article, we hope to curate the vital news and events that happened during the week, so you do not miss a thing. Here are some of the key news from both K-Pop and K-Drama that happened in the 4th week of March 2023. K-POP NEWS 1. SHINee's Onew records 1st win for 'Circle' on Music Core SHINee's official Instagram SHINee's Onew earned his 1st win for his amazing song 'Circle' on Music Core on Saturday. Congratulations to the artist and his impressive work of art. 2. TWICE earns 2nd win for 'SET ME FREE' TWICE's official Instagram TWICE's promotions for their latest comeback 'SET ME FREE' is off to an impressive start as they earn a 2nd music show win for the song on THE SHOW. Congratulations to the group. 3. BTS' JiMin drops new music video for his second single 'Like Crazy' Last week, JiMin was all everyone could talk about following the successful release of his debut track 'Set Me Free Pt 2'. This week, he continues on his buzz with the release of the music video for his second single 'Like Crazy'. 4. EXO's Kai and SF9's Yoo TaeYang have a special moment Ypp TaeYang's official Instagram It's a well-known fact that SF9's Yoo TaeYang is a big fan of Kai and fans have been anticipating a special moment between the two iconic performers for awhile now. This week, during the promotion of his new song 'Rover', the two had the cutest interactions which led to a viral moment on social media. You can read the update here. 5. CRAVITY to embark on their 1st World tour. STARSHIP Entertainment CRAVITY announced their first World tour titled 'MASTERPIECE' this week. The tour leg will kick off with performances in Seoul. See here for more information. 6. DOJAEJUNG to make their debut in April SM Entertainment This week, SM Entertainment confirmed that DOJAEJUNG, the NCT sub-unit comprising of members DoYoung, JaeHyun, and JungWoo will be making their debut with an album on the 17th of April. 7. Lee ChaeYeon to make a comeback in April WM Entertainment Lee ChaeYeon is scheduled to make a comeback with the release of her 2nd mini album on the 12th of April 2023. The new album will be titled "Over The Moon". 8. Fantagio set to debut new boy group in the first half of the year Fantagio The entertainment agency released news that they will be debuting a new boy group in the first half of this year. This new group will be the first boy group from the agency since ASTRO who made their debut in 2016. 9. TWICE's ChaeYoung faced with controversy over Swastika shirt. She issues an apology ChaeYoung's official Instagram (now deleted) ChaeYoung's official Instagram ChaeYoung was the face of a new controversy this week as she was spotted wearing a shirt with a Swastika design imprinted on it. Following the swift backlash from fans, she immediately shared an apology on her social media. While it was received by many fans who advised her to be more careful and aware of global historical facts and references, others are simply not satisfied with the apology, stating that this symbol is a well-known sign and it is not easily mistaken for something else. 10. BLACKPINK's JiSoo drops new visual film for "ME" With each week, there is a new teaser that further builds the anticipation of fans for JiSoo's solo debut. This week, she dropped the 2nd visual film of her album, and just like the 1st one, we are vividly impressed and in awe. 11. BTOB marked their 11th anniversary this week CUBE Entertainment It's a celebration all around as the famous group marked their 11th-year debut anniversary this week. We wish them a hearty congratulations and many more anniversaries in the future. 12. MONSTA X's I.M leaves us stunned with his 1st Look photoshoot 1st Look When it comes to photoshoots, IM has a penchant for always delivering iconic results and for 1st Look magazine, he delivers just that and drawing the attention of many global fans, who expressed their admiration of him online. Click here to see the rest of the pictures. 13.  iKON's Bobby treats fans to two music videos this week In the past weeks, we have all been gearing up for the release of Bobby's solo single "S.I.R". And this week, Bobby treated fans to not just one but two music videos of his new songs 'Cherry Blossoms' and 'Drowning'. Fellow member DK, SF9's HwiYoung, and THE BOYZ's SunWoo all made an appearance in the music vi
The 4th week of March has been the definition of eventful as there were many breaking news, development, and events that made many duly shocked, excited, and full of anticipation. This week in K-Pop and K-Drama, we had impressive comebacks and performances, military enlistments, a shocking outfit design that caused an uproar on social media, a new NCT sub-unit debut date, and a new boy group debut from a famous agency.
As fans of both K-Pop and K-Drama, we recognize that news and updates from your favorite stars might be fleeting and chances are that you may have missed a bit of information or two during the fast-paced news cycle. With this themed article, we hope to curate the vital news and events that happened during the week, so you do not miss a thing.
Here are some of the key news from both K-Pop and K-Drama that happened in the 4th week of March 2023.
K-POP NEWS
1. SHINee's Onew records 1st win for 'Circle' on Music Core
SHINee's Onew earned his 1st win for his amazing song 'Circle' on Music Core on Saturday. Congratulations to the artist and his impressive work of art.
2. TWICE earns 2nd win for 'SET ME FREE'
TWICE's promotions for their latest comeback 'SET ME FREE' is off to an impressive start as they earn a 2nd music show win for the song on THE SHOW. Congratulations to the group.
3. BTS' JiMin drops new music video for his second single 'Like Crazy'
Last week, JiMin was all everyone could talk about following the successful release of his debut track 'Set Me Free Pt 2'. This week, he continues on his buzz with the release of the music video for his second single 'Like Crazy'.
4. EXO's Kai and SF9's Yoo TaeYang have a special moment
It's a well-known fact that SF9's Yoo TaeYang is a big fan of Kai and fans have been anticipating a special moment between the two iconic performers for awhile now. This week, during the promotion of his new song 'Rover', the two had the cutest interactions which led to a viral moment on social media. You can read the update here.
5. CRAVITY to embark on their 1st World tour.
CRAVITY announced their first World tour titled 'MASTERPIECE' this week. The tour leg will kick off with performances in Seoul. See here for more information.
6. DOJAEJUNG to make their debut in April
This week, SM Entertainment confirmed that DOJAEJUNG, the NCT sub-unit comprising of members DoYoung, JaeHyun, and JungWoo will be making their debut with an album on the 17th of April.
7. Lee ChaeYeon to make a comeback in April
Lee ChaeYeon is scheduled to make a comeback with the release of her 2nd mini album on the 12th of April 2023. The new album will be titled "Over The Moon".
8. Fantagio set to debut new boy group in the first half of the year
The entertainment agency released news that they will be debuting a new boy group in the first half of this year. This new group will be the first boy group from the agency since ASTRO who made their debut in 2016.
9. TWICE's ChaeYoung faced with controversy over Swastika shirt. She issues an apology
ChaeYoung was the face of a new controversy this week as she was spotted wearing a shirt with a Swastika design imprinted on it. Following the swift backlash from fans, she immediately shared an apology on her social media. While it was received by many fans who advised her to be more careful and aware of global historical facts and references, others are simply not satisfied with the apology, stating that this symbol is a well-known sign and it is not easily mistaken for something else.
10. BLACKPINK's JiSoo drops new visual film for "ME"
With each week, there is a new teaser that further builds the anticipation of fans for JiSoo's solo debut. This week, she dropped the 2nd visual film of her album, and just like the 1st one, we are vividly impressed and in awe.
11. BTOB marked their 11th anniversary this week
It's a celebration all around as the famous group marked their 11th-year debut anniversary this week. We wish them a hearty congratulations and many more anniversaries in the future.
12. MONSTA X's I.M leaves us stunned with his 1st Look photoshoot
When it comes to photoshoots, IM has a penchant for always delivering iconic results and for 1st Look magazine, he delivers just that and drawing the attention of many global fans, who expressed their admiration of him online. Click here to see the rest of the pictures.
13.  iKON's Bobby treats fans to two music videos this week
In the past weeks, we have all been gearing up for the release of Bobby's solo single "S.I.R". And this week, Bobby treated fans to not just one but two music videos of his new songs 'Cherry Blossoms' and 'Drowning'. Fellow member DK, SF9's HwiYoung, and THE BOYZ's SunWoo all made an appearance in the music video.
14. MONSTA X's HyungWon slays on the cover of Y Magazine
The famous idol lent his dreamy visuals to the cover of the fashion and lifestyle magazine, leaving many duly stunned by his charismatic aura and alluring good looks.
15. MAMAMOO+ makes an exciting comeback with 'Aniri ver'
The MAMAMOO unit has been gearing up for their comeback this past week, building the suspense and anticipation of their sound and concept. And with 'Aniri ver', expectations were duly met and exceeded as they completely delivered.
16. MBC's "FANTASY BOYS" drops the preview of the 1st episode
K-Pop idol trainee program fans can add yet another show to their growing watchlist as MBC releases the preview of the 1st episode of its new show "FANTASY BOYS". The 1st episode is scheduled to air on the 30th of March 2023.
17. SunMi and BE'O show off their chemistry in the new single 'LIGHTS OUT'
The two famous artists showed off their amazing chemistry while also serenading listeners with their amazing vocals in their new single 'LIGHTS OUT'.
18. VICTON's SeungSik enlists in the military
Fans of VICTON and SeungSik bid the idol a sad farewell as he enlisted into the military this week. We hope for a speedy service and that he comes back safe and healthy.
19. (G)I-DLE's Yuqi leaves fans stunned by her visuals on ESQUIRE Fine
The famous idol looked mesmerizing while striking various chic poses in the fashion and lifestyle magazine editorial this week. Check out the pictures here.
20. EVERGLOW celebrates 4th year debut anniversary
The 4th generation girl group marked their 4th year debut anniversary with a flood of comments from fans congratulating them and asking for a comeback as well.
21. UP10TION's Kim WooSeok shares the concept photos for his 4th mini album
This week, the idol released new concept photos for his upcoming 4th mini album "Blank Page". It is scheduled for release on the 3rd of April 2023.
22. TXT to perform at "Lollapalooza"
TXT joins the amazing lineup of the music show and festival which will be held in Chicago from the 3rd - 6th of August 2023.
23. K-Pop comebacks
KINGDOM - 'Dystopia'
24. WOODZ shares tour date for his new world tour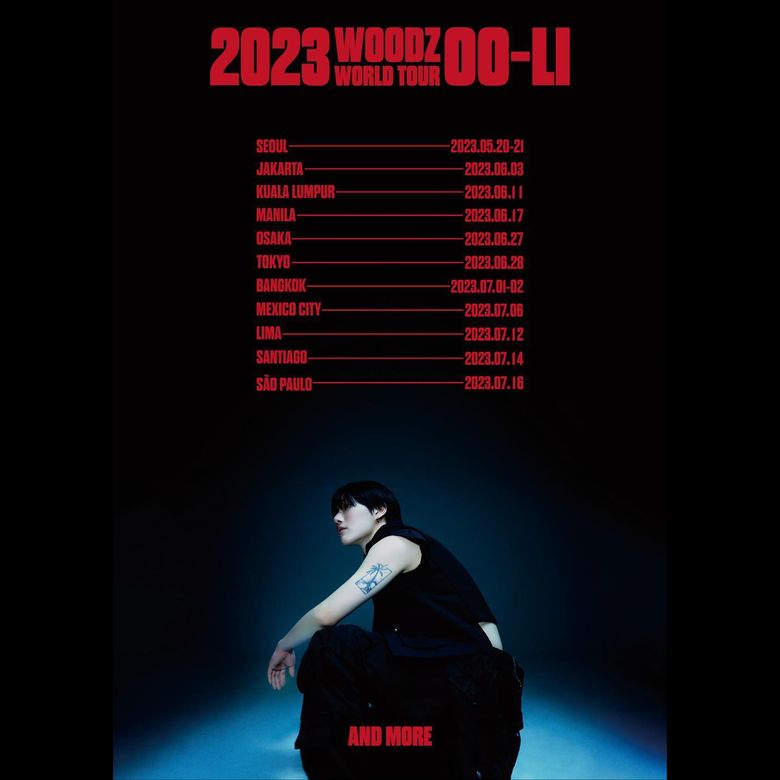 The multitalented superstar is getting set to greet his global fans with his new world tour "OO-LI ". The news has been well received by fans who are excited to see the idol and with many already calling for more tour stops and dates for the tour. Click here for more information.
25. SF9's JaeYoon, Golden Child's Y, and N.Flying's Cha Hun enlist in the military
The 4th week of March could very well be tagged as enlistment week, as many of our favorite idols and actors enlisted into the military this week. We wish them all a safe and healthy return.
K-DRAMA NEWS
1. tvN drops the poster for the new action drama "Stealer: The Treasure Keeper" starring Joo Won
The anticipation for the drama continues to rise at an increasing pace as tvN shares the official poster of the drama, which is scheduled to begin airing in April.
2. INFINITE's Nam WooHyun signs with Jflex Entertainment
Earlier this week, Jflex Entertainment released the news welcoming the famous acting-dol to its agency. He joins a host of refreshing talents like Lee JunYoung, Park JeongWoo, Kim KangMin, etc signed to the agency.
3. YG Stage drops new profile pictures of its actors
It is visuals overload as YG Stage shared new profile pictures of some of its actors. Actors Kwon HyunBin, Park HyeongSeop, Lee KiTaek, and Jang DoekSu all looked expressively charming in this update. Click here to have a look at the pictures.
4. tvN drops official poster image for upcoming drama "Family"
The action comedy-drama starring Jang Hyuk, Jang NaRa, and Chae JungAn is set to air on the 17th of April 2023.
5. Coupang Play releases new trailer for its thriller series "Decoy 2"
The thriller drama left many viewers in a state of suspense following the ending of its first season. Riding on that feeling, Coupang Play builds up the excitement and anticipation for the 2nd part of the drama with this trailer. The drama is set to begin airing on the 7th of April.
6. KINGKONG By STARSHIP to pursue legal actions against Yoo YeonSeok's false accuser
Early this week, news broke out about Yoo YeonSeok when claims were made by an internet user that the famous actor had been rude and maltreated a security guard. The news was quickly debunked as false and the accuser released an apology. However, his agency vows to take legal action against the accuser who they deemed as knowingly spreading false news and defaming their artist without any leniency.
7. Famous actor Nam JooHyuk enlists in the military
Earlier this week, Management Soop released the news that the famous actor had enlisted in the military and is currently receiving basic training. Stay safe and healthy Nam JooHyuk.
8. JTBC drops first teaser for upcoming drama "The Good Bad Mother"
JTBC shared the first teaser of the slice-of-life drama starring Lee DoHyun and Ra MiRan this week. The drama is expected to start airing on the 2nd of April.
BIRTHDAY BUMPS
Kwak DongYeon - 19th of March
ASTRO's Yoon SanHa - 21st of March
CRAVITY's WonJin - 22nd of March
NCT's RenJun - 23rd of March
ATEEZ's YunHo - 23rd of March
Lee HyunWoo - 23rd of March
BEST PERFORMANCES THIS WEEK
TRENDZ - 'NEW DAYZ'
EXO's Kai - 'Rover'
iKON's Bobby - 'Drowning'
NMIXX - 'Love Me Like This'
TWICE - 'SET ME FREE'
CRAVITY - 'Groovy'
OnlyOneOf - 'seOul drift'
VARIETY SHOW RECOMMENDATIONS