Top 15 Instagram Updates By K-Pop Idols (2nd Week Of February 2023)
Mark's official Instagram / Stray Kids' official Instagram / TEMPEST's official Instagram A new week means new social media updates from our favorite idols and groups, and a new selection of the best for us. This week, our favorite idols sought to make our choices a very difficult one as all their updates were well under the bracket of "quality" and "amazing". Hello everyone and welcome to another edition of our Top 15 Instagram Updates by K-Pop Idols article. Here we go scour through Instagram and curate a selection of pictures or video updates that we have deemed the best this week. You can read our previous selections by clicking here. The updates highlighted are primarily not photoshoots by agencies or magazines but mostly the ones taken and shared by idols either on their group or personal accounts. This would include, selfies, behind-the-scenes shots, fan sign events, reels, or videos. At the end of the article, we would be taking a fun poll asking you which idol had the best update this week. Here are our top 15 picks of the best Instagram update by K-Pop idols in the 2nd week of February 2023. Pretty in pink, Joy is the epitome of beauty and fun in these pictures. Handsome and delightful, HanGyeom is the modern-day Ken in these pictures. The adorable maknae of the famous group celebrated his birthday this week. We join the host of his global fans in wishing him a happy birthday and hope he made great memories as well. The famous idol also marked his birthday this week. A day clearly filled with delicious foods and surrounded by his loved ones, this update makes our hearts swell with love as we wish him many more years. It's graduation day and the Hueining siblings gathered in celebration. We wish Bahiyyih a hearty congratulations on her graduation. Looking chic and handsome, Kim WooJin is the quintessential boyfriend material as he shares these adorable pictures from his day out in Seoul. Are you ready for his 2023 tour? HwaRang looks so dreamy and handsome in this update, but it is nothing new as he has always been a true visual. Our hearts (and those of fans) always feel giddy with love and excitement whenever our favorite duo share an update together. TVXQ's comeback when though?! The famous soloist also celebrated her birthday this week. We wish her a happy birthday and hope she had a great day filled with delicious food and love. Yuta's strikingly gorgeous visuals are so powerful, they make many ask the question "how can he be this handsome?" An YuJin is the definition of cute and bright as her endearing personality is in full view in these pictures. Looking fluffy and cute, Mark is the 'Best Friend Ever' we all want. A special congratulations to LIGHTSUM's YuJeong on her graduation. This video is just so adorable and sweet. Hyuk feeds fans with pictures of not just his handsome good looks but also delicious meals in this adorable update. It's #SeulGiDay as the talented and stunning idol marks her birthday this week. We wish her a joyous celebration filled with delicious foods, treats, and love. Which K-Pop idol had the best Instagram update in the 2nd week of February? Feb 10, 2023 ~ Feb 16, 2023 (KST) ※You can vote multiple times without sign in. Red Velvet's Joy OMEGA X's HanGyeom Stray Kids' I.N 2PM's ChanSung Kep1er's Bahiyyih Kim WooJin TEMPEST's HwaRang TVXQ's YunHo NCT's Yuta IVE's An YuJin NCT's Mark LIGHTSUM's YuJeong OMEGA X's Hyuk Red Velvet's SeulGi Result View 5 1 vote Rating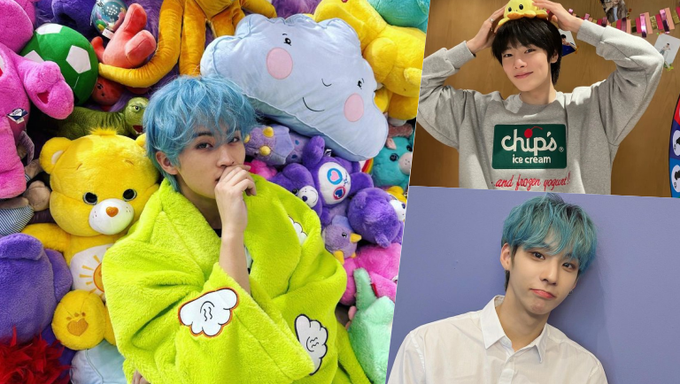 A new week means new social media updates from our favorite idols and groups, and a new selection of the best for us. This week, our favorite idols sought to make our choices a very difficult one as all their updates were well under the bracket of "quality" and "amazing".
Hello everyone and welcome to another edition of our Top 15 Instagram Updates by K-Pop Idols article. Here we go scour through Instagram and curate a selection of pictures or video updates that we have deemed the best this week.
You can read our previous selections by clicking here. The updates highlighted are primarily not photoshoots by agencies or magazines but mostly the ones taken and shared by idols either on their group or personal accounts. This would include, selfies, behind-the-scenes shots, fan sign events, reels, or videos. At the end of the article, we would be taking a fun poll asking you which idol had the best update this week.
Here are our top 15 picks of the best Instagram update by K-Pop idols in the 2nd week of February 2023.
Pretty in pink, Joy is the epitome of beauty and fun in these pictures.
Handsome and delightful, HanGyeom is the modern-day Ken in these pictures.
The adorable maknae of the famous group celebrated his birthday this week. We join the host of his global fans in wishing him a happy birthday and hope he made great memories as well.
The famous idol also marked his birthday this week. A day clearly filled with delicious foods and surrounded by his loved ones, this update makes our hearts swell with love as we wish him many more years.
It's graduation day and the Hueining siblings gathered in celebration. We wish Bahiyyih a hearty congratulations on her graduation.
Looking chic and handsome, Kim WooJin is the quintessential boyfriend material as he shares these adorable pictures from his day out in Seoul. Are you ready for his 2023 tour?
HwaRang looks so dreamy and handsome in this update, but it is nothing new as he has always been a true visual.
Our hearts (and those of fans) always feel giddy with love and excitement whenever our favorite duo share an update together. TVXQ's comeback when though?!
The famous soloist also celebrated her birthday this week. We wish her a happy birthday and hope she had a great day filled with delicious food and love.
Yuta's strikingly gorgeous visuals are so powerful, they make many ask the question "how can he be this handsome?"
An YuJin is the definition of cute and bright as her endearing personality is in full view in these pictures.
Looking fluffy and cute, Mark is the 'Best Friend Ever' we all want.
A special congratulations to LIGHTSUM's YuJeong on her graduation. This video is just so adorable and sweet.
Hyuk feeds fans with pictures of not just his handsome good looks but also delicious meals in this adorable update.
It's #SeulGiDay as the talented and stunning idol marks her birthday this week. We wish her a joyous celebration filled with delicious foods, treats, and love.
Which K-Pop idol had the best Instagram update in the 2nd week of February?
Feb 10, 2023 ~ Feb 16, 2023 (KST)
※You can vote multiple times without sign in.