Tony Christie 'carrying on' as normal despite dementia diagnosis
Tony Christie has insisted dementia doesn't affect his career. The 79-year-old singer feared he'd have to stop working when he was diagnosed with the degenerative condition last year, but he's set to record two new albums and has gigs and TV appearances planned because he is just "carrying on" and "being normal". He told the Daily Star Sunday newspaper: "Having dementia isn't life-changing. I'm carrying on. I'm just being normal. I don't let it affect me. "The only difference is I forget people's names, so occasionally I have to ask my wife to help me with that. But it's not affecting my musical side. My singing is still the same. "I'm still working. I won't be cancelling anything. I'll be recording some new albums in Nashville and I'm doing two shows in Ibiza." Tony is pleased his diagnosis has offered comfort to other families. He said: "I get people tapping me on the shoulder in the supermarket. It's been staggering. "They say things like, 'Thank you for what you did… my wife or my husband has the same thing and now they're not ashamed to admit it'. "I didn't realise how helpful I'd been. I want people to realise dementia doesn't have to ruin your life – it is nothing to be ashamed of." The '(Is This The Way To) Amarillo' singer still gets excited when he goes out on stage in front of a crowd. He said: "I still love performing… it's the only thing I'm any good at. I've always liked what I do. "Thankfully my voice is as good as it ever was. It's never changed. "In fact, I've actually got a bigger range now than I had years ago." In July, the veteran entertainer will release 'Thank You For Being A Friend' to raise money for Music For Dementia. He said: "It's going to be fantastic – there will be some global stars on it. I think it's going to be a worldwide hit."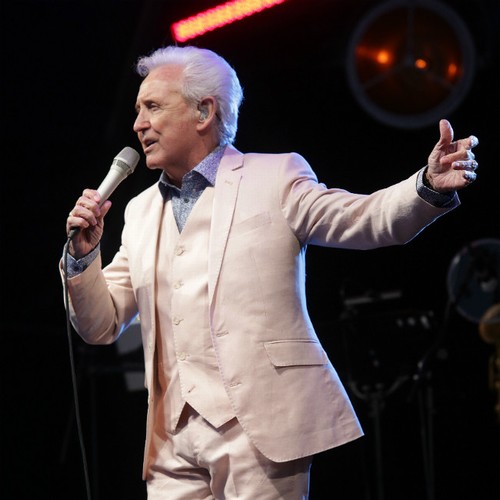 Tony Christie has insisted dementia doesn't affect his career.
The 79-year-old singer feared he'd have to stop working when he was diagnosed with the degenerative condition last year, but he's set to record two new albums and has gigs and TV appearances planned because he is just "carrying on" and "being normal".
He told the Daily Star Sunday newspaper: "Having dementia isn't life-changing. I'm carrying on. I'm just being normal.
I don't let it affect me.
"The only difference is I forget people's names, so occasionally I have to ask my wife to help me with that. But it's not affecting my musical side. My singing is still the same.
"I'm still working. I won't be cancelling anything. I'll be recording some new albums in Nashville and I'm doing two shows in Ibiza."
Tony is pleased his diagnosis has offered comfort to other families.
He said: "I get people tapping me on the shoulder in the supermarket. It's been staggering.
"They say things like, 'Thank you for what you did… my wife or my husband has the same thing and now they're not ashamed to admit it'.
"I didn't realise how helpful I'd been. I want people to realise dementia doesn't have to ruin your life – it is nothing to be ashamed of."
The '(Is This The Way To) Amarillo' singer still gets excited when he goes out on stage in front of a crowd.
He said: "I still love performing… it's the only thing I'm any good at. I've always liked what I do.
"Thankfully my voice is as good as it ever was. It's never changed.
"In fact, I've actually got a bigger range now than I had years ago."
In July, the veteran entertainer will release 'Thank You For Being A Friend' to raise money for Music For Dementia.
He said: "It's going to be fantastic – there will be some global stars on it. I think it's going to be a worldwide hit."