Today I Have Very Strong Feelings
Manuel C., CC BY-SA 4.0, via Wikimedia Commons. A month ago, Gianni Infantino, the president of FIFA, made his now infamous "I am Spartacus" speech at the World Cup's opening press conference. "Today I have very strong feelings, today I feel Qatari, today I feel Arab, today I feel African, today I feel gay, today I feel disabled, today I feel a migrant worker," he said, before adding, "Of course, I am not Qatari, I am not an Arab, I am not African, I am not gay, I am not disabled. But I feel like it, because I know what it means to be discriminated, to be bullied." Two days before Sunday's final, he returned to the microphone to announce, a bit prematurely, that this had been the "best World Cup ever." It pains me to say it, n terms of pure football, and especially given the galactically great final—a game that will remain, as everyone pretty much agrees, unsurpassed in the annals of football history—he was right on the money. At the beginning of England's penalty shoot-out against France in the quarterfinals, English fans were back at the Battle of Agincourt, the whole country ready to channel Laurence Olivier or Kenneth Branagh and "cry 'God for Harry, England, and Saint George,'" when the local penalty pathology kicked in. In the 1996 Euro, Gareth Southgate, currently England's manager, had famously missed a vital penalty against Germany, weakly side-footing the ball toward the goal. The next day one of the tabloids ran the unforgiving headline "'HE SHOULD HAVE BELTED IT' SAYS SOUTHGATE'S MUM." This time, Harry Kane did belt it. The result was the same. Kane's ball went way over the bar, effectively ending his country's chances of beating France in the quarterfinals. England had probably otherwise deserved the win, on the merit of its second-half performance and in the wake of some egregious decisions from the referee Wilton Sampaio, along with the mystery that is VAR (video assistant referee). All the bells say: too late. This is not for tears. Harry lifted the top of his shirt above his chin and bit down on it. Harry Kane is in good company. All the greats have missed completely or have had penalties saved, including Messi in this World Cup and the last one, and Ronaldo in 2018. But at least they were the obvious choices for the job. Harder to figure is why Virgil van Dijk, one of the world's truly dominant center backs but not particularly well-known for his goal-scoring abilities, insisted on taking the first penalty for the Netherlands in their shoot-out against Argentina this year. No doubt he wanted to play the captain's role, steady his team's nerves, and lay down a marker for the rest of them. The heart has reasons of which reason knows nothing. But I retract my criticism. The miasma of despair that hangs over missed penalties is the cruelest epilogue a game can have. Only the fourth-ever African and first-ever Arab team to make the quarterfinals, and the first of both to make the semis, Morocco was the darling of this tournament. Playing with guts, flair, and imagination, and led by an unflappable manager in Walid Regragui, Morocco dispensed with those colonizers Belgium, Spain, and Portugal (was there ever a more towering header than Youssef En-Nesyri's against Portugal?) before coming up against France in the semifinals. The Moroccan team played their hearts out: Jawad El Yamiq's splendid first-half overhead kick hit the post; Azzedine Ounahi, who was superb all tournament, had a shot cleared off the line; several times Kylian Mbappé took off on one of his electric runs down the wing, he was upended by a hard, effective, borderline-yellow-card tackle. In the end, however, as with Messi in Argentina's semifinal against Croatia, the superstar had the last word: Mbappé dinked past defenders in the box before laying off a pass for Randal Kolo Muani to finish for a 2–0 France lead. The great sea of red and green in Al Bayt Stadium, borne up on the tidal wave of global support for the underdog, worked itself up with whistles for France and chants of siir! (go!) for Morocco, as if to prove conclusively that a state of wild frenzy can be achieved without the consumption of alcohol. But France held on. Like Germany after their armband demonstration, Morocco's national team hasn't shied away from using its moments in the spotlight to highlight a political position: in this case, support for Palestine. In what the left-wing Israeli newspaper Haaretz described as "a wake-up call," Morocco's team unfurled a Palestinian flag on the pitch after each of its wins, delivering a pointed reminder to Israel that, despite the Abraham Accords, the Arab street is playing against them. The third-place game is one about which nobody usually cares at all, including, it often seems, the players in it. But this time was different: Morocco and Croatia were both beautiful losers, each for their own reasons. Croatia, runner-up to France in 2018, was playing for its third top-three finish, an extraordinary achievement for a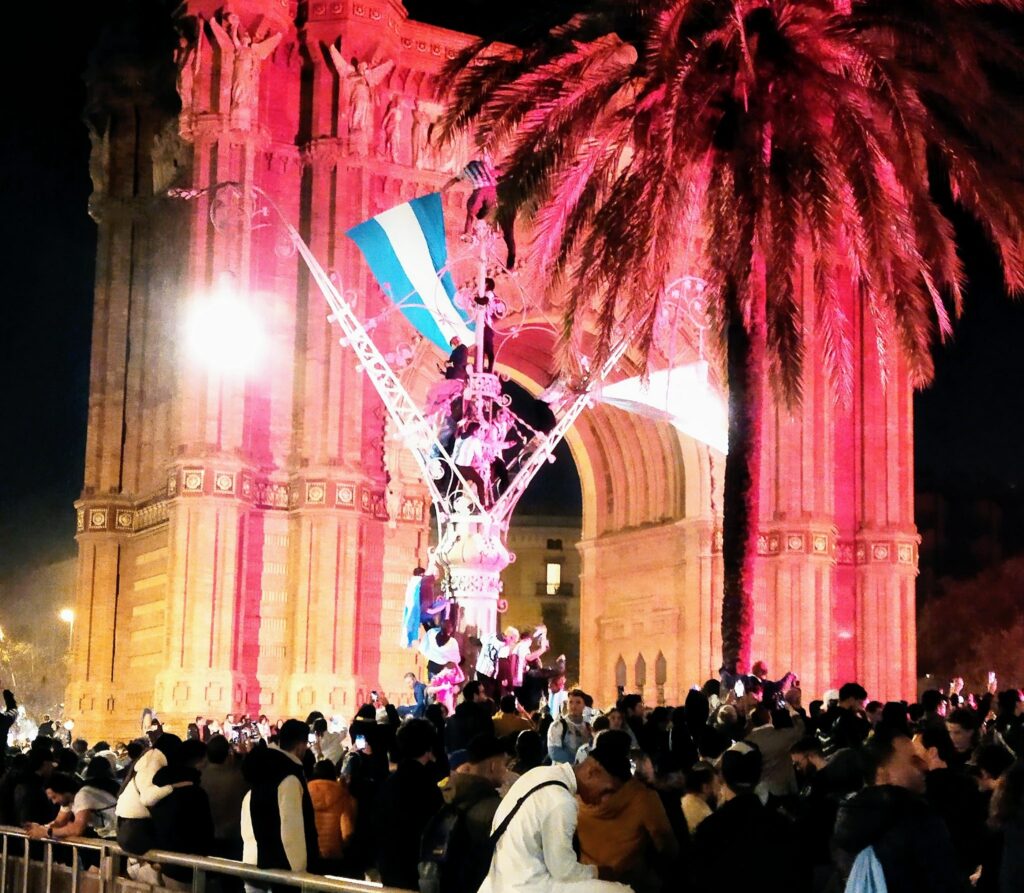 A month ago, Gianni Infantino, the president of FIFA, made his now infamous "I am Spartacus" speech at the World Cup's opening press conference. "Today I have very strong feelings, today I feel Qatari, today I feel Arab, today I feel African, today I feel gay, today I feel disabled, today I feel a migrant worker," he said, before adding, "Of course, I am not Qatari, I am not an Arab, I am not African, I am not gay, I am not disabled. But I feel like it, because I know what it means to be discriminated, to be bullied." Two days before Sunday's final, he returned to the microphone to announce, a bit prematurely, that this had been the "best World Cup ever." It pains me to say it, n terms of pure football, and especially given the galactically great final—a game that will remain, as everyone pretty much agrees, unsurpassed in the annals of football history—he was right on the money.
At the beginning of England's penalty shoot-out against France in the quarterfinals, English fans were back at the Battle of Agincourt, the whole country ready to channel Laurence Olivier or Kenneth Branagh and "cry 'God for Harry, England, and Saint George,'" when the local penalty pathology kicked in. In the 1996 Euro, Gareth Southgate, currently England's manager, had famously missed a vital penalty against Germany, weakly side-footing the ball toward the goal. The next day one of the tabloids ran the unforgiving headline "'HE SHOULD HAVE BELTED IT' SAYS SOUTHGATE'S MUM." This time, Harry Kane did belt it. The result was the same. Kane's ball went way over the bar, effectively ending his country's chances of beating France in the quarterfinals. England had probably otherwise deserved the win, on the merit of its second-half performance and in the wake of some egregious decisions from the referee Wilton Sampaio, along with the mystery that is VAR (video assistant referee). All the bells say: too late. This is not for tears. Harry lifted the top of his shirt above his chin and bit down on it.
Harry Kane is in good company. All the greats have missed completely or have had penalties saved, including Messi in this World Cup and the last one, and Ronaldo in 2018. But at least they were the obvious choices for the job. Harder to figure is why Virgil van Dijk, one of the world's truly dominant center backs but not particularly well-known for his goal-scoring abilities, insisted on taking the first penalty for the Netherlands in their shoot-out against Argentina this year. No doubt he wanted to play the captain's role, steady his team's nerves, and lay down a marker for the rest of them. The heart has reasons of which reason knows nothing. But I retract my criticism. The miasma of despair that hangs over missed penalties is the cruelest epilogue a game can have.
Only the fourth-ever African and first-ever Arab team to make the quarterfinals, and the first of both to make the semis, Morocco was the darling of this tournament. Playing with guts, flair, and imagination, and led by an unflappable manager in Walid Regragui, Morocco dispensed with those colonizers Belgium, Spain, and Portugal (was there ever a more towering header than Youssef En-Nesyri's against Portugal?) before coming up against France in the semifinals. The Moroccan team played their hearts out: Jawad El Yamiq's splendid first-half overhead kick hit the post; Azzedine Ounahi, who was superb all tournament, had a shot cleared off the line; several times Kylian Mbappé took off on one of his electric runs down the wing, he was upended by a hard, effective, borderline-yellow-card tackle. In the end, however, as with Messi in Argentina's semifinal against Croatia, the superstar had the last word: Mbappé dinked past defenders in the box before laying off a pass for Randal Kolo Muani to finish for a 2–0 France lead. The great sea of red and green in Al Bayt Stadium, borne up on the tidal wave of global support for the underdog, worked itself up with whistles for France and chants of siir! (go!) for Morocco, as if to prove conclusively that a state of wild frenzy can be achieved without the consumption of alcohol. But France held on.
Like Germany after their armband demonstration, Morocco's national team hasn't shied away from using its moments in the spotlight to highlight a political position: in this case, support for Palestine. In what the left-wing Israeli newspaper Haaretz described as "a wake-up call," Morocco's team unfurled a Palestinian flag on the pitch after each of its wins, delivering a pointed reminder to Israel that, despite the Abraham Accords, the Arab street is playing against them.
The third-place game is one about which nobody usually cares at all, including, it often seems, the players in it. But this time was different: Morocco and Croatia were both beautiful losers, each for their own reasons. Croatia, runner-up to France in 2018, was playing for its third top-three finish, an extraordinary achievement for a country slightly smaller in size than West Virginia. Morocco was playing to cement the respect it had already won. The result was a game that stayed chippy until the very end, when Croatia ran out winning 2–1.
And then, of course, there was the final. 3–3 at the end of extra time; two goals from Messi, plus an impudent flick that set off the graceful move that culminated in Di María's goal; from Mbappé, a volley of mind-blowing velocity and accuracy, plus a hat trick, the first in a World Cup final since Geoff Hurst's in 1966. Eighty minutes of dominance by thirty-five-year-old Messi and Argentina; ten minutes of brilliance from twenty-three-year-old Mbappé. Who among neutrals didn't want Messi, appearing in his fifth World Cup without winning any, to emerge victorious from the penalty shoot-out? This year he'd scored at every stage of the Cup, and now here he was, calmly placing the first penalty past Lloris. As for Mbappé, a hat trick and nothing to show for it: that's cruel and very unusual punishment. After the game, Emmanuel Macron made his way to the field and attempted to console his country's hero, who very much looked as if he wished to be left alone—but a photo op is a photo op; Macron wasn't going anywhere. Meanwhile, the emir of Qatar draped a black bisht, the Arab cloak worn by a person of high regard, over Messi's shoulders, before handing him the trophy.
Every monarch must have a court jester, especially at carnival time; in this case, Argentina's goalkeeper, Emiliano Martínez, stepped up to fill the role. Martínez had made a series of spectacular saves throughout the tournament, including two penalty saves in the quarterfinal against the Netherlands, and in the final, a sensational save on a shot from Randal Kolo Muani to preserve the 3–3 score in the last moments of extra time, and then one more in the shoot-out. This save, on a shot from Kingsley Coman, was followed by an inimitable jester's dance culminating in a moment of slapstick when Martínez chucked away the ball as Aurélien Tchouaméni was approaching to place it on the penalty spot. Tchouaméni, his mind indubitably screwed with, missed. After receiving the Golden Glove—its trophy a large gold glove on a plinth—for best goalkeeper in the tournament, Martínez demonstrated his gratitude by lining it up on his body as if it were a giant erection. There was an audible "Oh no" on FOX Sports before the cameras cut away, and, on the BBC, a more concerned "No, don't do that, Emi. Don't do that." Unfazed, Martinez told the Argentine radio station La Red, "I did it because the French booed me." The picture, naturally, has gone viral.
At the final whistle, the streets of Argentina filled with fans, and more or less everyone on the globe outside France, both drained and delighted, celebrated Messi and the magic he'd woven in Lusail Stadium. Meanwhile, FOX couldn't wait to cut away to a dull, irrelevant NFL game, quickly shifting the trophy presentation to their subsidiary station FOX Sports 1. In a perfect coda to the event, it was announced that England had won the "Fair Play" Award and that, for the first time ever, not a single English fan had been arrested during the tournament. We are such stuff as dreams are made on.
Jonathan Wilson's new novel, The Red Balcony, will be published by Schocken in February 2023.