These are the 10 Best Cafes in Paris
Paris is known as the City of Light, but it could also easily be dubbed the City of Cafes. From traditional bistros to trendy coffee shops, there's no shortage of places to grab a cup of coffee or a croissant in the French capital. But with so many options, it can be hard to know where to start. That's why we've put together a list of the best cafes in Paris to help you plan your next coffee break or brunch outing. The Best Cafes in Paris Paris is known for its café culture, and there are few cities in the world that rival the French capital for quaint cafes, coffee culture and the art of passing time. These are the 10 best cafes to visit in Paris in 2023, starting with my absolute favourite, Cafe de Flore. 1. Cafe de Flore Located in the heart of the Saint-Germain-des-Prés neighborhood, this historic café has been a gathering place for artists, intellectuals, and locals for over a century. Café de Flore first opened its doors in 1887 as a simple café serving coffee and pastries. Over the years, it has become a beloved institution, attracting a diverse crowd of writers, artists, and thinkers, including Ernest Hemingway, Jean-Paul Sartre, Simone de Beauvoir, and Pablo Picasso. Today, the café remains a popular spot for both tourists and locals, offering a mix of classic French dishes and modern café fare. The menu includes traditional French dishes like escargots and steak frites, as well as salads, sandwiches, and pastries. Read more: 50 Things you Must Do in Paris 2. Les Deux Magots Another café with a storied past, Les Deux Magots was once frequented by the likes of Jean-Paul Sartre and Simone de Beauvoir. Les Deux Magots was also the birthplace of the literary and philosophical movement called Existentialism, which emerged in the 1940s and 1950s, which many consider the prime of Parisian culture. Today, it is as popular as ever with tourists visiting the city hoping to spot a celebrity or mingle with the who's who of Paris fashion week. 3. Angelina Paris For as long as I can remember I have been smitten with Angelina Paris. While there are a handful of locations across Paris today, my favourite location remains the original teahouse opposite the Tuilleries gardens. Be sure to try the famous hot chocolate, which is made with rich, melted chocolate and served with whipped cream on the side. The hot chocolate is so popular that it has become one of the signature items of the café and has even been served to famous figures such as Coco Chanel and Marcel Proust. Read more: A Guide to Visiting Angelina Paris 4. La Maison Rose Known most famously as the "pink cafe" on instagram, La Maison Rose has now become a staple choice for travellers visiting Paris in search of that old world Parisian charm. And while the rose coloured glasses might cloud your judgement a little, we think that's the best way to see and experience Paris – in all of her glory! Whilst here be sure to spend your time meandering through Montmartre, the famous artist's arrondissement that still retains much of its charm, even today. 5. La Palette This historic café located in the Saint-Germain-des-Prés is one for the books – literally. Over the years, it has been frequented by famous figures such as Ernest Hemingway, Pablo Picasso, and Jean-Paul Sartre. And today, it is still one of the most frequented cafes in the neighbourhood. The charming outdoor seating is a great opportunity to people watch, no matter what day of the week you visit. 6. Café Kitsuné This trendy café in the Palais Royal combines Japanese and French influences to create a uniquely French but also characteristically minimal Japanese atmosphere. With great coffee and an aesthetically unforgettable coffee cup that is recognised the world over, you can't go wrong by stopping at one of the many locations across Paris for your morning brew. 7. Café Marly Idyllically located in the Louvre museum, Café Marly offers stunning views of the iconic Pyramid and a menu of French classics. Think French onion soup, classic croissants and typically French service. It's an essential Parisian experience to grab breakfast here at least once, though do note you will be paying for the view and location. 8. La Caféothèque This café is known for its extensive selection of coffee beans from around the world and its cozy atmosphere. Located in Le Marais, the best day of the week to visit would be on the weekends, particularly on a Sunday when Le Marais really comes to life. Be sure to visit nearby Place des Vosges if you are visiting in the warmer months for the perfect excuse to kick back and people watch as Paris passes you by. 9. Café des Deux Moulins Although we are nearing the end of our list sharing the best cafes in Paris, that doesn't mean these cafes are getting any less magnific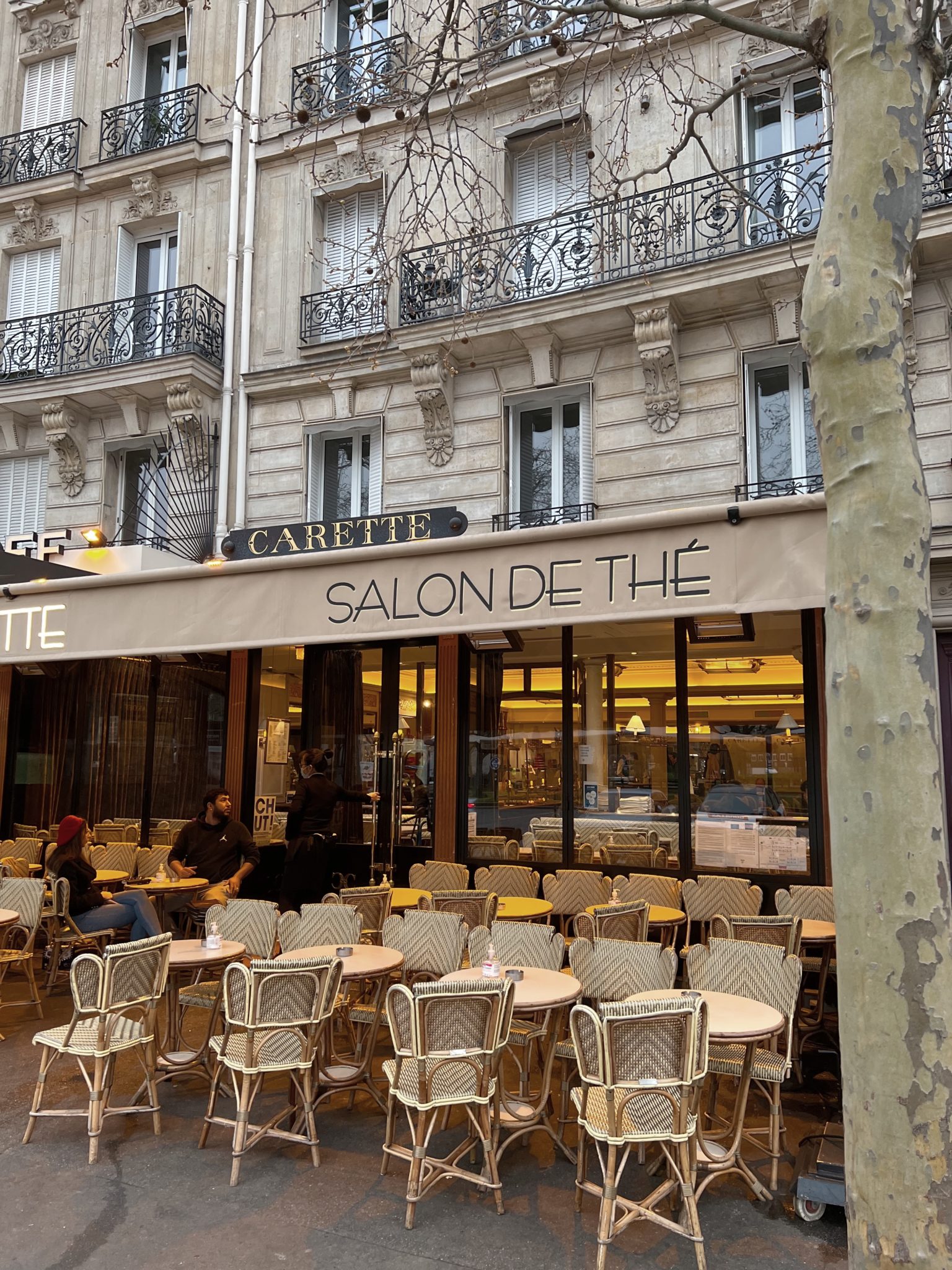 Paris is known as the City of Light, but it could also easily be dubbed the City of Cafes. From traditional bistros to trendy coffee shops, there's no shortage of places to grab a cup of coffee or a croissant in the French capital. But with so many options, it can be hard to know where to start. That's why we've put together a list of the best cafes in Paris to help you plan your next coffee break or brunch outing.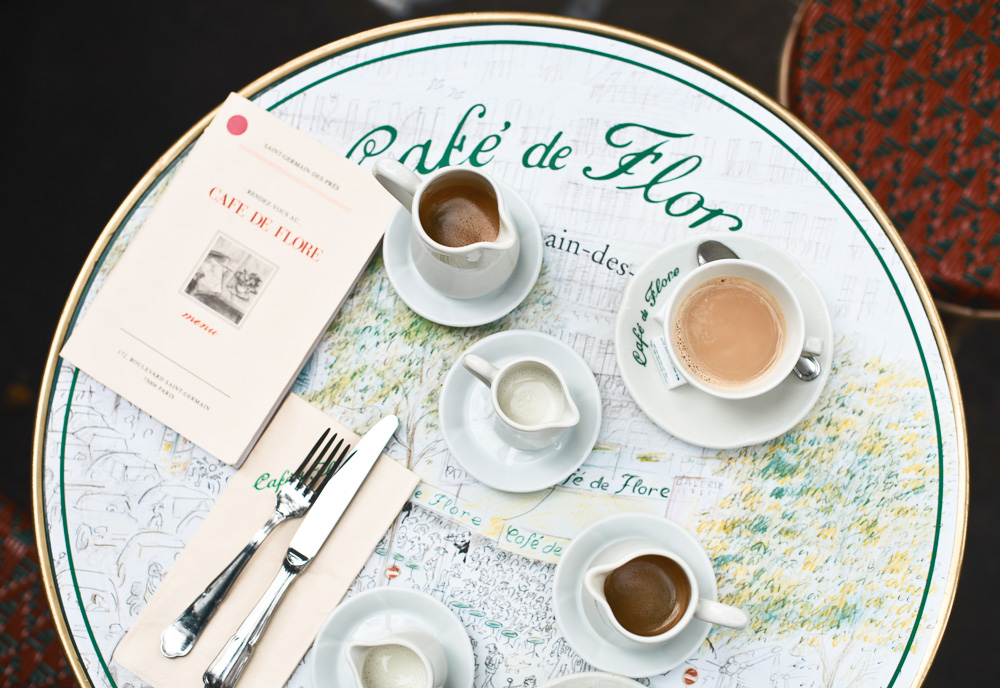 The Best Cafes in Paris
Paris is known for its café culture, and there are few cities in the world that rival the French capital for quaint cafes, coffee culture and the art of passing time. These are the 10 best cafes to visit in Paris in 2023, starting with my absolute favourite, Cafe de Flore.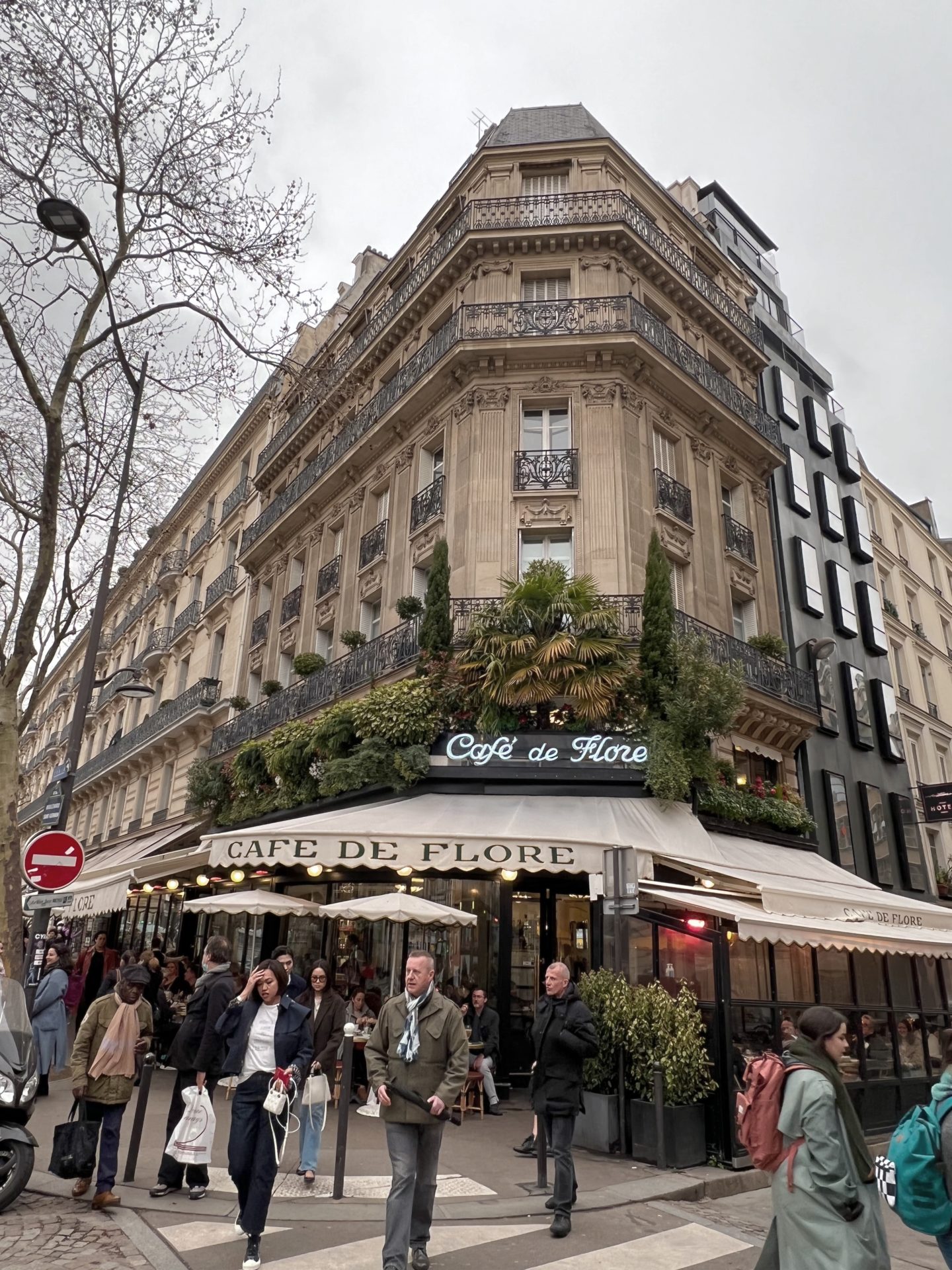 1. Cafe de Flore
Located in the heart of the Saint-Germain-des-Prés neighborhood, this historic café has been a gathering place for artists, intellectuals, and locals for over a century. Café de Flore first opened its doors in 1887 as a simple café serving coffee and pastries. Over the years, it has become a beloved institution, attracting a diverse crowd of writers, artists, and thinkers, including Ernest Hemingway, Jean-Paul Sartre, Simone de Beauvoir, and Pablo Picasso.
Today, the café remains a popular spot for both tourists and locals, offering a mix of classic French dishes and modern café fare. The menu includes traditional French dishes like escargots and steak frites, as well as salads, sandwiches, and pastries.
Read more: 50 Things you Must Do in Paris
2. Les Deux Magots
Another café with a storied past, Les Deux Magots was once frequented by the likes of Jean-Paul Sartre and Simone de Beauvoir. Les Deux Magots was also the birthplace of the literary and philosophical movement called Existentialism, which emerged in the 1940s and 1950s, which many consider the prime of Parisian culture. Today, it is as popular as ever with tourists visiting the city hoping to spot a celebrity or mingle with the who's who of Paris fashion week.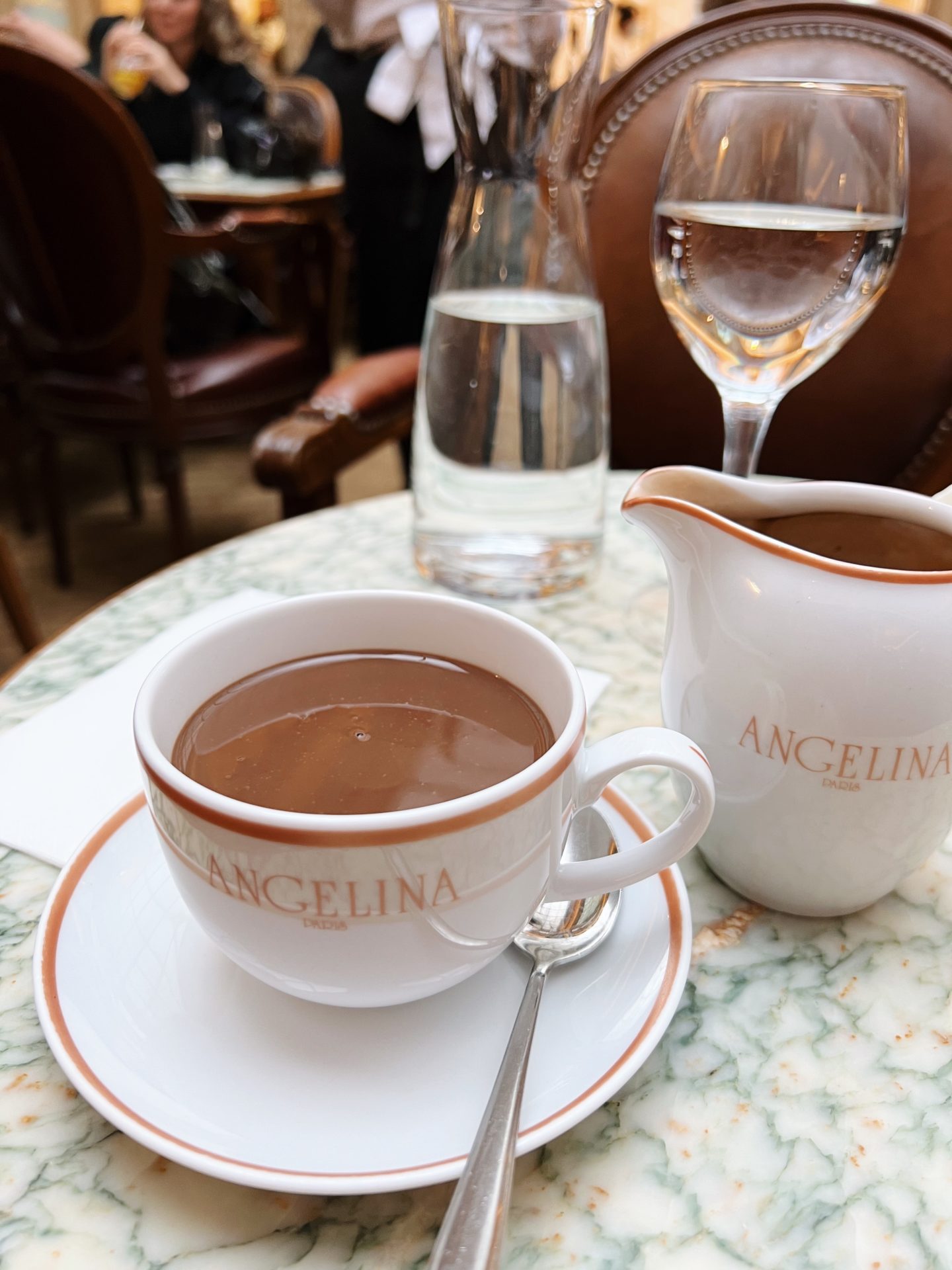 3. Angelina Paris
For as long as I can remember I have been smitten with Angelina Paris. While there are a handful of locations across Paris today, my favourite location remains the original teahouse opposite the Tuilleries gardens. Be sure to try the famous hot chocolate, which is made with rich, melted chocolate and served with whipped cream on the side. The hot chocolate is so popular that it has become one of the signature items of the café and has even been served to famous figures such as Coco Chanel and Marcel Proust.
Read more: A Guide to Visiting Angelina Paris
4. La Maison Rose
Known most famously as the "pink cafe" on instagram, La Maison Rose has now become a staple choice for travellers visiting Paris in search of that old world Parisian charm. And while the rose coloured glasses might cloud your judgement a little, we think that's the best way to see and experience Paris – in all of her glory! Whilst here be sure to spend your time meandering through Montmartre, the famous artist's arrondissement that still retains much of its charm, even today.
5. La Palette
This historic café located in the Saint-Germain-des-Prés is one for the books – literally. Over the years, it has been frequented by famous figures such as Ernest Hemingway, Pablo Picasso, and Jean-Paul Sartre. And today, it is still one of the most frequented cafes in the neighbourhood. The charming outdoor seating is a great opportunity to people watch, no matter what day of the week you visit.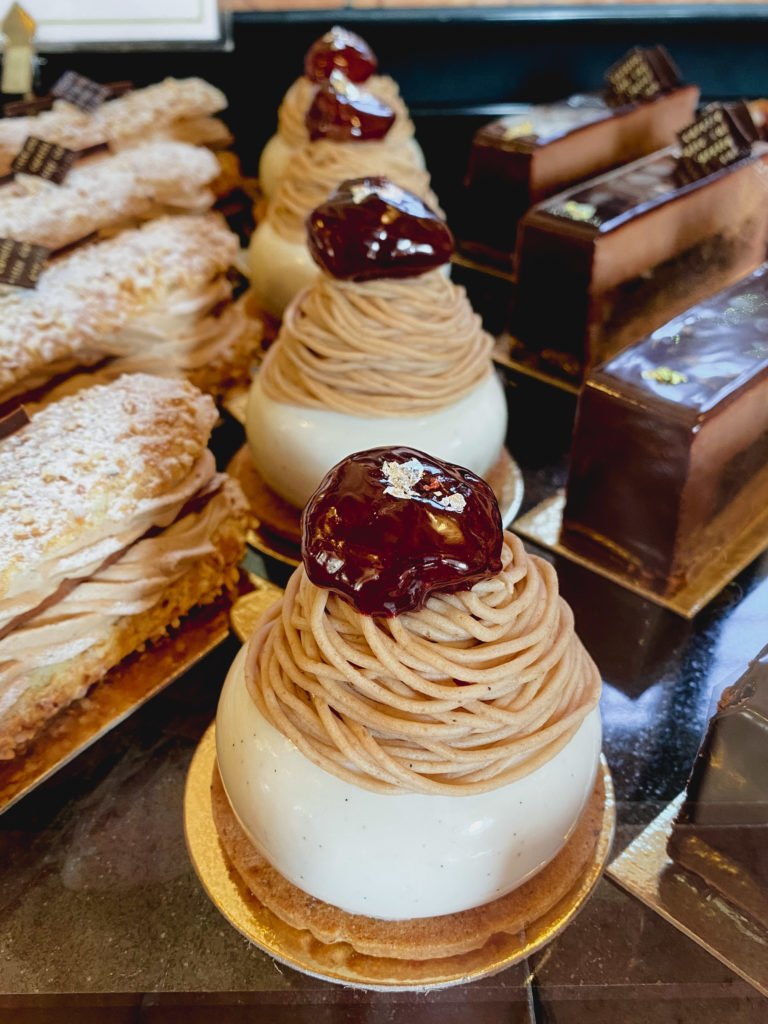 6. Café Kitsuné
This trendy café in the Palais Royal combines Japanese and French influences to create a uniquely French but also characteristically minimal Japanese atmosphere. With great coffee and an aesthetically unforgettable coffee cup that is recognised the world over, you can't go wrong by stopping at one of the many locations across Paris for your morning brew.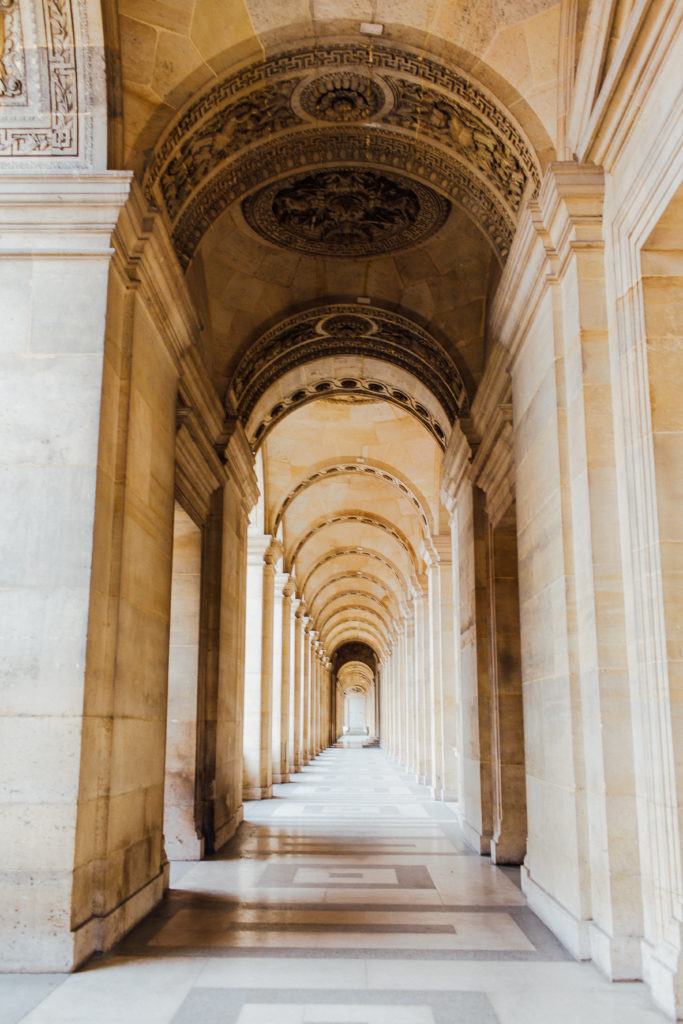 7. Café Marly
Idyllically located in the Louvre museum, Café Marly offers stunning views of the iconic Pyramid and a menu of French classics. Think French onion soup, classic croissants and typically French service. It's an essential Parisian experience to grab breakfast here at least once, though do note you will be paying for the view and location.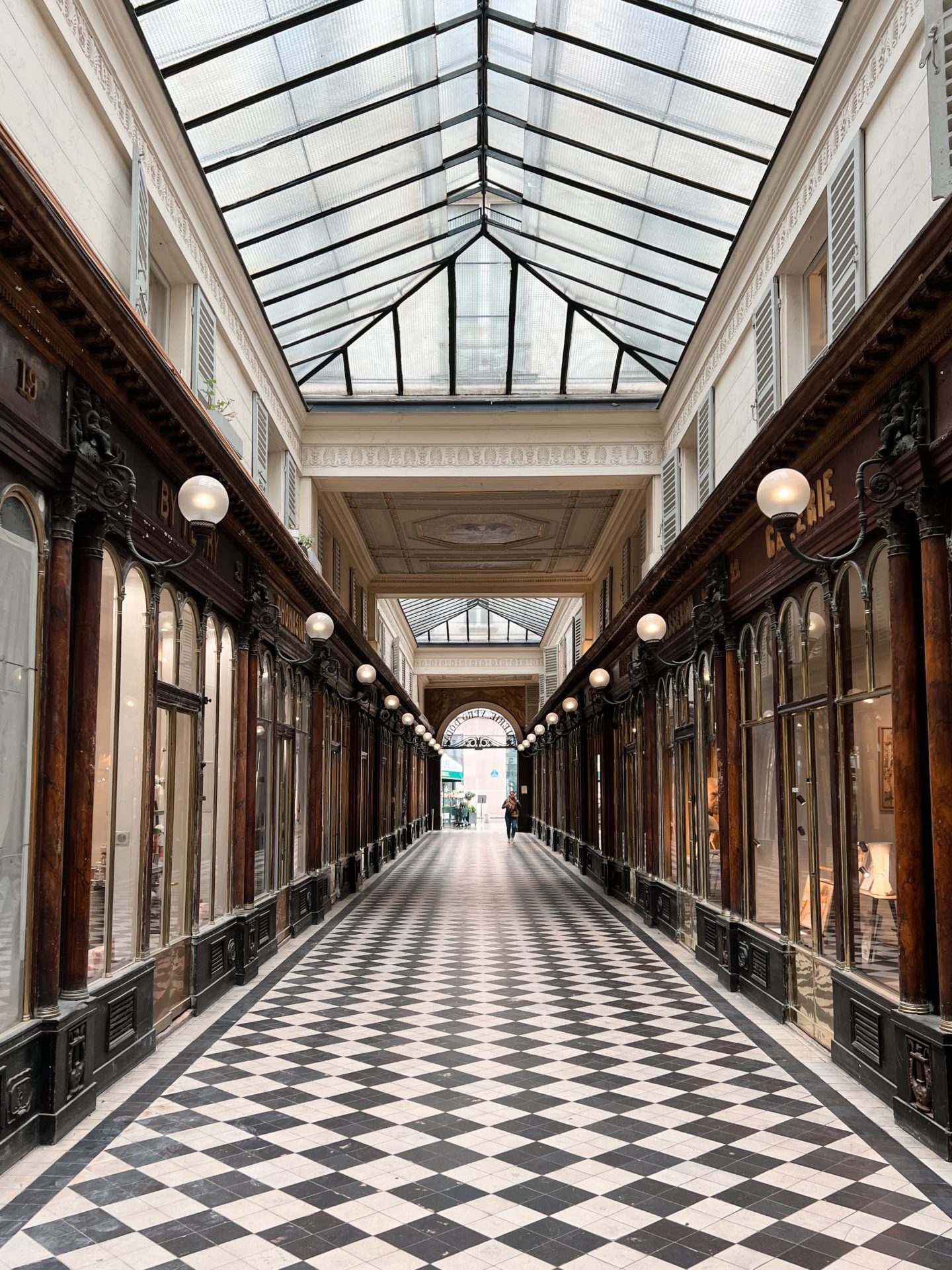 8. La Caféothèque
This café is known for its extensive selection of coffee beans from around the world and its cozy atmosphere. Located in Le Marais, the best day of the week to visit would be on the weekends, particularly on a Sunday when Le Marais really comes to life. Be sure to visit nearby Place des Vosges if you are visiting in the warmer months for the perfect excuse to kick back and people watch as Paris passes you by.
9. Café des Deux Moulins
Although we are nearing the end of our list sharing the best cafes in Paris, that doesn't mean these cafes are getting any less magnificent! In fact, this cafe is one of the most famous in all of Paris – thanks to its feature in the popular film "Amélie". It's a charming and cozy spot with a vintage decor and outdoor seating, located in popular Montmartre.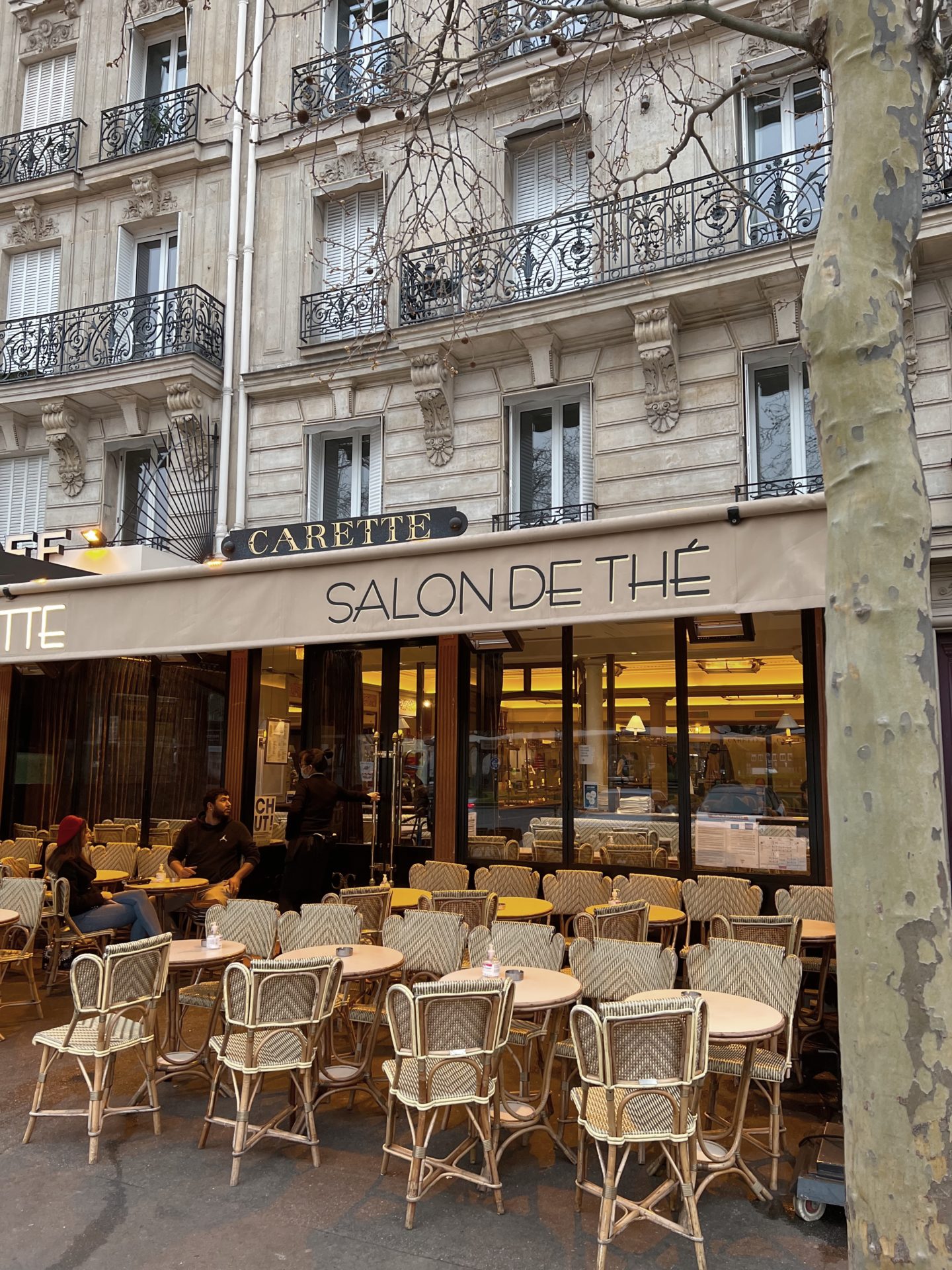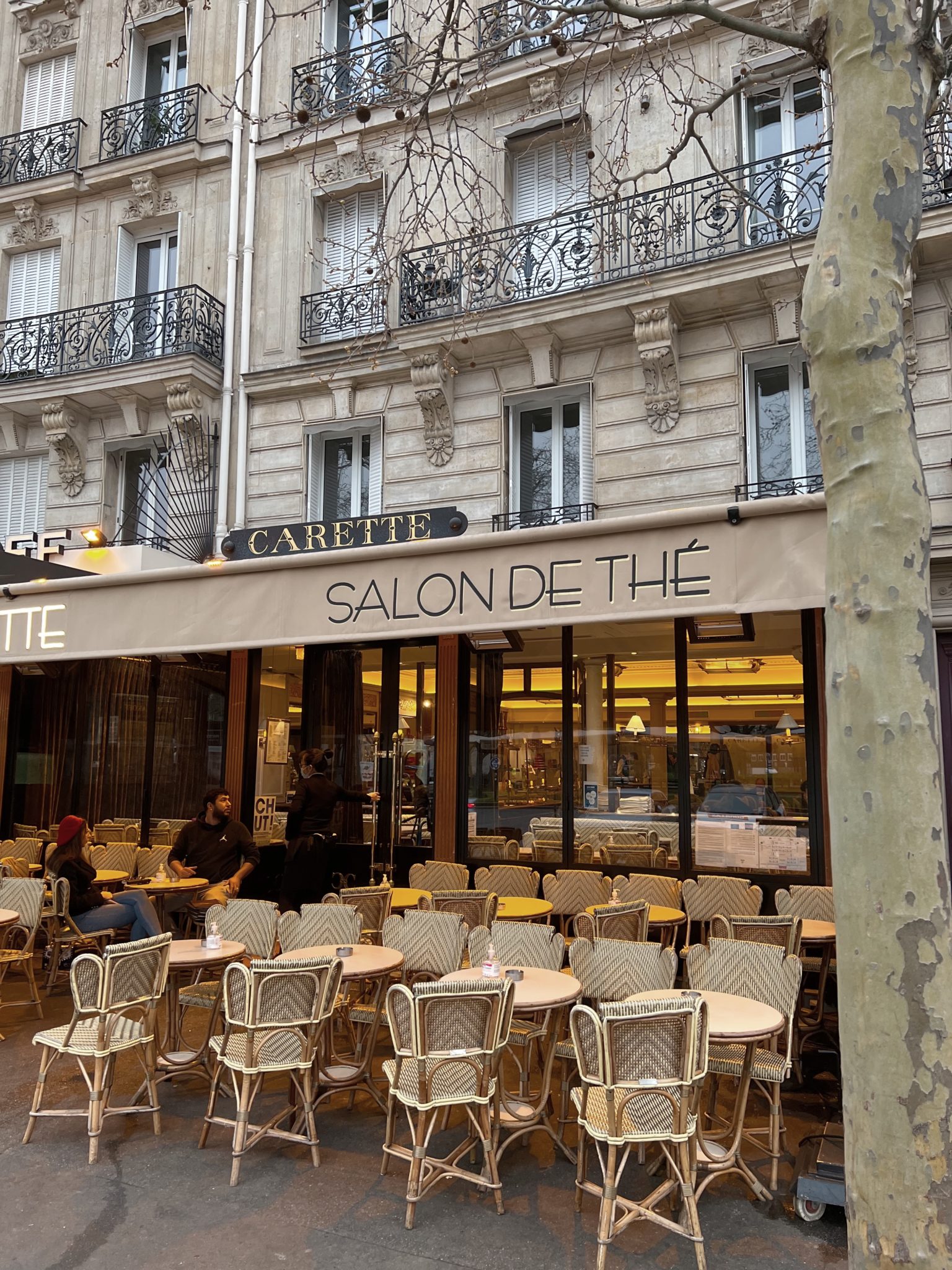 10. Carette
There's no denying my love for Carette. Ever since discovering this cafe a decade ago on one of my visits to Paris, I have been sure to return every visit since. With two locations in Paris, you can't go wrong. My favourite location is in Le Marais, when passing by en route to a local museum or simply strolling the neighbourhood. They make a great takeaway coffee and have some of my favourite pain au chocolat in all of Paris.