The power of a background in portrait photography
Ever since Irving Penn first started experimenting with white paper backdrops in the 1940s—and later, an old, repurposed theater curtain from the 1950s—portrait photographers have been pushing the boundaries of what backgrounds can look like. Far beyond the scope of the conventional, artists on 500px have found new ways to use traditional studio items—such as seamless paper—or tried new materials entirely, incorporating unexpected flourishes like dried roses or colorful vintage fabrics. While easily overlooked, the right background is often the secret ingredient for elevating a photograph, whether you're making fine art portraits or polished, professional headshots. Inspired by the 500px community, we put together this list of ideas that remind us of the surprising and transformative power of a well-chosen backdrop. Seamless paper For solid, clean, matte backgrounds, start with seamless paper, as fabric tends to wrinkle. Keep in mind that if you're shooting on white, you'll need to light that background separately, usually about a stop brighter than your model. That way, you'll avoid muddy gray tones. Consider some neutral color seamless backgrounds for more versatility and richness. "For this particular shoot (above), I chose a brown Savage chestnut backdrop," Faycal Marjane tells us. "The shoot took place in my small living room. I used a Godox AD600 with a 105cm diffused umbrella placed overhead and a reflector that the model held on her hand to light the shadows under her chin. "My recommendation for photographers looking to achieve such an effect is not to neglect the power of a catchlight on the eyes and to carefully choose an outfit that will complement the idea of the pictures they are aiming for." Color gels You don't necessarily have to start with a bunch of different color backgrounds; instead, invest in a quality white seamless and some color gels to turn it any color you want. For a more low-key vibe, you can illuminate a black background with a gelled light as well. Overall, gels just give you a lot more versatility without breaking the bank. Saturated color If you pair a full-color LED light kit (or a gelled light) with a solid color background, you can also make that color appear even more bright and eye-catching. Caroline Gife, aka Photographies de Caroline, used this technique when making this portrait against a seamless paper backdrop. "I placed an orange studio background behind the model," she remembers. "I placed an orange LED light between the model and the studio backdrop (towards the studio backdrop) to accentuate the color." Caroline then lit the model with green LED light to create contrast. Consider pairing cool and warm tones for that pumped-up, contrasty effect. Painted backdrops Popularized by photographers like Annie Leibovitz and Steven Meisel, Sarah Oliphant Backdrops set the gold standard for painted backdrops. But we've also seen photographers make their own using high-quality canvas at home. You can even use linen, as Amirhossein Loloei did when creating this portrait above. "I bought linen fabric, mixed the color I wanted, and applied it," he tells us. "I used acrylic paint and wood glue. In this collection, inspired by minimalism, I tried my best not to create a contrast between the background and the clothes to create a dreamy environment. "I chose a color that is very delicate and conveys feminine, tender, and romantic emotions. After applying the desired color on the background, I created the texture with lighter and white tones. In the lighting, I tried to use soft light that is in harmony with the space." DIY backdrops From tablecloths to bedsheets, you might have great background materials already sitting around the house. To create the portrait above, Anna Turková used a stretched bedsheet with natural window light and a reflector. "My advice is to follow the light and learn the basics of photography first," she says. DIY backdrops can also work outdoors. Inna Mosina used a sheer, billowy organza on a snowy day to create a dreamy, ethereal mood in the winter snow (below). Vintage fabrics Muslin and linen are always popular choices in this department. Either give fabrics a good steam or stretch them to avoid wrinkles, or use the wrinkles intentionally to create a natural, textured vibe. Consider other fabrics and materials as well. "I don't like my photos to be 'too perfect,'" Lisa Vlasenko tells us. "To give this photo a sense of imperfection—in contrast to the beautiful girl and delicate flower—I used a slightly crumpled background. "For the background, I used a red silk fabric that I bought in a second-hand store in the linen department. I was so surprised by the saturation of the color and how it shimmers in the sun that I immediately bought it. When I saw the model's beautiful long black hair and deep, dark eyes, I knew that the combination would be wonderful. For me, this phot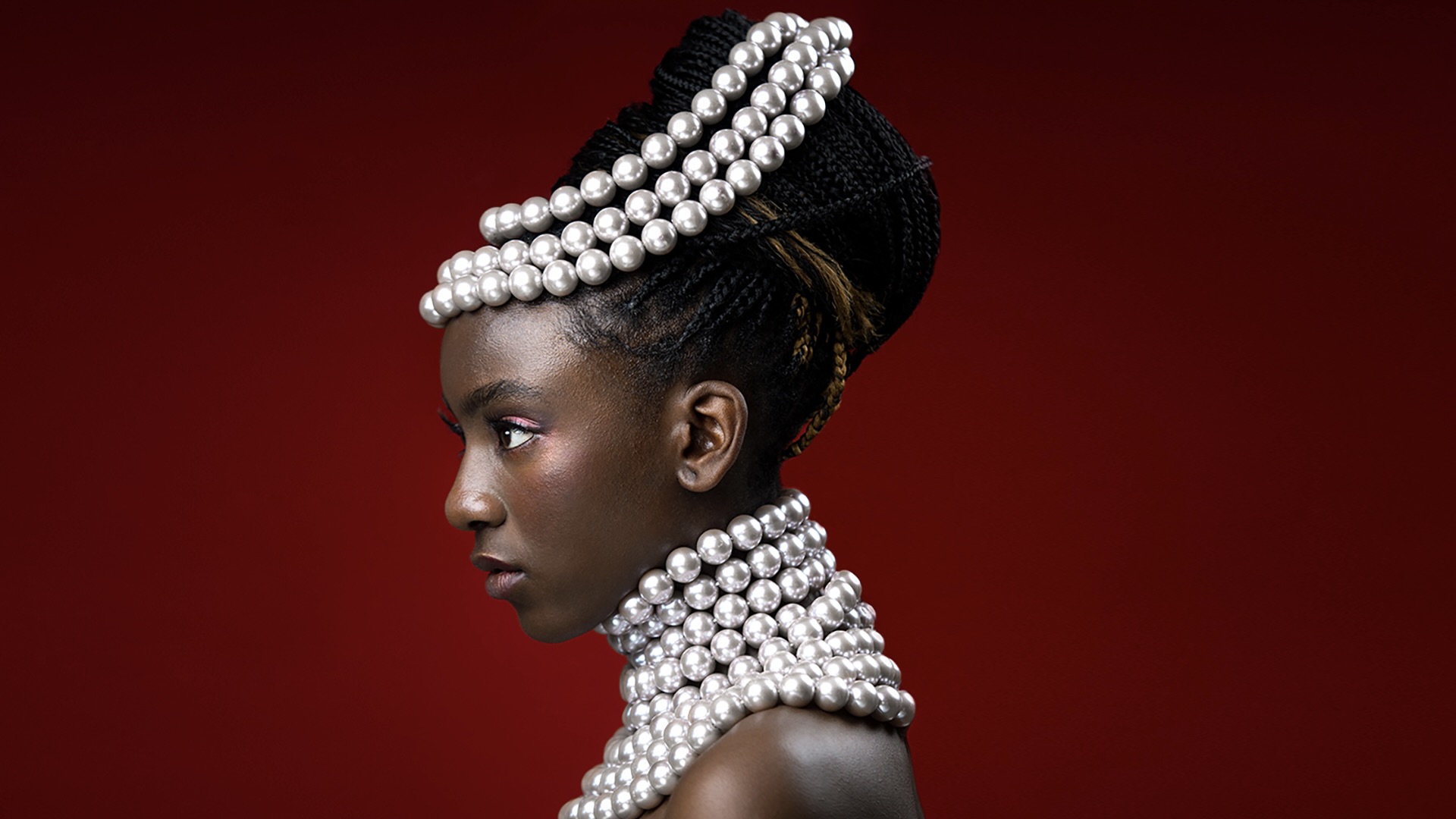 Ever since Irving Penn first started experimenting with white paper backdrops in the 1940s—and later, an old, repurposed theater curtain from the 1950s—portrait photographers have been pushing the boundaries of what backgrounds can look like.
Far beyond the scope of the conventional, artists on 500px have found new ways to use traditional studio items—such as seamless paper—or tried new materials entirely, incorporating unexpected flourishes like dried roses or colorful vintage fabrics.
While easily overlooked, the right background is often the secret ingredient for elevating a photograph, whether you're making fine art portraits or polished, professional headshots. Inspired by the 500px community, we put together this list of ideas that remind us of the surprising and transformative power of a well-chosen backdrop.
Seamless paper
For solid, clean, matte backgrounds, start with seamless paper, as fabric tends to wrinkle. Keep in mind that if you're shooting on white, you'll need to light that background separately, usually about a stop brighter than your model. That way, you'll avoid muddy gray tones.
Consider some neutral color seamless backgrounds for more versatility and richness. "For this particular shoot (above), I chose a brown Savage chestnut backdrop," Faycal Marjane tells us. "The shoot took place in my small living room. I used a Godox AD600 with a 105cm diffused umbrella placed overhead and a reflector that the model held on her hand to light the shadows under her chin.
"My recommendation for photographers looking to achieve such an effect is not to neglect the power of a catchlight on the eyes and to carefully choose an outfit that will complement the idea of the pictures they are aiming for."
Color gels
You don't necessarily have to start with a bunch of different color backgrounds; instead, invest in a quality white seamless and some color gels to turn it any color you want. For a more low-key vibe, you can illuminate a black background with a gelled light as well. Overall, gels just give you a lot more versatility without breaking the bank.
Saturated color
If you pair a full-color LED light kit (or a gelled light) with a solid color background, you can also make that color appear even more bright and eye-catching. Caroline Gife, aka Photographies de Caroline, used this technique when making this portrait against a seamless paper backdrop. "I placed an orange studio background behind the model," she remembers. "I placed an orange LED light between the model and the studio backdrop (towards the studio backdrop) to accentuate the color."
Caroline then lit the model with green LED light to create contrast. Consider pairing cool and warm tones for that pumped-up, contrasty effect.
Painted backdrops
Popularized by photographers like Annie Leibovitz and Steven Meisel, Sarah Oliphant Backdrops set the gold standard for painted backdrops. But we've also seen photographers make their own using high-quality canvas at home.
You can even use linen, as Amirhossein Loloei did when creating this portrait above. "I bought linen fabric, mixed the color I wanted, and applied it," he tells us. "I used acrylic paint and wood glue. In this collection, inspired by minimalism, I tried my best not to create a contrast between the background and the clothes to create a dreamy environment.
"I chose a color that is very delicate and conveys feminine, tender, and romantic emotions. After applying the desired color on the background, I created the texture with lighter and white tones. In the lighting, I tried to use soft light that is in harmony with the space."
DIY backdrops
From tablecloths to bedsheets, you might have great background materials already sitting around the house. To create the portrait above, Anna Turková used a stretched bedsheet with natural window light and a reflector. "My advice is to follow the light and learn the basics of photography first," she says.
DIY backdrops can also work outdoors. Inna Mosina used a sheer, billowy organza on a snowy day to create a dreamy, ethereal mood in the winter snow (below).
Vintage fabrics
Muslin and linen are always popular choices in this department. Either give fabrics a good steam or stretch them to avoid wrinkles, or use the wrinkles intentionally to create a natural, textured vibe. Consider other fabrics and materials as well. "I don't like my photos to be 'too perfect,'" Lisa Vlasenko tells us. "To give this photo a sense of imperfection—in contrast to the beautiful girl and delicate flower—I used a slightly crumpled background.
"For the background, I used a red silk fabric that I bought in a second-hand store in the linen department. I was so surprised by the saturation of the color and how it shimmers in the sun that I immediately bought it. When I saw the model's beautiful long black hair and deep, dark eyes, I knew that the combination would be wonderful. For me, this photo is about the strength and beauty of imperfection. And because I took this photo with sunlight, it turned out quite vibrant and sparkling."
Cardstock
Another alternative to a roll of seamless paper is basic cardstock paper—the kind you get from a craft shop. To make the portrait above, Rafal Wegiel taped up 20 pieces of 12×12-inch paper on the wall. He lit it with professional studio lighting—two speedlights with octaboxes for the model, one speedlight for the background, and a reflector below the model. This solution works best for headshots, as cardstock will cover less space than a traditional seamless.
Concrete
Believe it or not, the film photographer Radostina Boseva created this portrait above using a concrete wall at China Beach in San Francisco. "The whole session was a collaboration with the local, super-talented florist Seva Design," she says. "I wanted the florals and the plants to stand out, so it was clear that I needed to find a specific background.
"I was looking for a surface that had a bit of roughness but was also able to bounce back the light (film is light-hungry). Concrete does that. Also, I love the idea of the juxtaposition here: the rough texture of the concrete and the delicacy of the florals and the beauty of the model."
If you're shooting on location, do some scouting for walls and surfaces that will complement your concept and overall mood.
Further inspiration
When creating backgrounds for portraits, consider experimenting with three-dimensional objects. To create this self-portrait, Germaine Persinger hung flowers directly from the ceiling using string, allowing them to fall into the foreground and background (above). Angela Perez, meanwhile, used reflective gold fringe and gelled LED lights to create an electric vibe (below).
The best portrait backgrounds complement your sitter without pulling attention away from them, so think about your model, the story you're telling, and the atmosphere you want to create. A romantic, painterly portrait will have a very different background than a bold and bright theme, even if they feature the same model. You can start by writing down a few keywords and putting together a mood board of inspirational photos to help you decide the perfect backdrop for your shoot.