The man behind a covert WW2 operation
The new Netflix series Transatlantic explores a covert WW2 operation to rescue artists, intellectuals and authors from Nazi-occupied Europe, writes Matthew Wilson. Who was Varian Fry, the man behind this mission, and what was his impact on cultural history?At the outbreak of World War Two, a US journalist named Varian Fry volunteered to travel to the French port city of Marseilles and help repatriate members of the continent's cultural elite, many of whom were being hounded by the Nazis as anti-authoritarian dissidents, or because they were Jewish. Marseilles was the last free port in Europe and the final destination for refugees desperate to find a new place to live in freedom. When he arrived in the city on 15 August, 1940, Fry had $3,000 in banknotes taped to his leg, and a list of 200 artists, writers, and intellectuals who were blacklisted by the Gestapo and the Vichy police. Just over a year later, when he was forced to leave the city, he had orchestrated a remarkable exodus which had saved approximately 2,000 individuals. This included some of Europe's most influential artistic figures: Marc Chagall, Marcel Duchamp, Remedios Varo, Max Ernst, Hannah Arendt, Jacques Lipchitz, Wilfredo Lam and many more. More like this: - The artists who outwitted the Nazis - The journeys of looted artworks - The art hidden from Nazi bombs New miniseries Transatlantic, released on Netflix on 7 April, offers a highly fictionalised version of Fry's operation, based on the novel The Flight Portfolio by Julie Orringer. Fry is a shadowy presence in the series, with characters like Mary Jayne Gold – the wealthy heiress, adventurer, and socialite who aided Fry, played by Gillian Jacobs – taking a more central role in the narrative. Although Fry, played by Cory Michael Smith, is shown as a bookish and unobtrusive scholar in the series, the real-life figure was a natural rebel. He was born in New York City in 1907 and raised in New Jersey by a Protestant family with liberal values. He was a constant irritation to his teachers at the several boarding schools he attended and was later briefly expelled from Harvard. Fry was a classicist, but he was also smitten by the intellectual sparkle and intricacy of modernist culture – James Joyce and TS Eliot were favourites. Then, a trip to Germany in 1935 transformed his understanding of politics and human character. He witnessed at first hand the appalling violence meted out by fascist thugs – street fights, intimidation, and on one occasion a storm trooper stabbing a man through his hand with a knife, impaling it on a café table. He heard rumours about the Nazis' intentions to liquidate the state's dissidents and brutalise its Jewish population. The experience flipped a switch for Fry, directing his innate rebelliousness towards virulent hatred for Nazism and all it stood for. On 25 June, 1940, following the fall of France to the Nazis, Fry joined 200 museum curators, artists, journalists, and Jewish refugees at a meeting at the Hotel Commodore in New York City. That afternoon, the Emergency Rescue Committee was born. Its aim was to help anyone who was persecuted by the Nazis, including European artists, philosophers, or writers (both Jewish and non-Jewish). Fry volunteered to travel to Europe and become the ERC's agent in Vichy France.Varian Fry in Marseille 1940-41 (Credit: Alamy)He flew to Lisbon and took trains to Marseilles, where he created an office at the Hôtel Splendide, overlooking the city's harbour – a location that is evocatively recreated in Transatlantic. Straightaway, Fry began to establish a network of allies who could hatch escape plans, forge documentation and exchange money on the black market. Fry became renowned among the underground network of refugees in France and was soon deluged with requests for repatriation. He received 25 letters a day, and the phone was constantly ringing. A typical day could involve up to 120 interviews. He was also squeezed between a hostile Vichy police force who were constantly hounding him in Marseilles and a tetchy US State Department, which at this point were intent on keeping the US out of the war and saw Fry's work as illegal and a threat to their neutrality.Fry was driven by political convictions and by his love of the arts. But he also helped all kinds of persecuted minorities – anti-Nazis, activists, writers and intellectuals who publicly resisted Hitler's policies – and even British soldiers marooned in France. The Emergency Rescue Committee was increasingly frustrated by Fry's ever-expanding list of refugees and their relationship became fraught. But Fry continued his mission. The danger and high stakes of the operation provided an adrenaline high that was hard to walk away from. "The truth is that I like this job better than any I have ever had in my life," he wrote to his wife. Fry and his team rented a villa – Air Bel – on the outskirts of Marseilles, which came complete with frescoed walls, antique fireplaces, and a grand

The new Netflix series Transatlantic explores a covert WW2 operation to rescue artists, intellectuals and authors from Nazi-occupied Europe, writes Matthew Wilson. Who was Varian Fry, the man behind this mission, and what was his impact on cultural history?
At the outbreak of World War Two, a US journalist named Varian Fry volunteered to travel to the French port city of Marseilles and help repatriate members of the continent's cultural elite, many of whom were being hounded by the Nazis as anti-authoritarian dissidents, or because they were Jewish. Marseilles was the last free port in Europe and the final destination for refugees desperate to find a new place to live in freedom.
When he arrived in the city on 15 August, 1940, Fry had $3,000 in banknotes taped to his leg, and a list of 200 artists, writers, and intellectuals who were blacklisted by the Gestapo and the Vichy police. Just over a year later, when he was forced to leave the city, he had orchestrated a remarkable exodus which had saved approximately 2,000 individuals. This included some of Europe's most influential artistic figures: Marc Chagall, Marcel Duchamp, Remedios Varo, Max Ernst, Hannah Arendt, Jacques Lipchitz, Wilfredo Lam and many more.
More like this:
- The artists who outwitted the Nazis
- The journeys of looted artworks
- The art hidden from Nazi bombs
New miniseries Transatlantic, released on Netflix on 7 April, offers a highly fictionalised version of Fry's operation, based on the novel The Flight Portfolio by Julie Orringer. Fry is a shadowy presence in the series, with characters like Mary Jayne Gold – the wealthy heiress, adventurer, and socialite who aided Fry, played by Gillian Jacobs – taking a more central role in the narrative.
Although Fry, played by Cory Michael Smith, is shown as a bookish and unobtrusive scholar in the series, the real-life figure was a natural rebel. He was born in New York City in 1907 and raised in New Jersey by a Protestant family with liberal values. He was a constant irritation to his teachers at the several boarding schools he attended and was later briefly expelled from Harvard. Fry was a classicist, but he was also smitten by the intellectual sparkle and intricacy of modernist culture – James Joyce and TS Eliot were favourites. Then, a trip to Germany in 1935 transformed his understanding of politics and human character. He witnessed at first hand the appalling violence meted out by fascist thugs – street fights, intimidation, and on one occasion a storm trooper stabbing a man through his hand with a knife, impaling it on a café table. He heard rumours about the Nazis' intentions to liquidate the state's dissidents and brutalise its Jewish population. The experience flipped a switch for Fry, directing his innate rebelliousness towards virulent hatred for Nazism and all it stood for.
On 25 June, 1940, following the fall of France to the Nazis, Fry joined 200 museum curators, artists, journalists, and Jewish refugees at a meeting at the Hotel Commodore in New York City. That afternoon, the Emergency Rescue Committee was born. Its aim was to help anyone who was persecuted by the Nazis, including European artists, philosophers, or writers (both Jewish and non-Jewish). Fry volunteered to travel to Europe and become the ERC's agent in Vichy France.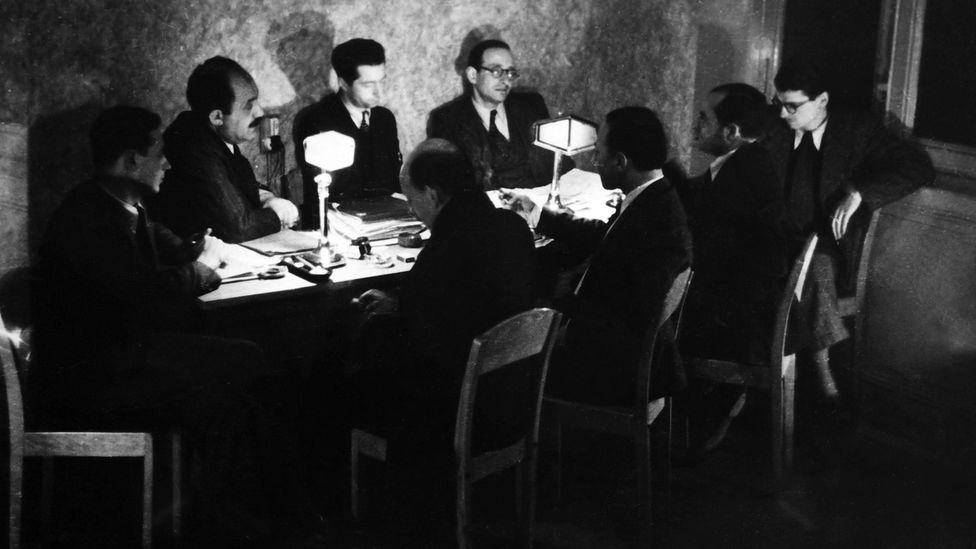 Varian Fry in Marseille 1940-41 (Credit: Alamy)
He flew to Lisbon and took trains to Marseilles, where he created an office at the Hôtel Splendide, overlooking the city's harbour – a location that is evocatively recreated in Transatlantic. Straightaway, Fry began to establish a network of allies who could hatch escape plans, forge documentation and exchange money on the black market. Fry became renowned among the underground network of refugees in France and was soon deluged with requests for repatriation. He received 25 letters a day, and the phone was constantly ringing. A typical day could involve up to 120 interviews. He was also squeezed between a hostile Vichy police force who were constantly hounding him in Marseilles and a tetchy US State Department, which at this point were intent on keeping the US out of the war and saw Fry's work as illegal and a threat to their neutrality.
Fry was driven by political convictions and by his love of the arts. But he also helped all kinds of persecuted minorities – anti-Nazis, activists, writers and intellectuals who publicly resisted Hitler's policies – and even British soldiers marooned in France. The Emergency Rescue Committee was increasingly frustrated by Fry's ever-expanding list of refugees and their relationship became fraught. But Fry continued his mission. The danger and high stakes of the operation provided an adrenaline high that was hard to walk away from. "The truth is that I like this job better than any I have ever had in my life," he wrote to his wife.
Fry and his team rented a villa – Air Bel – on the outskirts of Marseilles, which came complete with frescoed walls, antique fireplaces, and a grand piano. This would be where many artists stayed while Fry worked on their exit visas and transport options. Temporarily it became home to a high-spirited bunch of Surrealist artists who stunned Fry with their imaginative discussions, open-minded love affairs and bizarre games. Transatlantic comes alive with the fancifully recreated scenes of Surrealist parties at Air Bel, and even has segments of black-and-white Surrealist-inspired cinema (modern homages, made in a Surrealist style) to evoke the flavour of creative anarchy. Among the artists and intellectuals who stayed there were titanic figures in the arts like German-born painter Max Ernst, the Cuban artist Wifredo Lam, the Spanish painter Remedios Varo, and the French father of Surrealism, André Breton. They all needed exit visas, affidavits to mollify the US immigration authorities, and transport tickets – a labyrinth of bureaucracy which Fry and his team navigated to ensure their safe route away from Europe.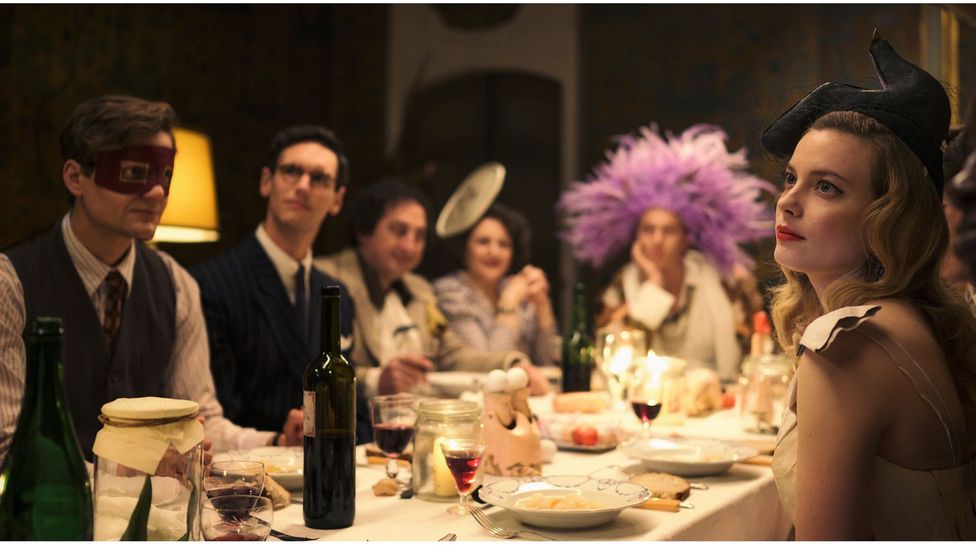 Transatlantic brings the Surrealist parties at the villa Air Bel to life (Credit: Netflix)
Ernst departed for New York via Portugal with a newfound lover, Peggy Guggenheim. Lam and Breton waved farewell to Marseilles onboard a converted freighter bound for Martinique. Varo emigrated to Mexico from Casablanca. After Fry had worked out an escape route for the Russian-born Jewish painter Marc Chagall, the artist gave him a small drawing as a thank-you: it depicted a female goat in a fur holding a violin. Chagall and his family arrived by boat in New York in June 1941.
Transatlantic is a lively reimagining of historical events, giving prominence to the host of supporters who assisted Fry in his mission and their intertwined relationships. In reality, how pivotal was the work of Varian Fry and the ERC in shaping the history of art?
A new cultural hub
In December 1941, Fortune magazine described the influx of artists to New York City as "the greatest migration of intellectuals since the Byzantine". The US was now home to a golden generation of European culture. But the key impact was, as Robert Hughes observed, for US artists to see the great European cultural heroes, "not as remote demigods or intellectual father figures on the other shore of the Atlantic but as regular presences on the scene." The mere presence of people like Breton, the founder of surrealism, confirmed New York as the new world's new cultural hub. It imbued a generation of New York artists with a powerful new self-confidence, and beckoned international artists to live and work there. Ai Weiwei, Shirin Neshat, and Yoko Ono (to name just a minuscule selection) were part of a vibrant new generation of artists who were attracted not to Paris – the globe's previous capital of the arts – but to the Big Apple.
Ernst was one of the most influential of the cultural émigrés. Once in his new home city of New York, he began to experiment with a 'drip' technique of painting, first used in his painting The Bewildered Planet. He hung a can of paint above a canvas from three lengths of string and punctured its base, and by swinging it back and forth the trails of pigment autogenerated an abstract painting beneath. The drip technique would have a profound influence on Abstract Expressionism, particularly Jackson Pollock, whose drip method owes a debt to Ernst and the other Surrealist "autonomous" techniques.
But it wasn't just New York that benefitted from the cultural exodus from Europe. Varo, who had been aided by Fry and the ERC to escape Marseilles, ended up in Mexico, a nation that transformed and invigorated her artistic vision. She fell in with an inspirational group of likeminded artists including Frida Kahlo, Diego Rivera and Leonora Carrington and she discovered the style that would become her hallmark: a brand of hyper-detailed, fantastical Surrealism imbued with subtle feminist subtexts. We can look forward to a major retrospective of her art opening at the Chicago Institute of Art on 29 July, 2023, a show that affirms her status as one of the most imaginative artists of the late 20th Century.
Wifredo Lam, the Cuban-born painter who had fought in the Spanish Civil War and been taught by Pablo Picasso, eventually returned to his native Cuba, via Martinique, in 1941 thanks to Fry and the ERC. In Cuba, he was inspired by the intertwining cultures and identities of his homeland, expanding the European-born language of Surrealism to incorporate themes like social justice, racial identity and post-colonial politics and leaving behind some of the most powerful paintings to be produced in the late 20th Century.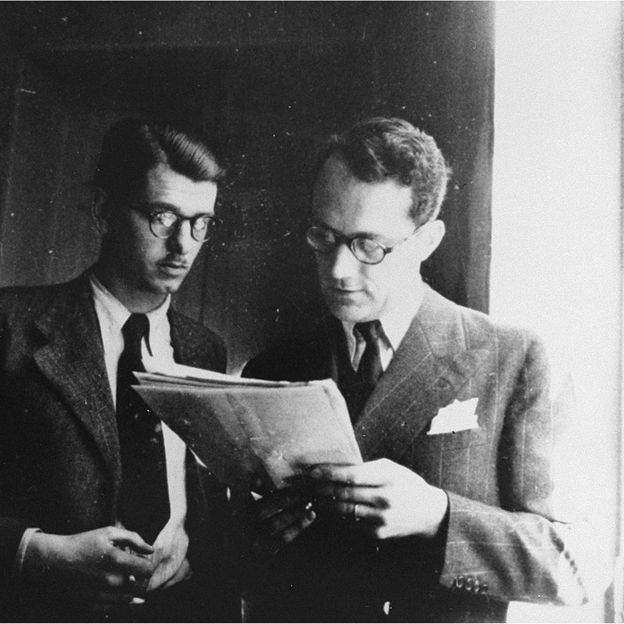 While he was little-known in his own lifetime, Fry (pictured, right) has been given recognition in recent decades (Credit: Holocaust Memorial Museum)
All these artists and so many more owe a debt to Varian Fry. But while they thrived in their new homes, Fry's own life suffered when he returned to America. He struggled to adjust to civilian life after his high-octane operations in occupied Europe. His wife divorced him, he was rejected from the US army and even the ERC distanced itself from him. Tragically, his wartime work was only recognised many years after he died in 1967: in 1994, he was named "Righteous Among the Nations" by Yad Vashem (commemorating non-Jews who risked their lives to save Jews during the Holocaust), and in 1997, the French Government awarded him the Légion d'Honneur.
In Transatlantic, Fry is a diligent problem-solver rather than a hero, and the light of glory is cast on a host of other important personalities in his clandestine network. We don't see the flowering of so many artistic careers that was enabled by his actions, or the effect those artists then had on New York in making it into a cultural centre in the later 20th Century. But at least his valuable and brave wartime work is getting a portion of the mainstream credit it so fully deserves.
Transatlantic is streaming on Netflix from 7 April.
Love film and TV? Join BBC Culture Film and TV Club on Facebook, a community for cinephiles all over the world.
If you would like to comment on this story or anything else you have seen on BBC Culture, head over to our Facebook page or message us on Twitter.
And if you liked this story, sign up for the weekly bbc.com features newsletter, called The Essential List. A handpicked selection of stories from BBC Future, Culture, Worklife and Travel, delivered to your inbox every Friday.