The Lottery Winners sent Boy George 55 tweets before landing dream collaboration
The Lottery Winners sent Boy George 55 tweets before he agreed to appear on their single.The Culture Club legend has teamed up with the 'Start Again' hitmakers on their new single 'Let Me Down' - which is taken from their upcoming album 'Anxiety Replacement Therapy' - and they were determined to get him involved.Frontman Thom Rylance said: "I was researching what it is that makes a song a classic."I'm intrigued by pop icons and the idea of classic songs, so I was listening to a lot of Boy George. I wrote 'Let Me Down' for George without knowing it."The song has a light and sunny '80s feel, with a lot of the same colours as other Boy George songs."When the penny dropped that George should sing it, I couldn't rest until he agreed. Which I'm sure wasn't very fun for him."Once he finally agreed to listen to the song, he replied: "Darling, I love it!"The video is seen as a way of paying homage to the legacy of Boy George's career through equality and paying a way for the next generation of artists.Thom added: "Filming the video felt like a beautiful fever dream."I was in this strange neon world laughing and singing with Boy George. He's probably the nicest and most interesting person I've ever met."When it comes to the song itself, Boy George is a big fan, and compared it to one of his timeless tracks.He quipped: "It's an earworm! It's the catchiest song I've ever heard... after 'Karma Chameleon!' "'Anxiety Replacement Therapy' - which is being released on April 28 - also features collaborations with Shaun Ryder ('Money') and recent touring mate Frank Turner ('Letter To Myself').The band are also set to go on tour next month, kicking things off at the Leadmill in Sheffield on April 4 before bringing things to an end at Grimsby Docks Academy on May 3.From there, they will kick off a run of festival into the summer.The Lottery Winners tour dates:4 April Sheffield Leadmill9 April Paaspop Festival (Schijndel, Netherlands)10 April Amsterdam Paradiso12 April Liverpool O2 Academy 213 April Norwich Epic Studios14 April Oxford Bullingdon15 April Cardiff Clwb Ifor Bach16 April Hertford Corn Exchange18 April Birmingham Mama Roux19 April Glasgow Room 220 April Leeds Brudenell21 April Middlesborough Empire22 April Warrington Parr Hall23 April Nottingham Rescue Rooms25 April Exeter Phoenix26 April Bristol Thekla27 April Brighton Patterns28 April Southampton Engine Rooms29 April London Lafayette2 May Stoke Sugarmill3 May Grimsby Docks Academy27 May Live At Leeds In The Park Festival28 May Manchester Neighbourhood Festival15 June Isle of Wight Festival12 August Boardmasters Festival, Cornwall19 August This Feeling By The Sea Festival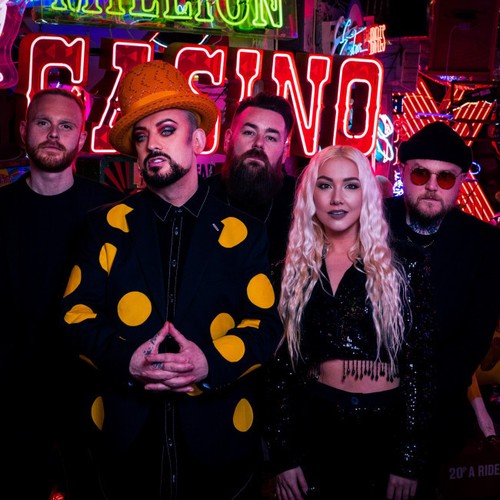 The Lottery Winners sent Boy George 55 tweets before he agreed to appear on their single.
The Culture Club legend has teamed up with the 'Start Again' hitmakers on their new single 'Let Me Down' - which is taken from their upcoming album 'Anxiety Replacement Therapy' - and they were determined to get him involved.
Frontman Thom Rylance said: "I was researching what it is that makes a song a classic.
"I'm intrigued by pop icons and the idea of classic songs, so I was listening to a lot of Boy George. I wrote 'Let Me Down' for George without knowing it.
"The song has a light and sunny '80s feel, with a lot of the same colours as other Boy George songs.
"When the penny dropped that George should sing it, I couldn't rest until he agreed. Which I'm sure wasn't very fun for him."
Once he finally agreed to listen to the song, he replied: "Darling, I love it!"
The video is seen as a way of paying homage to the legacy of Boy George's career through equality and paying a way for the next generation of artists.
Thom added: "Filming the video felt like a beautiful fever dream.
"I was in this strange neon world laughing and singing with Boy George. He's probably the nicest and most interesting person I've ever met."
When it comes to the song itself, Boy George is a big fan, and compared it to one of his timeless tracks.
He quipped: "It's an earworm! It's the catchiest song I've ever heard... after 'Karma Chameleon!' "
'Anxiety Replacement Therapy' - which is being released on April 28 - also features collaborations with Shaun Ryder ('Money') and recent touring mate Frank Turner ('Letter To Myself').
The band are also set to go on tour next month, kicking things off at the Leadmill in Sheffield on April 4 before bringing things to an end at Grimsby Docks Academy on May 3.
From there, they will kick off a run of festival into the summer.
The Lottery Winners tour dates:
4 April Sheffield Leadmill
9 April Paaspop Festival (Schijndel, Netherlands)
10 April Amsterdam Paradiso
12 April Liverpool O2 Academy 2
13 April Norwich Epic Studios
14 April Oxford Bullingdon
15 April Cardiff Clwb Ifor Bach
16 April Hertford Corn Exchange
18 April Birmingham Mama Roux
19 April Glasgow Room 2
20 April Leeds Brudenell
21 April Middlesborough Empire
22 April Warrington Parr Hall
23 April Nottingham Rescue Rooms
25 April Exeter Phoenix
26 April Bristol Thekla
27 April Brighton Patterns
28 April Southampton Engine Rooms
29 April London Lafayette
2 May Stoke Sugarmill
3 May Grimsby Docks Academy
27 May Live At Leeds In The Park Festival
28 May Manchester Neighbourhood Festival
15 June Isle of Wight Festival
12 August Boardmasters Festival, Cornwall
19 August This Feeling By The Sea Festival