The Hollies announce UK tour
The Hollies have announced a huge UK tour.The iconic group - who celebrated their 60th anniversary with a live run in 2022 - are entering their seventh decade as a band, and they're marking the occasion in a big way.The upcoming tour - which will feature original members Bobby Elliott and Tony Hicks - kicks off on September 16 in Blackburn at King George's Hall, and will come to an end on November 9 at the London Palladium.As well as drummer Bobby and lead guitarist Tony, the lineup will also include lead singer Peter Howarth, bass player Ray Stiles, keyboardist Ian Parker and rhythm guitarist Steve Lauri.Fans will be looking forward to seeing the band playing hits like 'Long Cool Woman (In a Black Dress)', 'The Air That I Breathe', 'He Ain't Heavy, He's My Brother' and 'Bus Stop'.The group have spent a total of 263 weeks in the top 40 in the UK, and they have performed continuously since forming in 1962.Their tracks have also featured in movies and adverts over the years.In 1995, the Hollies were awarded an Ivor Novello for their outstanding contribution to British music.In 2010, the group were inducted into the American Rock 'n' Roll Hall of Fame, recognised their "impact on the evolution, development and perpetuation of Rock and Roll".Tickets will be available from ticketmaster.com or venue box offices. For more information please visit TheHolliesOfficial.comThe Hollies 2023 tour datesSeptemberSat 16 Blackburn King George's HallSun 17 Northampton Royal and DerngateThu 21 Cheltenham Town HallFri 22 Glasgow Royal Concert HallSat 23 Gateshead The SageSun 24 York BarbicanFri 29 Scarborough Grand HallSat 30 Sheffield City HallOctoberSun 1 Salford LowryThu 5 Guildford G LiveFri 6 Reading HexagonSat 7 Cardiff St David's HallSun 8 Llandudno Cymru TheatreThu 12 Liverpool Philharmonic HallFri 13 Stoke Victoria HallSat 14 Wolverhampton The HallsThu 19 Tunbridge Wells Assembly Hall TheatreFri 20 Bath ForumSat 21 Cambridge Corn ExchangeFri 27 Eastbourne Congress TheatreSat 28 Ipswich Regent TheatreSun 29 Southend Cliffs PavilionNovemberFri 3 Basingstoke AnvilSat 4 Southampton O2 GuildhallSun 5 Truro Hall For CornwallThu 9 London Palladium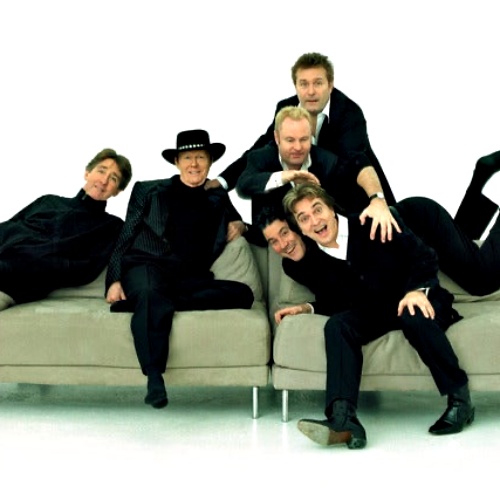 The Hollies have announced a huge UK tour.
The iconic group - who celebrated their 60th anniversary with a live run in 2022 - are entering their seventh decade as a band, and they're marking the occasion in a big way.
The upcoming tour - which will feature original members Bobby Elliott and Tony Hicks - kicks off on September 16 in Blackburn at King George's Hall, and will come to an end on November 9 at the London Palladium.
As well as drummer Bobby and lead guitarist Tony, the lineup will also include lead singer Peter Howarth, bass player Ray Stiles, keyboardist Ian Parker and rhythm guitarist Steve Lauri.
Fans will be looking forward to seeing the band playing hits like 'Long Cool Woman (In a Black Dress)', 'The Air That I Breathe', 'He Ain't Heavy, He's My Brother' and 'Bus Stop'.
The group have spent a total of 263 weeks in the top 40 in the UK, and they have performed continuously since forming in 1962.
Their tracks have also featured in movies and adverts over the years.
In 1995, the Hollies were awarded an Ivor Novello for their outstanding contribution to British music.
In 2010, the group were inducted into the American Rock 'n' Roll Hall of Fame, recognised their "impact on the evolution, development and perpetuation of Rock and Roll".
Tickets will be available from ticketmaster.com or venue box offices. For more information please visit TheHolliesOfficial.com
The Hollies 2023 tour dates
September
Sat 16 Blackburn King George's Hall
Sun 17 Northampton Royal and Derngate
Thu 21 Cheltenham Town Hall
Fri 22 Glasgow Royal Concert Hall
Sat 23 Gateshead The Sage
Sun 24 York Barbican
Fri 29 Scarborough Grand Hall
Sat 30 Sheffield City Hall
October
Sun 1 Salford Lowry
Thu 5 Guildford G Live
Fri 6 Reading Hexagon
Sat 7 Cardiff St David's Hall
Sun 8 Llandudno Cymru Theatre
Thu 12 Liverpool Philharmonic Hall
Fri 13 Stoke Victoria Hall
Sat 14 Wolverhampton The Halls
Thu 19 Tunbridge Wells Assembly Hall Theatre
Fri 20 Bath Forum
Sat 21 Cambridge Corn Exchange
Fri 27 Eastbourne Congress Theatre
Sat 28 Ipswich Regent Theatre
Sun 29 Southend Cliffs Pavilion
November
Fri 3 Basingstoke Anvil
Sat 4 Southampton O2 Guildhall
Sun 5 Truro Hall For Cornwall
Thu 9 London Palladium