The Cold War battle over Tetris
With a new Apple TV+ film starring Taron Egerton focusing on the puzzle game's 1980s origin story, Thomas Hobbs asks the experts why Tetris has retained such enormous popularity, nearly 40 years on."I played it for five minutes and I still see it in my dreams!" beams video game entrepreneur Henk Rogers (played by British actor Taron Egerton), his eyes bulging out with excitement, in a scene from new film Apple TV+ film Tetris. Rogers is trying to persuade a financier to part with millions, so he can secure the game's international licensing rights. "This is poetry," he adds persuasively. "Art and mathematics working in magical synchronicity." More like this: –      How the Mario Bros became icons –      Why Streetfighter II made its mark –      The best video game adaptation ever Set in the 1980s, the film sees a plucky Rogers fly to the Soviet Union in a mission to bring Tetris – a game that blew his mind at a business expo – beyond the Iron Curtain. Meeting the game's creator Alexey Pajitnov in Moscow, he forms an unlikely partnership with him, and they race against time (and rogue KGB officers) to get Tetris out of the country. New film Tetris show how entrepreneur Henk Rogers teamed up with the game's Russian creator Alexey Pajitnov to get it distributed beyond the Iron Curtain (Credit: Apple TV+)Though the film is obviously not a "Tetris movie", more a geopolitical thriller in which Tetris is a plot point, it's nevertheless a reminder of the global impact of the iconic puzzler, which sits among a rare group of games (including Super Mario Bros and Space Invaders) that continue to captivate audiences decades on from their inception. On paper, Tetris doesn't sound anywhere near as immersive a gaming experience as the cinematic post-apocalyptic epic The Last of Us, or able to provide the rush of driving a stolen car into the neon sunset on Grand Theft Auto: Vice City. Yet Tetris is the most ported game of all time – that's to say, the game converted for use onto the most different devices and platforms – and one of gaming's most commercially successful ventures, with a staggering 520 million copies sold globally. So, just what makes Tetris the so-called "perfect" video game, as Egerton's character talks it up in the movie? The thrill of the gameplay The concept of Tetris is stunningly simple: tetromino shapes (geometric shapes made from four squares) fall one-by-one from the top of the screen. The player has to rearrange these shapes so they form horizontal lines, which subsequently clear blocks and free up additional space. However, the blocks tend to build up chaotically, creating a suffocating feeling akin to being pressed up against the window on a packed Tube carriage (aka "human Tetris"). Succeed at Tetris and you'll fight through levels where the blocks fall faster and faster, gradually getting into an intuitive flow. All of this combines to create a thrill that's difficult to articulate. Professor James Newman, co-director of the Playable Media Lab at Bath Spa University, gives it a try: "By responding to the never-ending supply of blocks, organising them, tactically parking some to worry about later while strategically adding and combining others into shapes and structures ripe with the potential for future removal, Tetris offers the seductive potential of agency and control in a sea of apparent chaos." Tetris is a game that inspires critical thinking, according to scientists from the Mind Research Network, who claim high exposure to Tetris causes the brain to consume less glucose and become more productive. "If you look at the design of Tetris, everything has its place; there is no fluff and it's distilled to its purest form," adds video game developer Niels Monshouwer, the co-founder of WeirdBeard Games – responsible for fun 2016 puzzle game Tricky Towers, that plays like a Tetris-Jenga hybrid – and clearly an advocate of this scientific analysis. When asked why a game as simplistic as Tetris is so often cited as being at the apex of video game development, Monshouwer continues: "It is the prime example of 'easy to learn but hard to master'. On the most basic level, there's a pleasure in tidying up. Each time you play, you get better. You can get into a flow where your hands and mind become one." Chess might take years to master, but the simplicity of Tetris means just about anyone – hardcore gamer or not – can intuitively understand what to do. "Tetris really is minimalist game design at its best," explains technology journalist Dan Ackerman, author of The Tetris Effect: The Game that Hypnotised the World. "It wasn't trying to recreate sci-fi movies or action films with low-rent graphics, instead it leaned into the limitations of the computers of the time. It was also abstract enough that if you weren't a "gamer", you could still convince yourself it wasn't a video game and rather just some kind of geometric puzzle or brainteaser. Tetris was the game for people who would never be caught dea

With a new Apple TV+ film starring Taron Egerton focusing on the puzzle game's 1980s origin story, Thomas Hobbs asks the experts why Tetris has retained such enormous popularity, nearly 40 years on.
"I played it for five minutes and I still see it in my dreams!" beams video game entrepreneur Henk Rogers (played by British actor Taron Egerton), his eyes bulging out with excitement, in a scene from new film Apple TV+ film Tetris. Rogers is trying to persuade a financier to part with millions, so he can secure the game's international licensing rights. "This is poetry," he adds persuasively. "Art and mathematics working in magical synchronicity."
More like this:
–      How the Mario Bros became icons
–      Why Streetfighter II made its mark
–      The best video game adaptation ever
Set in the 1980s, the film sees a plucky Rogers fly to the Soviet Union in a mission to bring Tetris – a game that blew his mind at a business expo – beyond the Iron Curtain. Meeting the game's creator Alexey Pajitnov in Moscow, he forms an unlikely partnership with him, and they race against time (and rogue KGB officers) to get Tetris out of the country.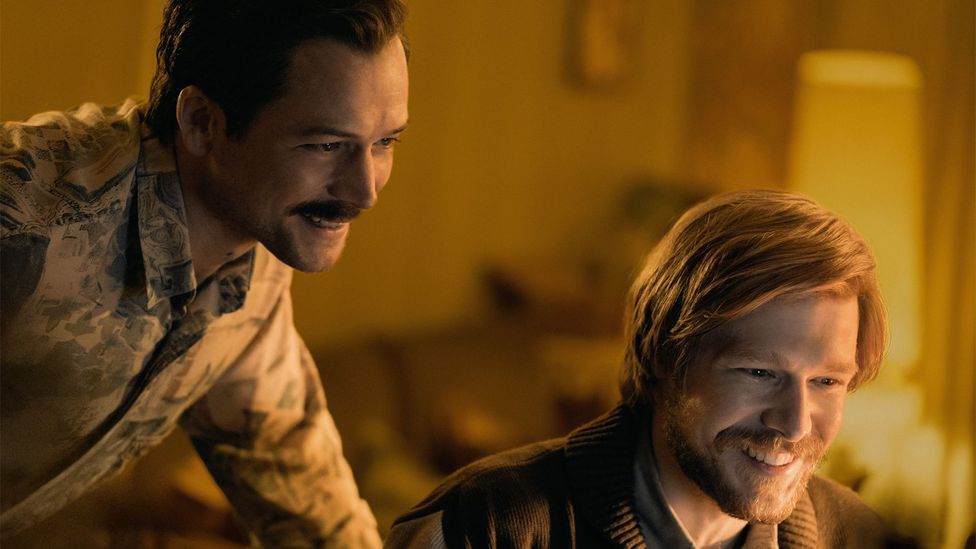 New film Tetris show how entrepreneur Henk Rogers teamed up with the game's Russian creator Alexey Pajitnov to get it distributed beyond the Iron Curtain (Credit: Apple TV+)
Though the film is obviously not a "Tetris movie", more a geopolitical thriller in which Tetris is a plot point, it's nevertheless a reminder of the global impact of the iconic puzzler, which sits among a rare group of games (including Super Mario Bros and Space Invaders) that continue to captivate audiences decades on from their inception. On paper, Tetris doesn't sound anywhere near as immersive a gaming experience as the cinematic post-apocalyptic epic The Last of Us, or able to provide the rush of driving a stolen car into the neon sunset on Grand Theft Auto: Vice City. Yet Tetris is the most ported game of all time – that's to say, the game converted for use onto the most different devices and platforms – and one of gaming's most commercially successful ventures, with a staggering 520 million copies sold globally. So, just what makes Tetris the so-called "perfect" video game, as Egerton's character talks it up in the movie?
The thrill of the gameplay
The concept of Tetris is stunningly simple: tetromino shapes (geometric shapes made from four squares) fall one-by-one from the top of the screen. The player has to rearrange these shapes so they form horizontal lines, which subsequently clear blocks and free up additional space. However, the blocks tend to build up chaotically, creating a suffocating feeling akin to being pressed up against the window on a packed Tube carriage (aka "human Tetris"). Succeed at Tetris and you'll fight through levels where the blocks fall faster and faster, gradually getting into an intuitive flow.
All of this combines to create a thrill that's difficult to articulate. Professor James Newman, co-director of the Playable Media Lab at Bath Spa University, gives it a try: "By responding to the never-ending supply of blocks, organising them, tactically parking some to worry about later while strategically adding and combining others into shapes and structures ripe with the potential for future removal, Tetris offers the seductive potential of agency and control in a sea of apparent chaos."
Tetris is a game that inspires critical thinking, according to scientists from the Mind Research Network, who claim high exposure to Tetris causes the brain to consume less glucose and become more productive. "If you look at the design of Tetris, everything has its place; there is no fluff and it's distilled to its purest form," adds video game developer Niels Monshouwer, the co-founder of WeirdBeard Games – responsible for fun 2016 puzzle game Tricky Towers, that plays like a Tetris-Jenga hybrid – and clearly an advocate of this scientific analysis.
When asked why a game as simplistic as Tetris is so often cited as being at the apex of video game development, Monshouwer continues: "It is the prime example of 'easy to learn but hard to master'. On the most basic level, there's a pleasure in tidying up. Each time you play, you get better. You can get into a flow where your hands and mind become one."
Chess might take years to master, but the simplicity of Tetris means just about anyone – hardcore gamer or not – can intuitively understand what to do. "Tetris really is minimalist game design at its best," explains technology journalist Dan Ackerman, author of The Tetris Effect: The Game that Hypnotised the World. "It wasn't trying to recreate sci-fi movies or action films with low-rent graphics, instead it leaned into the limitations of the computers of the time. It was also abstract enough that if you weren't a "gamer", you could still convince yourself it wasn't a video game and rather just some kind of geometric puzzle or brainteaser. Tetris was the game for people who would never be caught dead playing video games."
To truly understand how Tetris managed to "hypnotise the world", as Ackerman's book claims, and became the subject matter of a new Hollywood film, it's important to trace its roots. Although many people assume Tetris was created by Japanese publisher Nintendo (given the game's enormous success as a launch title on their handheld GameBoy console in 1989), it was in fact the work of a bored Russian programmer, Alexey Pajitnov. He first created Tetris in 1984 as a bit of fun to ease the tensions of working for the Academy of Sciences of the Soviet Union at the height of the Cold War. Despite using a primitive Electronika 60 computer, which was incapable of creating graphics, Pajinov employed the parentheses symbol on his keyboard to replicate the bricks that lighted up in his mind, eventually coding a rudimentary game.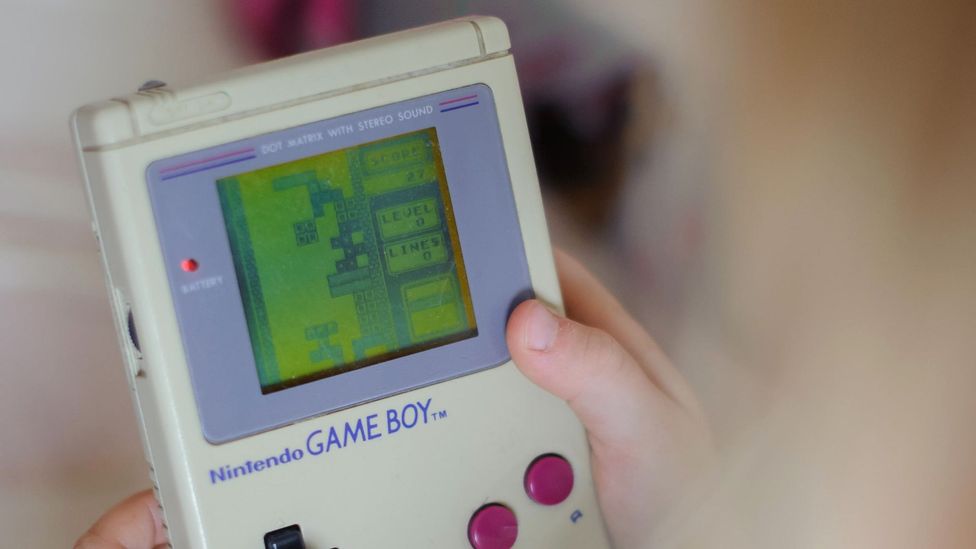 Tetris gained cultural capital as one of the launch titles on Nintendo's handheld GameBoy console in 1989 (Credit: Alamy)
As for the name Tetris, that came from Pajitnov combining the Greek word tetra (meaning four, like the number of squares in each of the game's falling blocks) and his favourite sport of tennis. There's a hint to its creator's nationality in the  use of Korobeiniki, a Russian folk song, as the Tetris theme tune in many incarnations of the game, beginning with the GameBoy version. "In lots of games you destroy things, but in Tetris you have the illusion that you're building something all the time," Pajitnov explained in a 2019 interview with Polygon. "It's constructive and positive and it makes you feel smart."
The heart of the new Tetris film is the relationship between Rogers (Egerton) and Pajitnov (played by actor Nikita Efremov), who come together despite their cultural differences and succeed in getting a video game out from behind the Iron Curtain at a time where the country's politics were anti-capitalist. With the duo teaming up to thwart UK publishing mogul Robert Maxwell (a pitch perfect, hilarious impression by The Thick of It star Roger Allam) from getting the rights and persuading President Mikhail Gorbachev himself to let Tetris be sold across the world, their partnership flips Hollywood's long clichéd depiction of combative US and Russian relations on its head. 
Tetris and the Cold War
Rather than wanting to make a film about Tetris the video game as such, Tetris director Jon S Baird was fascinated by this human story that pushed the game into existence. "The original title of the film was actually Falling Blocs, just like the Eastern blocs that dissolved when the Soviet Union collapsed. I thought it was a really great title. To me, Tetris is a buddy movie and this Cold War thriller, but at the heart of it is this human story between two guys who come from polar opposites of the world and are incredibly different, yet manage to create this magnificent game.
"The only reason Henk found Tetris was because it was pirated illegally out of the country," Baird continues. "It wasn't even supposed to leave the Soviet Union. Pirating something back then meant it had to be smuggled out of the country on a floppy disk. It shows you the power of gaming and how it has a global language that transcends political differences."
In the movie, Rogers is depicted as someone who believed Tetris would not only be a hit game, but, the film goes as far to suggest, a trigger for Russia to cool off the Cold War and embrace global capitalism. In one scene, he cockily asks a KGB officer: "Don't you want to show the world the Soviet Union is about more than missiles and military might?"
But was Rogers really not just another opportunistic businessman attempting to take a slice out of a game he never created? "Henk really came through with his promise to Alexey," Baird counters to BBC Culture. "There's a line in the film where he says: 'I will make you a millionaire!' And he did! In fact, he turned Alexey into a multimillionaire. I got the chance to spend time with them both [at the SXSW Festival, where the film premiered] and it was clear Tetris had created this enduring friendship. Their families still break bread together."
Meanwhile Tetris's more far-reaching impact on the world as a whole is today embodied by the Classic Tetris World Championship, an annual tournament launched in 2010 and now held in Portland, Oregon that brings together elite players to compete in head-to-head, five-round matches on Nintendo Entertainment System consoles. Its president Vince Clemente warmly recalls: "My love for Tetris started when I received the game for Christmas in the 90s. My family and I would sit around and take turns playing. We'd start at level 0. I'd get annoyed with my sister for not pressing down [to speed up the bricks' descent]."
Clemente says a big driver behind the appeal of CTWC events is the carefree atmosphere the game fosters, something that's very different from attending a tournament for, say, a game centred on gun violence. "Unlike other e-sport communities that can be somewhat toxic, the Tetris community is supportive of each other," he claims. "I think ultimately that comes from the fact that you're really just playing a game against yourself. You're the one responsible for how you play and what you score. As far as the community [goes], we all speak the same language, Tetris, and that's what brings us together."
From Minecraft's wacky tools of creativity to smartphone favourites like Angry Birds and Candy Crush Saga, played by millions on their commutes home, the influence of Tetris runs deep. "It basically created the puzzle genre in video gaming, proving these types of games were worthwhile," opines Brian Brown, the comic artist behind Tetris: The Games People Play, a critically acclaimed book that reimagines the story of Henk and Alexey as a graphic novel. "Hundreds, if not thousands, of games have followed in its footsteps.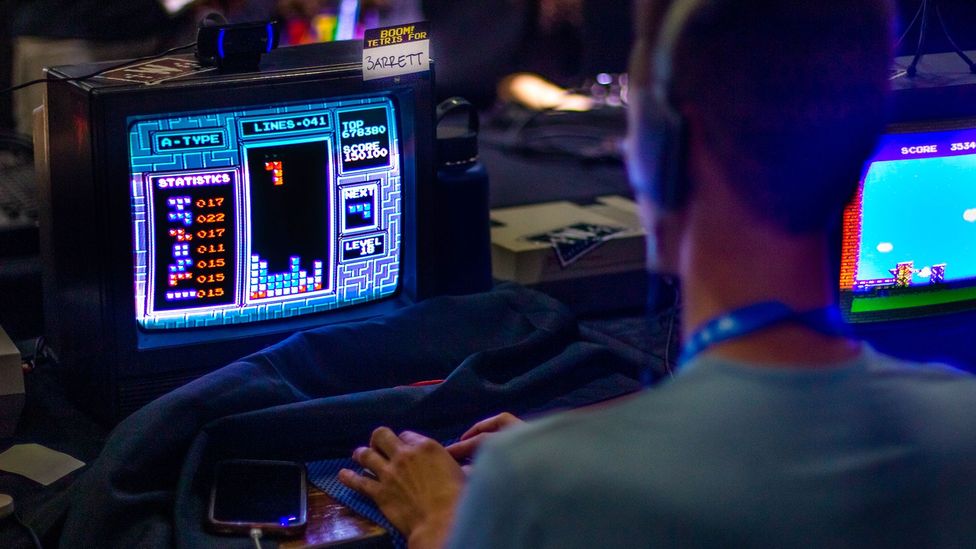 The Classic Tetris World Championship is an annual event bringing together elite players to compete head-to-head (Credit: @classictetris)
With the new Apple+ film sure to turbo-charge awareness of Tetris, and the 2018 franchise reboot Tetris Effect bringing the game to modern consoles, subsequently adding an extension where up to three people could play together co-operatively, Brown is confident younger generations will soon start looking at Tetris with the same sort of respect as they do chess. "As soon as Tetris begins, the player understands deeply that this is a challenge worth returning to," he adds. "It's simpler and easier to learn than chess and is no less challenging. Many might argue it's a lot more fun too."
For Ackerman, the fact Tetris has such deep foundations will ensure it's still being played 100 years from now. "Remember the basic mathematical puzzle behind Tetris, called pentominoes, has been around since the early 1900s, and puzzles built around geometry are a universal idea," he says.
"Many retro games don't age well. Either people try to recreate them with 'modern' appeal and they fall flat, or they put a new coat of paint on an old game – hence all the video game 'remasters' and 'remakes' from the past several years. Tetris largely avoids this trap, because it doesn't need a big graphical upgrade to look and feel modern. The original design was so timeless, that the bones behind it will always stand up."
Tetris is released on Apple TV+ internationally on 31 March.
Love film and TV? Join BBC Culture Film and TV Club on Facebook, a community for cinephiles all over the world.
If you would like to comment on this story or anything else you have seen on BBC Culture, head over to our Facebook page or message us on Twitter.
And if you liked this story, sign up for the weekly bbc.com features newsletter, called The Essential List. A handpicked selection of stories from BBC Future, Culture, Worklife and Travel, delivered to your inbox every Friday.