The Black Keys praise 'incredible' Noel Gallagher
The Black Keys loved working with the "incredible" Noel Gallagher. Patrick Carney and Dan Auerbach have collaborated with former Oasis star Noel on their new record and revealed they are equal fans of him and his estranged brother and ex-bandmate Liam. Carney told NME "He's hilarious and super talented. We were referring to him as 'The Chord Lord' because he's just a perfectionist with it." "Dan and I are big fans of him and Liam. Actually, the Liam song 'Everything's Electric' is why we decided to work with Greg Kurstin [who produced the track]. "We're working with a lot of people and the vibe of the record is fun. It's reflective of our DJ nights in a way, it's a big Saturday night party record. We just had people come through the studio and throw a little bit of special sauce at each song. "There are just so many different collaborations but there's a thread through it with Dan and I filtering everything. It just feels really f****** amazing. "Danger Mouse showed us the trick to collaborating and that's someone we need to work with again soon. We used to be pretty insular. We were two friends from Akron who didn't really take part in any music scene, and we weren't able to hang out backstage early on in our career, because we had to drive to the next show. "Now, we're thriving because we're including our friends and being more inclusive. That's what the vibe is with this record." Carney also revealed his and Auerbach's friendship has deepened in recent years and they are closer than ever. He said: "We've done a lot of growing up in the last 10 years. Dan and I have always been close but we've got a very deep friendship right now. We enjoy hanging out. Getting to go on tour with your friend, it makes the whole thing feel more exciting."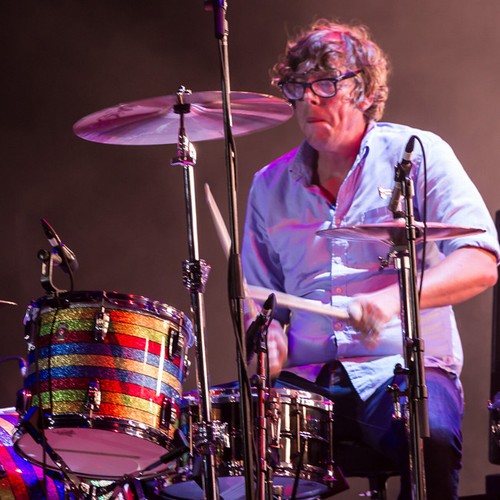 The Black Keys loved working with the "incredible" Noel Gallagher.
Patrick Carney and Dan Auerbach have collaborated with former Oasis star Noel on their new record and revealed they are equal fans of him and his estranged brother and ex-bandmate Liam.
Carney told NME "He's hilarious and super talented. We were referring to him as 'The Chord Lord' because he's just a perfectionist with it."
"Dan and I are big fans of him and Liam. Actually, the Liam song 'Everything's Electric' is why we decided to work with Greg Kurstin [who produced the track].
"We're working with a lot of people and the vibe of the record is fun. It's reflective of our DJ nights in a way, it's a big Saturday night party record. We just had people come through the studio and throw a little bit of special sauce at each song.
"There are just so many different collaborations but there's a thread through it with Dan and I filtering everything. It just feels really f****** amazing.
"Danger Mouse showed us the trick to collaborating and that's someone we need to work with again soon. We used to be pretty insular. We were two friends from Akron who didn't really take part in any music scene, and we weren't able to hang out backstage early on in our career, because we had to drive to the next show.
"Now, we're thriving because we're including our friends and being more inclusive. That's what the vibe is with this record."
Carney also revealed his and Auerbach's friendship has deepened in recent years and they are closer than ever.
He said: "We've done a lot of growing up in the last 10 years. Dan and I have always been close but we've got a very deep friendship right now. We enjoy hanging out. Getting to go on tour with your friend, it makes the whole thing feel more exciting."