Taliban recognition still off the table for Berlin, Merkel says as EU pledges $1.2 billion in aid to Afghanistan
Berlin is still not ready to recognize the Taliban as ruler of Afghanistan as it has not formed an "inclusive" government, German Chancellor Angela Merkel said while pledging major financial aid to Afghanistan, along with the EU. The Taliban militants did not form the inclusive government required by the international community, the chancellor said on Tuesday following a G20 video conference. The question of the Taliban's political recognition is, thus, not on her agenda for the moment, she added. Also on rt.com Taliban calls for improved 'diplomatic relations' with US after 'candid talks' in Doha, welcomes humanitarian aid "Nevertheless, there should and must be talks," she argued, saying that the German government does speak to the Taliban. She also defended Berlin's decision to provide €600 million-worth ($692 million) of aid to Afghanistan and its neighbors. No one would benefit if Afghanistan's entire financial system collapses, she said, adding that "watching 40 million people plunge into chaos … cannot and must not be a goal of the international community." Earlier on Tuesday, EU Commission President Ursula von der Leyen announced that the bloc would provide an "Afghan Support Package" worth €1 billion ($ 1.2 billion) as part of a "global solidarity initiative," and called on member states to "top it up with contributions."Europe is taking the leadership of the global solidarity effort. The Afghan Support Package worth almost €1 billion is an investment in security and stability. I hope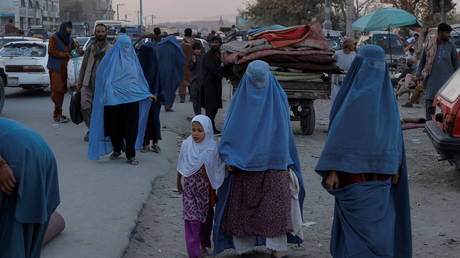 Berlin is still not ready to recognize the Taliban as ruler of Afghanistan as it has not formed an "inclusive" government, German Chancellor Angela Merkel said while pledging major financial aid to Afghanistan, along with the EU.
The Taliban militants did not form the inclusive government required by the international community, the chancellor said on Tuesday following a G20 video conference. The question of the Taliban's political recognition is, thus, not on her agenda for the moment, she added.
Also on rt.com
Taliban calls for improved 'diplomatic relations' with US after 'candid talks' in Doha, welcomes humanitarian aid
"Nevertheless, there should and must be talks," she argued, saying that the German government does speak to the Taliban. She also defended Berlin's decision to provide €600 million-worth ($692 million) of aid to Afghanistan and its neighbors. No one would benefit if Afghanistan's entire financial system collapses, she said, adding that "watching 40 million people plunge into chaos … cannot and must not be a goal of the international community."
Earlier on Tuesday, EU Commission President Ursula von der Leyen announced that the bloc would provide an "Afghan Support Package" worth €1 billion ($ 1.2 billion) as part of a "global solidarity initiative," and called on member states to "top it up with contributions."
Europe is taking the leadership of the global solidarity effort. The Afghan Support Package worth almost €1 billion is an investment in security and stability. I hope