Taiwan's TSMC to Recruit 6,000 Engineers in 2023
TAIPEI—Taiwan Semiconductor Manufacturing Co. Ltd (TSMC), the world's largest contract chipmaker, will recruit more than 6,000 new staff in 2023, the company said in a statement on Saturday. The hiring drive comes despite a global downturn in the chip industry. According to TSMC, the company will seek young engineers with associates, bachelor's, masters's or doctorate degrees in electrical engineering or software-related fields, in cities all across Taiwan. The average overall salary of a new engineer with a master's degree is T$2 million ($65,578.07), the company added. A decline in demand for electronics and high inventory levels following a shortage of some chips have led to a downturn for the semiconductor industry. Since late 2022, a number of chip companies around the world have reined in investments. Intel Corp. recently announced that it would cut payments to mid-level staff and executives from 5 percent to 25 percent. TSMC's dominance in making some of the most advanced chips for high-end customers such as Apple Inc has shielded it from downturn. The company slightly reduced its annual capital expenditure for 2023 and predicts a first-quarter revenue drop, but has said it expects demand to pick up by the second half of this year. ($1 = 30.4980 Taiwan dollars)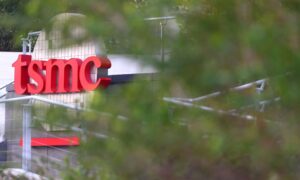 TAIPEI—Taiwan Semiconductor Manufacturing Co. Ltd (TSMC), the world's largest contract chipmaker, will recruit more than 6,000 new staff in 2023, the company said in a statement on Saturday.
The hiring drive comes despite a global downturn in the chip industry.
According to TSMC, the company will seek young engineers with associates, bachelor's, masters's or doctorate degrees in electrical engineering or software-related fields, in cities all across Taiwan.
The average overall salary of a new engineer with a master's degree is T$2 million ($65,578.07), the company added.
A decline in demand for electronics and high inventory levels following a shortage of some chips have led to a downturn for the semiconductor industry.
Since late 2022, a number of chip companies around the world have reined in investments.
Intel Corp. recently announced that it would cut payments to mid-level staff and executives from 5 percent to 25 percent.
TSMC's dominance in making some of the most advanced chips for high-end customers such as Apple Inc has shielded it from downturn.
The company slightly reduced its annual capital expenditure for 2023 and predicts a first-quarter revenue drop, but has said it expects demand to pick up by the second half of this year.
($1 = 30.4980 Taiwan dollars)