Taco Pizza
This website may contain affiliate links and advertising so that we can provide recipes to you. Read my privacy policy.Two classic family favorites, pizza and tacos, come together in this easy weeknight meal that is destined to become a favorite in your home. Taco pizza is loaded with tasty seasoned beef, melty cheese, beans, and fresh veggies for a flavor combination you'll love! I love tacos in every form. Beef taco salad, taco casserole, and taco pie are a few more unique recipes to try filled with all of the mouthwatering taco flavors you love! They're super easy to throw together and will have the whole family hooked. Homemade Taco Pizza Recipe This recipe is such a fun twist on two classic family weeknight traditions, pizza and tacos. Combining my family's two favorite meals in one has long been a winner in our home, and I'm confident it will be in yours, too. This recipe is an at-home version of Mexican pizza that you can make with simple ingredients! I crave it often, and because it's so easy to make, I can whip it up in a flash whenever I'm in the mood. It's one of the few pizzas I can happily eat over and over again and not grow tired of. This taco pizza is the perfect quick, no-fuss weeknight dinner. Because many of the toppings can be prepared ahead of time, it makes dinnertime so easy! I hope this pizza makes it into your family's dinner rotation, and if it does, it will most likely be there to stay. It's just too good to resist! If you need more taco goodness in your life, you'll have to add this cheesy taco soup and stuffed avocados to your lineup as well. Ingredients You'll Need to Make It To make this beauty I start with a store-bought crust, because who has time to make their own dough? I add all of my family's favorite taco fixings on top, which you can easily mix and match to preference! Measurements for each of these ingredients can be found in the recipe card below. Ground Beef: I used ground beef for my taco meat, but you can use turkey as a healthier alternative!White Onion: Adds texture and a sweet but sharp flavor.Taco Seasoning: You'll need some of this for that signature taco flavor! You can buy this premade or make your own batch at home. Find my full recipe here.Refried Beans: This acts as your pizza sauce.Store-Bought Pizza Dough Crust: I always use store-bought crust for easy prep. I have options for both cauliflower and zucchini crusts in the tips section below, too!Cornmeal: Keeps the pizza dough from sticking to the pan.Shredded Colby Jack Cheese: Colby jack is one of my favorite cheeses to use for pizza because it's so flavorful and melty! Cheddar cheese also works.Veggies: I used a mix of shredded iceberg lettuce, chopped tomatoes, sliced black olives, and sliced jalapenos for some kick! How to Make Taco Pizza Once your glorious taco pizza has come out of the oven, you'll want to top it with all of your favorite taco toppings. Personally, I like to go heavy on thinly shredded iceberg lettuce, olives, tomatoes, and of course, sour cream. You can even add some pepperoncini or Mama Lil's peppers to spice things up a bit. Prepare Pizza Crust: Preheat the oven to 425 degrees Fahrenheit. Spread the pizza dough onto the pizza pan. I like to sprinkle cornmeal to prevent the dough from sticking to the pan.Pre-Bake Dough: Cook the pizza dough for about 8 minutes to slightly bake the dough before adding the ingredients. This will ensure that the dough is cooked through on the bottom.Brown the Ground Beef: In a large skillet over medium heat, brown the meat and onions until cooked through and tender. Drain any excess oil if needed. Add the taco seasoning by following the directions on the packet of taco seasoning. Set aside.Mix Refried Beans: In a medium bowl, stir the refried beans until smooth so it's easier for spreading on the crust.Layer: Spread the bean mixture on top, leaving a 1/2-inch border. Sprinkle with ¾ of the cheese followed by the taco meat, then the remaining cheese.Bake: Bake the pizza for 12-15 minutes, until the bottom is crisp and the cheese is bubbling.Add Toppings: Add your favorite taco toppings! I added lettuce, tomatoes, and olives. Cut into 8 wedges and serve with a dollop of sour cream. Tips for Making Taco Pizza Here are a few simple ways to switch up this family-favorite dinner! You'll love how your taco pizza turns out. It's so hearty and flavorful! Swap Out Crust: For a low-carb, keto version of this recipe, try swapping out your regular pizza crust for a zucchini or cauliflower crust!Add More Toppings: Try sliced avocado, black beans, queso, or a drizzle of enchilada sauce! A Reader's Review"I have made this and my daughter LOVED it!! She said "Taco – bout a good pizza"!!!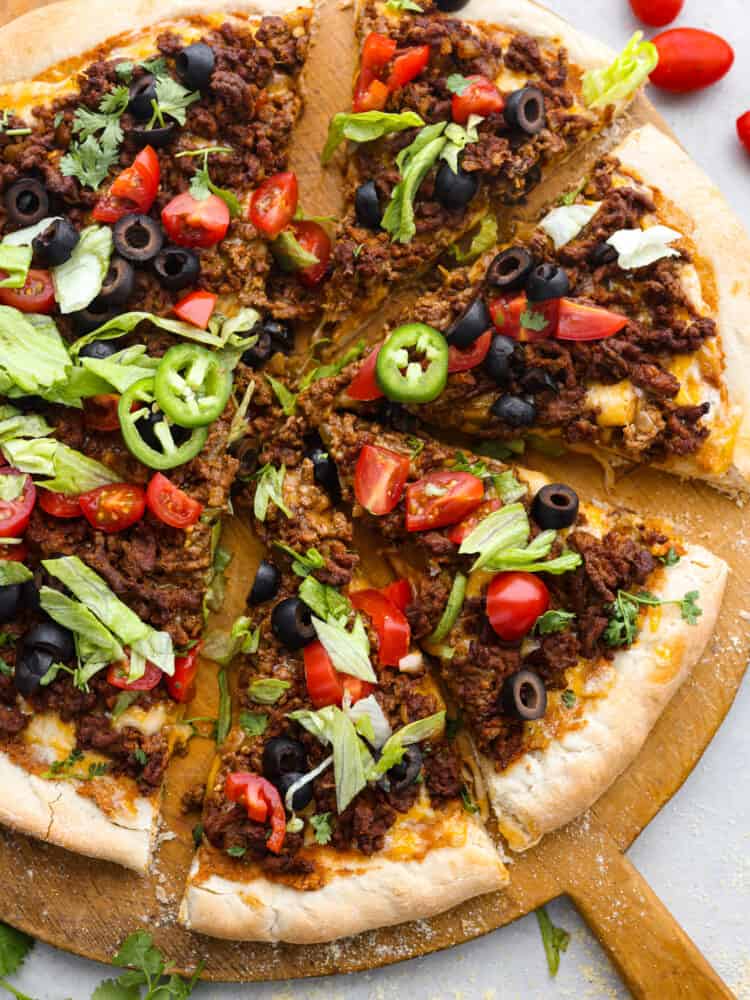 Two classic family favorites, pizza and tacos, come together in this easy weeknight meal that is destined to become a favorite in your home. Taco pizza is loaded with tasty seasoned beef, melty cheese, beans, and fresh veggies for a flavor combination you'll love!
I love tacos in every form. Beef taco salad, taco casserole, and taco pie are a few more unique recipes to try filled with all of the mouthwatering taco flavors you love! They're super easy to throw together and will have the whole family hooked.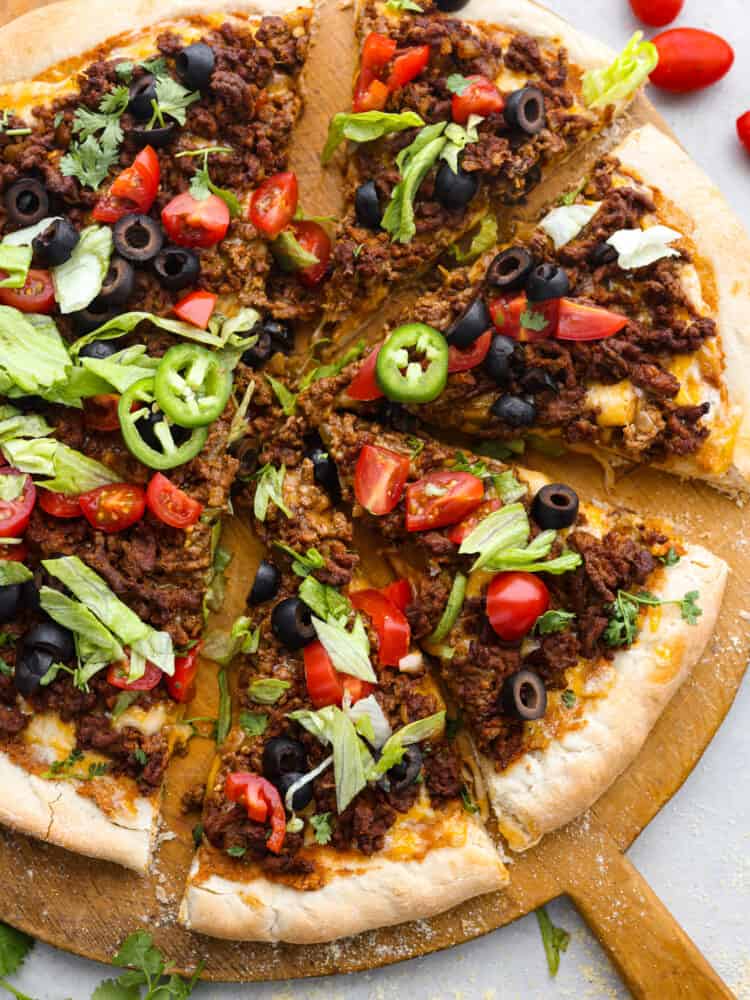 Homemade Taco Pizza Recipe
This recipe is such a fun twist on two classic family weeknight traditions, pizza and tacos. Combining my family's two favorite meals in one has long been a winner in our home, and I'm confident it will be in yours, too. This recipe is an at-home version of Mexican pizza that you can make with simple ingredients! I crave it often, and because it's so easy to make, I can whip it up in a flash whenever I'm in the mood. It's one of the few pizzas I can happily eat over and over again and not grow tired of.
This taco pizza is the perfect quick, no-fuss weeknight dinner. Because many of the toppings can be prepared ahead of time, it makes dinnertime so easy! I hope this pizza makes it into your family's dinner rotation, and if it does, it will most likely be there to stay. It's just too good to resist! If you need more taco goodness in your life, you'll have to add this cheesy taco soup and stuffed avocados to your lineup as well.
Ingredients You'll Need to Make It
To make this beauty I start with a store-bought crust, because who has time to make their own dough? I add all of my family's favorite taco fixings on top, which you can easily mix and match to preference! Measurements for each of these ingredients can be found in the recipe card below.
Ground Beef: I used ground beef for my taco meat, but you can use turkey as a healthier alternative!
White Onion: Adds texture and a sweet but sharp flavor.
Taco Seasoning: You'll need some of this for that signature taco flavor! You can buy this premade or make your own batch at home. Find my full recipe here.
Refried Beans: This acts as your pizza sauce.
Store-Bought Pizza Dough Crust: I always use store-bought crust for easy prep. I have options for both cauliflower and zucchini crusts in the tips section below, too!
Cornmeal: Keeps the pizza dough from sticking to the pan.
Shredded Colby Jack Cheese: Colby jack is one of my favorite cheeses to use for pizza because it's so flavorful and melty! Cheddar cheese also works.
Veggies: I used a mix of shredded iceberg lettuce, chopped tomatoes, sliced black olives, and sliced jalapenos for some kick!
How to Make Taco Pizza
Once your glorious taco pizza has come out of the oven, you'll want to top it with all of your favorite taco toppings. Personally, I like to go heavy on thinly shredded iceberg lettuce, olives, tomatoes, and of course, sour cream. You can even add some pepperoncini or Mama Lil's peppers to spice things up a bit.
Prepare Pizza Crust: Preheat the oven to 425 degrees Fahrenheit. Spread the pizza dough onto the pizza pan. I like to sprinkle cornmeal to prevent the dough from sticking to the pan.
Pre-Bake Dough: Cook the pizza dough for about 8 minutes to slightly bake the dough before adding the ingredients. This will ensure that the dough is cooked through on the bottom.
Brown the Ground Beef: In a large skillet over medium heat, brown the meat and onions until cooked through and tender. Drain any excess oil if needed. Add the taco seasoning by following the directions on the packet of taco seasoning. Set aside.
Mix Refried Beans: In a medium bowl, stir the refried beans until smooth so it's easier for spreading on the crust.
Layer: Spread the bean mixture on top, leaving a 1/2-inch border. Sprinkle with ¾ of the cheese followed by the taco meat, then the remaining cheese.
Bake: Bake the pizza for 12-15 minutes, until the bottom is crisp and the cheese is bubbling.
Add Toppings: Add your favorite taco toppings! I added lettuce, tomatoes, and olives. Cut into 8 wedges and serve with a dollop of sour cream.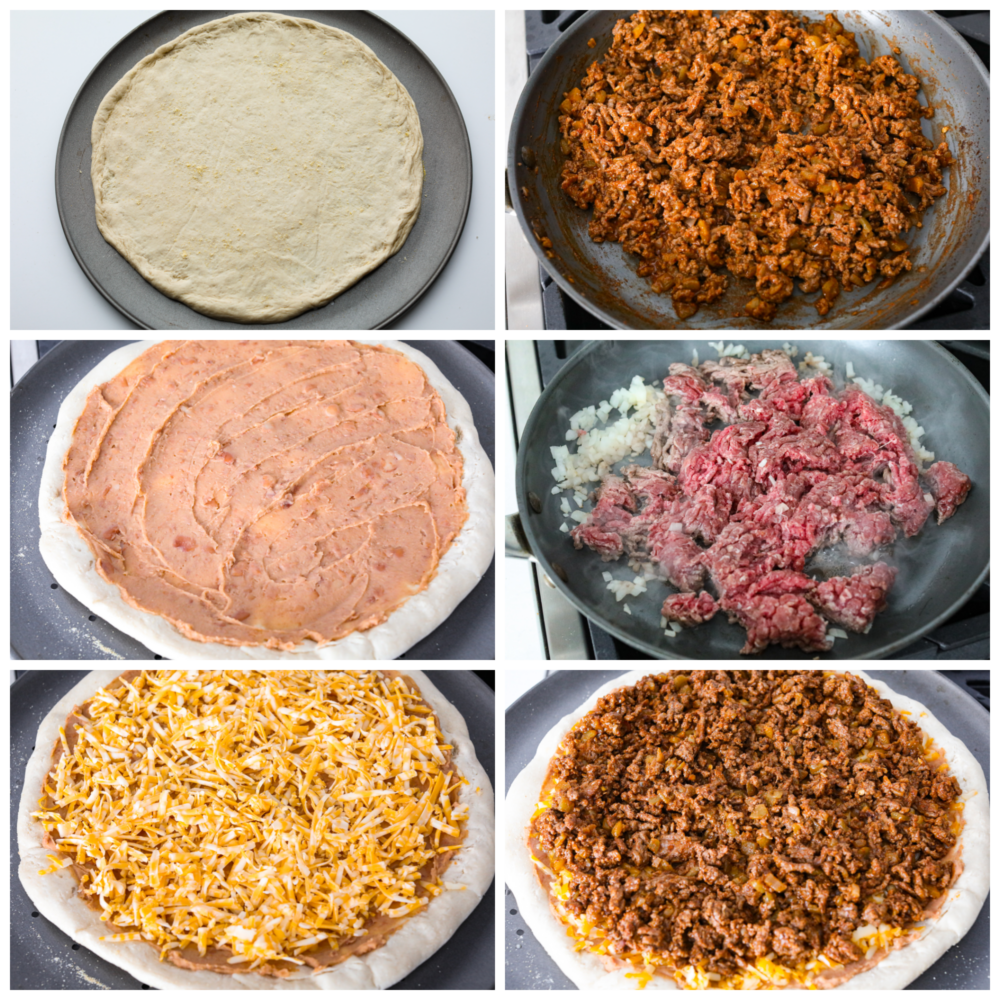 Tips for Making Taco Pizza
Here are a few simple ways to switch up this family-favorite dinner! You'll love how your taco pizza turns out. It's so hearty and flavorful!
Swap Out Crust: For a low-carb, keto version of this recipe, try swapping out your regular pizza crust for a zucchini or cauliflower crust!
Add More Toppings: Try sliced avocado, black beans, queso, or a drizzle of enchilada sauce!
A Reader's Review
"I have made this and my daughter LOVED it!! She said "Taco – bout a good pizza"!!!