Suit: Chocolate Factory Ignored Warning Before Deadly Blast
A Pennsylvania candy-maker ignored warnings of a gas leak at its chocolate factory and bears responsibility for a subsequent explosion that killed seven workers and injured several others, according to a lawsuit filed Tuesday. The family of Judith "Judy" Lopez-Moran, a 55-year-old mother of three, filed what their lawyers called the first wrongful-death suit against R.M. Palmer Co. after the March 24 blast in West Reading. Workers smelled gas that day and notified Palmer, but the 75-year-old, family-owned company "did nothing," the lawsuit said. "The gas leak at the factory and the horrific explosion it caused was foreseeable, predictable, and preventable," the suit said. "Tragically, Judith Lopez-Moran's death and suffering were preventable." The lawsuit, filed in Philadelphia Court of Common Pleas, also names gas utility UGI. Messages were sent to Palmer and UGI seeking comment. Authorities are still investigating the cause of the explosion, which leveled a building in the factory complex and damaged several other buildings in West Reading, a small town 60 miles (96 kilometers) northwest of Philadelphia. Federal safety officials previously confirmed they were studying the role of a natural gas pipeline in the blast. The National Transportation Safety Board has called what happened a "natural gas" explosion and fire, citing preliminary information from local authorities and the utility about the pipeline's role. Emergency personnel work at the site of a deadly explosion at a chocolate factory in West Reading, Pa., on March 24, 2023. (Jeff Doelp/Reading Eagle via AP) Palmer officials should have evacuated immediately after being told of the gas odor but instead "made a representation to the factory workers, including Judith Lopez-Moran, that the factory was safe and that there was no gas leak," the suit said. Palmer, according to the suit, "intended to mislead the factory workers … so that the factory workers would continue working and so that factory downtime would be minimized." Patricia Borges, who survived the blast and was a friend and co-worker of Lopez-Moran, previously recounted how her arm caught fire as flames engulfed the building. She then fell through the floor into a vat of liquid chocolate. Borges told The Associated Press how she and others had complained about a gas odor about 30 minutes before the factory blew up. Palmer has offered condolences but has otherwise said little since the explosion. "The seven who we lost will always be in our prayers, and to those who were injured we wish a speedy recovery. Over the many years that we have worked together many became personal friends and all valued members of the Palmer team. Their loss will be felt forever," the Palmer family said in a statement five days after the explosion. The law firm representing Lopez-Moran's family, Saltz Mongeluzzi Bendesky, said it represents more than a dozen victims of the explosion. By Michael Rubinkam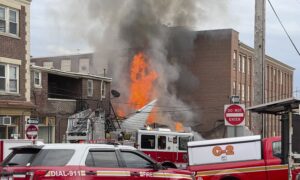 A Pennsylvania candy-maker ignored warnings of a gas leak at its chocolate factory and bears responsibility for a subsequent explosion that killed seven workers and injured several others, according to a lawsuit filed Tuesday.
The family of Judith "Judy" Lopez-Moran, a 55-year-old mother of three, filed what their lawyers called the first wrongful-death suit against R.M. Palmer Co. after the March 24 blast in West Reading.
Workers smelled gas that day and notified Palmer, but the 75-year-old, family-owned company "did nothing," the lawsuit said.
"The gas leak at the factory and the horrific explosion it caused was foreseeable, predictable, and preventable," the suit said. "Tragically, Judith Lopez-Moran's death and suffering were preventable."
The lawsuit, filed in Philadelphia Court of Common Pleas, also names gas utility UGI. Messages were sent to Palmer and UGI seeking comment.
Authorities are still investigating the cause of the explosion, which leveled a building in the factory complex and damaged several other buildings in West Reading, a small town 60 miles (96 kilometers) northwest of Philadelphia.
Federal safety officials previously confirmed they were studying the role of a natural gas pipeline in the blast. The National Transportation Safety Board has called what happened a "natural gas" explosion and fire, citing preliminary information from local authorities and the utility about the pipeline's role.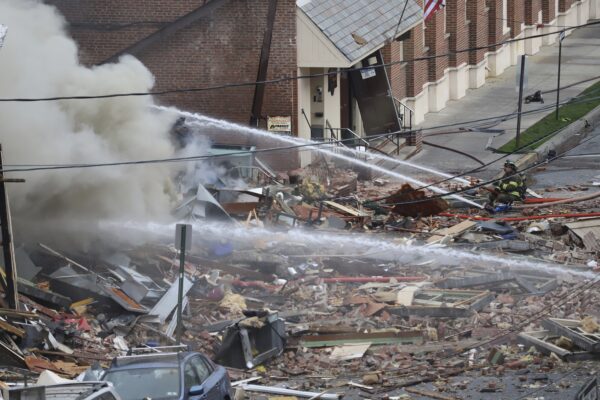 Palmer officials should have evacuated immediately after being told of the gas odor but instead "made a representation to the factory workers, including Judith Lopez-Moran, that the factory was safe and that there was no gas leak," the suit said.
Palmer, according to the suit, "intended to mislead the factory workers … so that the factory workers would continue working and so that factory downtime would be minimized."
Patricia Borges, who survived the blast and was a friend and co-worker of Lopez-Moran, previously recounted how her arm caught fire as flames engulfed the building. She then fell through the floor into a vat of liquid chocolate. Borges told The Associated Press how she and others had complained about a gas odor about 30 minutes before the factory blew up.
Palmer has offered condolences but has otherwise said little since the explosion.
"The seven who we lost will always be in our prayers, and to those who were injured we wish a speedy recovery. Over the many years that we have worked together many became personal friends and all valued members of the Palmer team. Their loss will be felt forever," the Palmer family said in a statement five days after the explosion.
The law firm representing Lopez-Moran's family, Saltz Mongeluzzi Bendesky, said it represents more than a dozen victims of the explosion.