SUGA shares debut solo album as Agust D and Disney+ doc about the journey
SUGA has released his debut solo album, 'D-DAY', under his solo stage name Agust D.The 30-year-old BTS star - whose real name is Min Yoon-gi - has shared his first full-length project.'D-Day' is the third instalment of SUGA's mixtape trilogy, following 2016's 'Agust D' and 2020's 'D-2'.His bandmate J-Hope, 29, features on the track 'HUH?!'.Prior to its release, SUGA had confessed he was "worried" about his return as Agust D.He told Billboard: "'People Pt.2' was made thinking about how people will receive Agust D's music, which is why we also featured [his former collaborator] IU. It's kind of a trial to release this music under the name Agust D."A Disney+ documentary entitled 'SUGA: Road to D-Day', which chronicles the artist's solo album journey, has also been released."This insightful new documentary pulls back the curtain and gives viewers an exclusive look into the creative process behind SUGA's latest solo album," a description reads.The South Korean rapper is also embarking on the 'SUGA Agust D Tour', which takes in North America, Indonesia, Thailand, Singapore, South Korea, and Japan.And the newly-named NBA ambassador will become the first member of the 'My Universe' group - also comprising Jungkook, Jin, Jimin, V, and RM - to do a world tour.SUGA is a key co-writer and co-producer for the K-Pop boy band - who are on a hiatus while they work on solo projects.The 'D-Day' track-listing:1. 'Haegeum'2. 'People Pt.2 (feat. IU)'3. 'D-Day'4. 'HUH?!' (feat. J-Hope)"5. 'AMYGDALA'6. 'SDL'7. 'Polar Night'8. 'Interlude : Dawn'9. 'Snooze' (feat. Ryuichi Sakamoto, Woosung of The Rose)10. 'Life Goes On'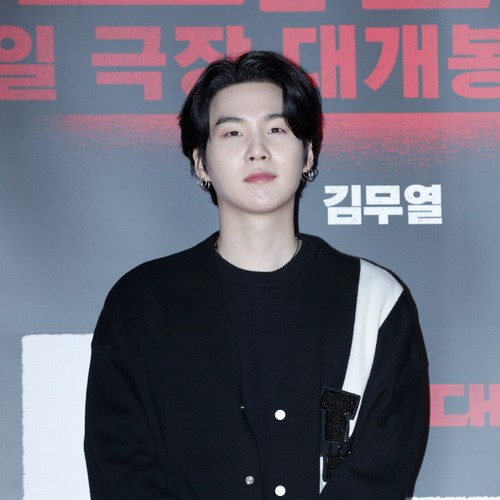 SUGA has released his debut solo album, 'D-DAY', under his solo stage name Agust D.
The 30-year-old BTS star - whose real name is Min Yoon-gi - has shared his first full-length project.
'D-Day' is the third instalment of SUGA's mixtape trilogy, following 2016's 'Agust D' and 2020's 'D-2'.
His bandmate J-Hope, 29, features on the track 'HUH?!'.
Prior to its release, SUGA had confessed he was "worried" about his return as Agust D.
He told Billboard: "'People Pt.2' was made thinking about how people will receive Agust D's music, which is why we also featured [his former collaborator] IU. It's kind of a trial to release this music under the name Agust D."
A Disney+ documentary entitled 'SUGA: Road to D-Day', which chronicles the artist's solo album journey, has also been released.
"This insightful new documentary pulls back the curtain and gives viewers an exclusive look into the creative process behind SUGA's latest solo album," a description reads.
The South Korean rapper is also embarking on the 'SUGA Agust D Tour', which takes in North America, Indonesia, Thailand, Singapore, South Korea, and Japan.
And the newly-named NBA ambassador will become the first member of the 'My Universe' group - also comprising Jungkook, Jin, Jimin, V, and RM - to do a world tour.
SUGA is a key co-writer and co-producer for the K-Pop boy band - who are on a hiatus while they work on solo projects.
The 'D-Day' track-listing:
1. 'Haegeum'
2. 'People Pt.2 (feat. IU)'
3. 'D-Day'
4. 'HUH?!' (feat. J-Hope)"
5. 'AMYGDALA'
6. 'SDL'
7. 'Polar Night'
8. 'Interlude : Dawn'
9. 'Snooze' (feat. Ryuichi Sakamoto, Woosung of The Rose)
10. 'Life Goes On'