Softening Inflation Brings Small Relief to Australians in February
Australia's monthly inflation rate decreased for the second consecutive month in February, providing a small but much-needed relief for households struggling with rising living costs. According to new data from the Australian Bureau of Statistics (ABS), the monthly consumer price index rose by 6.8 percent in the 12 months to February, down 0.6 percent from January. The February result was lower than market expectations of a 7.2 percent rise. "This marks the second consecutive month of lower annual inflation, also known as 'disinflation', from the peak of 8.4 percent in December 2022," ABS head of prices statistics Michelle Marquardt said. The most significant contributor to the annual rise in inflation was housing (up 9.9 percent), followed by food and non-alcoholic beverages (up eight percent), transport (up 5.6 percent) and recreation and culture (up 6.4 percent). In the food category, dairy products reported the highest increases at 14.3 percent, while fruit and vegetables saw the smallest growth at 5.8 percent. Housing rent growth remained unchanged at 4.8 percent annually amid a tight rental market and low vacancy rates, while new dwellings grew 13.0 percent–the slowest annual increase since February 2022. Despite the slowdown in inflation, consumer prices still grew much higher than the Reserve Bank of Australia's (RBA) two to three percent target band. While the monthly inflation indicator is relatively new and volatile compared to the quarterly index, it will be one of the major economic inputs for the RBA's interest rate decision in April. The Potential Impact of New Inflation Data on Interest Rates Diana Mousina, a senior economist at global investment firm AMP Capital said the latest drop in the monthly inflation rates and the slowdown in some other economic indicators should send a strong enough message about a rate pause to the RBA. "Overall, the data showed that while the Australian economy is holding up, it has lost some momentum since late 2022, which is a sign that interest rate hikes are working," Mousina said in comments obtained by AAP. The economist also cited the recent bank collapses in the United States and Europe as a deterrent to another interest rate hike in April. "While Australian banks are not directly impacted, the crisis could filter into Australia if confidence around the banks deteriorates, which will lead to liquidity problems and deposit outflows." Pedestrians walk past the Reserve Bank of Australia in Sydney, Australia, on June 4, 2019. (Peter Parks/AFP via Getty Images) Meanwhile, ANZ Bank economists believed that inflation momentum remained strong despite the drop in February. Pointing to the significant bounce in employment, the elevated growth of businesses' prices and costs and the solid increase in services spending in February, they expected the RBA to continue its interest rate hiking cycle with a 0.25 percent rise in April. "While the RBA has signalled its intention to pause at some point in coming months, we continue to think that the data is not yet consistent with a pause," ANZ economists said. Retail Trade Growth Softens in February The new inflation data comes as Australia saw a slight growth in retail trade volume in the past month. Retail sales lifted 0.2 percent to $35.1 billion (US$23.44 billion) in February, which was down from a 1.8 percent hike in January and consistent with market forecasts. The economic indicator has been volatile during the past three months as Australian consumers changed their elevated spending habits during the holiday season to a more normal spending pattern. ABS head of retail statistics Ben Dorber said retail spending had been flat through the end of 2022 and early 2023. "Spending in food-related industries continued to grow steadily in February, with cafes, restaurants and takeaway food services up 0.5 percent, while food retailing rose 0.2 percent," he said. "Non-food industry results were mixed as consumers continue to pull back on discretionary spending in response to the high cost of living pressures." Australian Retailers Association CEO Paul Zahra said essential categories like food barely saw an improvement in sales volume when considering inflation. However, he noted that other categories were performing well as people continued to enjoy their freedom following the COVID-19 pandemic. "We're now at the point in essential categories like food where inflationary price increases are mostly driving retail spending growth," he said. "The categories to record strong spending growth were restaurants, cafes and takeaway, department stores and clothing, footwear and accessories–with the resurgence in getting out and about continuing to deliver solid results for this segment, which was heavily impacted previously by the pandemic."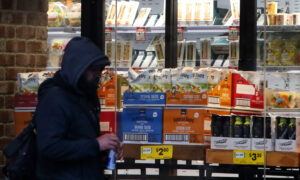 Australia's monthly inflation rate decreased for the second consecutive month in February, providing a small but much-needed relief for households struggling with rising living costs.
According to new data from the Australian Bureau of Statistics (ABS), the monthly consumer price index rose by 6.8 percent in the 12 months to February, down 0.6 percent from January.
The February result was lower than market expectations of a 7.2 percent rise.
"This marks the second consecutive month of lower annual inflation, also known as 'disinflation', from the peak of 8.4 percent in December 2022," ABS head of prices statistics Michelle Marquardt said.
The most significant contributor to the annual rise in inflation was housing (up 9.9 percent), followed by food and non-alcoholic beverages (up eight percent), transport (up 5.6 percent) and recreation and culture (up 6.4 percent).
In the food category, dairy products reported the highest increases at 14.3 percent, while fruit and vegetables saw the smallest growth at 5.8 percent.
Housing rent growth remained unchanged at 4.8 percent annually amid a tight rental market and low vacancy rates, while new dwellings grew 13.0 percent–the slowest annual increase since February 2022.
Despite the slowdown in inflation, consumer prices still grew much higher than the Reserve Bank of Australia's (RBA) two to three percent target band.
While the monthly inflation indicator is relatively new and volatile compared to the quarterly index, it will be one of the major economic inputs for the RBA's interest rate decision in April.
The Potential Impact of New Inflation Data on Interest Rates
Diana Mousina, a senior economist at global investment firm AMP Capital said the latest drop in the monthly inflation rates and the slowdown in some other economic indicators should send a strong enough message about a rate pause to the RBA.
"Overall, the data showed that while the Australian economy is holding up, it has lost some momentum since late 2022, which is a sign that interest rate hikes are working," Mousina said in comments obtained by AAP.
The economist also cited the recent bank collapses in the United States and Europe as a deterrent to another interest rate hike in April.
"While Australian banks are not directly impacted, the crisis could filter into Australia if confidence around the banks deteriorates, which will lead to liquidity problems and deposit outflows."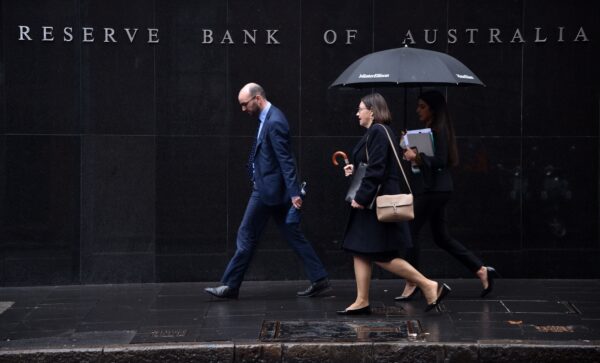 Meanwhile, ANZ Bank economists believed that inflation momentum remained strong despite the drop in February.
Pointing to the significant bounce in employment, the elevated growth of businesses' prices and costs and the solid increase in services spending in February, they expected the RBA to continue its interest rate hiking cycle with a 0.25 percent rise in April.
"While the RBA has signalled its intention to pause at some point in coming months, we continue to think that the data is not yet consistent with a pause," ANZ economists said.
Retail Trade Growth Softens in February
The new inflation data comes as Australia saw a slight growth in retail trade volume in the past month.
Retail sales lifted 0.2 percent to $35.1 billion (US$23.44 billion) in February, which was down from a 1.8 percent hike in January and consistent with market forecasts.
The economic indicator has been volatile during the past three months as Australian consumers changed their elevated spending habits during the holiday season to a more normal spending pattern.
ABS head of retail statistics Ben Dorber said retail spending had been flat through the end of 2022 and early 2023.
"Spending in food-related industries continued to grow steadily in February, with cafes, restaurants and takeaway food services up 0.5 percent, while food retailing rose 0.2 percent," he said.
"Non-food industry results were mixed as consumers continue to pull back on discretionary spending in response to the high cost of living pressures."
Australian Retailers Association CEO Paul Zahra said essential categories like food barely saw an improvement in sales volume when considering inflation.
However, he noted that other categories were performing well as people continued to enjoy their freedom following the COVID-19 pandemic.
"We're now at the point in essential categories like food where inflationary price increases are mostly driving retail spending growth," he said.
"The categories to record strong spending growth were restaurants, cafes and takeaway, department stores and clothing, footwear and accessories–with the resurgence in getting out and about continuing to deliver solid results for this segment, which was heavily impacted previously by the pandemic."