Small Banks See Record Drop in Deposits After SVB Collapse
Deposits at America's small banks fell by a record amount in the week ending March 15 as the collapse of Silicon Valley Bank (SVB) spooked depositors and led many to withdraw their savings. Data from the Federal Reserve shows that deposits at small banks—defined as those smaller than the biggest 25—dropped $119 billion to $5.46 trillion, more than twice the previous record drop. Deposits at large U.S. banks, meanwhile, rose $67 billion in the week ended March 15, reaching $10.74 trillion. This suggests that bigger banks, often seen as "too big to fail" and as more likely to get a bailout in case of trouble, are the beneficiaries of the deposit shakeup. The increased churn—and broader banking sector jitters—comes after the spectacular failure of SVB, which had an unusually high percentage of uninsured deposits, meaning ones above the federal deposit guarantee cap of $250,000. Around 94 percent of SVB's deposits were uninsured—meaning subject to losses in case of bank failure—and when depositors got wind of SVB taking a $1.8 billion loss on bond sales, they rushed for the exits. "Only 1% of banks had higher uninsured leverage. Combined, losses and uninsured leverage provide incentives for an SVB uninsured depositor run," wrote researchers with the Social Science Research Network in a recent paper that found there are 186 banks across America at risk of collapse if their depositors withdraw their funds. A day before SVB's collapse, its customers withdrew $42 billion in a single day, leaving it with a negative cash balance of around $1 billion. California regulators stepped in and appointed the Federal Deposit Insurance Corporation (FDIC) as receiver, which set up a bridge bank—called the Silicon Valley Bridge Bank. The FDIC transferred all customer deposits to the bridge bank—which continues to operate normally—and provided a blanket guarantee to prevent further deposit outflow. A blanket guarantee means waiving the $250,000 coverage limit and protecting all deposits from loss. At the same time, the Federal Reserve set up an emergency lending facility for banks to give them access to ample liquidity and meet depositor demand for cash. Borrowing by small banks jumped $253 billion to a record $669.6 billion in the week ended March 15, the Fed data showed. "As a result, small banks had $97 billion more in cash on hand at the end of the week, suggesting that some of the borrowing was to build war chests as a precautionary measure in case depositors asked to redeem their money," Capital Economics analyst Paul Ashworth wrote in a note. It's unclear whether the shift in deposits out of smaller banks will continue. "Deposit flows in the banking system have stabilized over the last week," Fed Chair Jerome Powell said on Wednesday. Some have suggested that, in order to calm nervous depositors and prevent deposit outflow, the FDIC should temporarily waive its deposit coverage lid and provide a blanket guarantee across the U.S. banking sector. A measure like that would require congressional approval, however, and some lawmakers—in particular members of the Freedom Caucus—have expressed opposition. Blanket Guarantees? There have been mixed signals about expanding deposit guarantees from the country's top leadership. President Joe Biden said during a joint press conference with Canadian Prime Minister Justin Trudeau in Ottawa on Friday that if there are more bank failures in the United States, broader deposit guarantees are possible. "If we find that there's more instability than appears, we'd be in a position to have the FDIC use the power it has to guarantee those [deposits] above $250,000 like they did already," Biden said. Without congressional approval to expand deposit guarantees widely, the only available recourse is for U.S. financial authorities to make "systemic risk exceptions" for individual banks whose collapse would be considered as having the potential to destabilize the financial system. Such an exception was taken in the case of SVB and Signature Bank, which failed several days after SVB due to contagion. Biden said that American banks are in "pretty good shape" and that deposits are safe, adding that he doesn't see the banking industry as verging on collapse. "And so I think it's going to take a little while for things to just calm down," Biden continued. "But I don't see anything that's on the horizon that's about to explode." Treasury Secretary Janet Yellen convened a closed emergency meeting of the Financial Stability Oversight Council (FSOC) on Friday that assessed market developments. The FSOC discussed current banking conditions and concluded that "the U.S. banking system remains sound and resilient," a statement said. Yellen said during a Senate hearing on March 22 that blanket coverage for the entire U.S. banking sector wasn't being considered as an immediate option but that financial authorities are prepared to use all tools at their disposal in case of contagious bank runs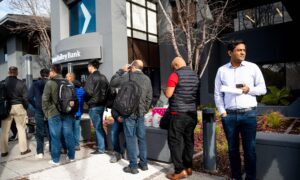 Deposits at America's small banks fell by a record amount in the week ending March 15 as the collapse of Silicon Valley Bank (SVB) spooked depositors and led many to withdraw their savings.
Data from the Federal Reserve shows that deposits at small banks—defined as those smaller than the biggest 25—dropped $119 billion to $5.46 trillion, more than twice the previous record drop.
Deposits at large U.S. banks, meanwhile, rose $67 billion in the week ended March 15, reaching $10.74 trillion.
This suggests that bigger banks, often seen as "too big to fail" and as more likely to get a bailout in case of trouble, are the beneficiaries of the deposit shakeup.
The increased churn—and broader banking sector jitters—comes after the spectacular failure of SVB, which had an unusually high percentage of uninsured deposits, meaning ones above the federal deposit guarantee cap of $250,000.
Around 94 percent of SVB's deposits were uninsured—meaning subject to losses in case of bank failure—and when depositors got wind of SVB taking a $1.8 billion loss on bond sales, they rushed for the exits.
"Only 1% of banks had higher uninsured leverage. Combined, losses and uninsured leverage provide incentives for an SVB uninsured depositor run," wrote researchers with the Social Science Research Network in a recent paper that found there are 186 banks across America at risk of collapse if their depositors withdraw their funds.
A day before SVB's collapse, its customers withdrew $42 billion in a single day, leaving it with a negative cash balance of around $1 billion.
California regulators stepped in and appointed the Federal Deposit Insurance Corporation (FDIC) as receiver, which set up a bridge bank—called the Silicon Valley Bridge Bank. The FDIC transferred all customer deposits to the bridge bank—which continues to operate normally—and provided a blanket guarantee to prevent further deposit outflow. A blanket guarantee means waiving the $250,000 coverage limit and protecting all deposits from loss.
At the same time, the Federal Reserve set up an emergency lending facility for banks to give them access to ample liquidity and meet depositor demand for cash.
Borrowing by small banks jumped $253 billion to a record $669.6 billion in the week ended March 15, the Fed data showed.
"As a result, small banks had $97 billion more in cash on hand at the end of the week, suggesting that some of the borrowing was to build war chests as a precautionary measure in case depositors asked to redeem their money," Capital Economics analyst Paul Ashworth wrote in a note.
It's unclear whether the shift in deposits out of smaller banks will continue.
"Deposit flows in the banking system have stabilized over the last week," Fed Chair Jerome Powell said on Wednesday.
Some have suggested that, in order to calm nervous depositors and prevent deposit outflow, the FDIC should temporarily waive its deposit coverage lid and provide a blanket guarantee across the U.S. banking sector. A measure like that would require congressional approval, however, and some lawmakers—in particular members of the Freedom Caucus—have expressed opposition.
Blanket Guarantees?
There have been mixed signals about expanding deposit guarantees from the country's top leadership.
President Joe Biden said during a joint press conference with Canadian Prime Minister Justin Trudeau in Ottawa on Friday that if there are more bank failures in the United States, broader deposit guarantees are possible.
"If we find that there's more instability than appears, we'd be in a position to have the FDIC use the power it has to guarantee those [deposits] above $250,000 like they did already," Biden said.
Without congressional approval to expand deposit guarantees widely, the only available recourse is for U.S. financial authorities to make "systemic risk exceptions" for individual banks whose collapse would be considered as having the potential to destabilize the financial system. Such an exception was taken in the case of SVB and Signature Bank, which failed several days after SVB due to contagion.
Biden said that American banks are in "pretty good shape" and that deposits are safe, adding that he doesn't see the banking industry as verging on collapse.
"And so I think it's going to take a little while for things to just calm down," Biden continued. "But I don't see anything that's on the horizon that's about to explode."
Treasury Secretary Janet Yellen convened a closed emergency meeting of the Financial Stability Oversight Council (FSOC) on Friday that assessed market developments.
The FSOC discussed current banking conditions and concluded that "the U.S. banking system remains sound and resilient," a statement said.
Yellen said during a Senate hearing on March 22 that blanket coverage for the entire U.S. banking sector wasn't being considered as an immediate option but that financial authorities are prepared to use all tools at their disposal in case of contagious bank runs.
Former FDIC chair Sheila Bair has spoken out against expanding deposit guarantees for SVB and Signature, describing the measure as a bailout and as doing more harm than good by spooking depositors with large uninsured balances at other banks.
Bair said, however, that if the crisis were to worsen, then Congress should act to approve a temporary expansion of deposit guarantees across the broader system as a confidence-building measure.