Sinduri Beach & Sand Dunes: Where You Have To Go In Taean-gun, Korea
This past weekend I was ready for adventure and found myself in Taean-gun. Taean-gun is one of those easy getaways from Seoul in my opinion. I've been a few times because there is plenty to do and see but it's not too far that it necessitates much effort in planning. That said, I surprised even myself with how beautiful Sinduri Beach (신두리해수욕장) and the sand dunes there were. While there are often crowds and busy hot spots all over Seoul to be seen, I relish finding places where the view is more vast landscape than people and that's exactly what we found in Chungcheongnam-do on this trip. There is much to see in Taean-gun and this was my first trip to the northern part of the county. Taean can be divided into two quite different areas: the peninsula to the north with inlets and rocky seashore as well as the narrow peninsula to the south with a channel separating it from the mainland. To learn more about Taean in general, check out my Guide To Taean. What to know about Sinduri Beach: How To Get There Address: 135 Sindu-ri Taean-gun, Chungcheongnam-do (충청남도 태안군 원북면 신두리 산 135) By Car: I highly recommend taking a car just because there are a lot of cool stops you can make along the way in Seosan and Dangjin. In the spring you could stop by the Yoogibanggaoak Daffodil Hill and year round you could stop at the Ami Art Museum. You can easily rent a car via Klook. Check it out if you're ready for a road trip in Korea. By Public Transportation: You can get a bus from Gimpo Airport Terminal or Central City Bus Terminal or Seoul Nambu Bus Terminal to the Taean Bus Terminal. From there, you'll want to take bus 313 directly to the beach. The bus from the Taean Bus Terminal takes just over an hour but takes you all the way to the beach. Where To Stay On Sinduri Beach There isn't really a bad pension spot in this area. It's not really built up so the pensions all seem to run right along the coast. None of them are really luxurious, but they're all pretty standard Korean style pensions. They'll work for the weekend. Taean Golden Beach Pension Colorful rooms, colorful umbrellas, and a yard out front too. The Taean Golden Beach Pension is just 90 meters from the beach. It's simple and straightforward and right where you want to be on Sinduri Beach. Book your stay here on Agoda. Taean Sinduri Memories Making Pension Another good pension option right on Sinduri Beach, the Taean Sinduri Memories Making Pension has the bbq sets you want, the access to the beach you need, and simple pension rooms for a good nights sleep at the beach. You can book your stay here on Agoda. What To Know About Sinduri Beach The beach is vast; not just long but also very wide. This is definitely one of the best beaches I've seen in Korea. It's important to remember that on the west coast of Korea, the beaches are very shallow and you will not be able to swim most likely. Most beaches on the west coast are mud flats but the sand here was very nice and stretches so far out when the tide is low. It's not often that you can see so far without any buildings obstructing your view though and this beach is really not built up that much. For how beautiful the surrounding area is, it's quite surprising that there isn't more there. That said, there is just enough. There are places to stay, restaurants to eat at, though most people bring their own bbq fixins' and cook at the bbq tables in front of every pension there. There are convenience stores and when you're done with the beach, there is a sand dune and sand dune educational facility to visit too. Visiting in the spring was perfect for us. I'm not sure how busy this area gets in the summer, but in the spring, it felt like just us and the sea. We picked up our keys for our pension room, dropped our stuff and took a walk along the beach immediately. Take some snacks and you can feed the seagulls while you're out there. We headed north to see how far we could go and then walked back on the main road to the southern end of the beach to eat dinner and watch the sunset. There are entrances to the beach at various locations, mostly between the pensions or directly from them. The beach is public though so just get down there wherever you can. There are playgrounds between the pensions too and some odd, but humorous dinosaur statues randomly placed between the pensions along the coast as well. Just something to look out for while you're there especially if you have kids. They'll get a kick out of that… and the seagulls that perch on the dinosaur heads. Turn on your JavaScript to view content What To Know About The Sinduri Coastal Sand Dune The Sinduri Coastal Sand Dune (태안 신두리 해안사구) is the only sand dune in Korea, so says the signs, and it was one of the top tourist attractions in Taean-gun. That said, it's pretty big and you can easily spread out. I looked at numerous pictures and it doesn't seem like it gets all that crowded anytime. It's absolutely spectacular though. Just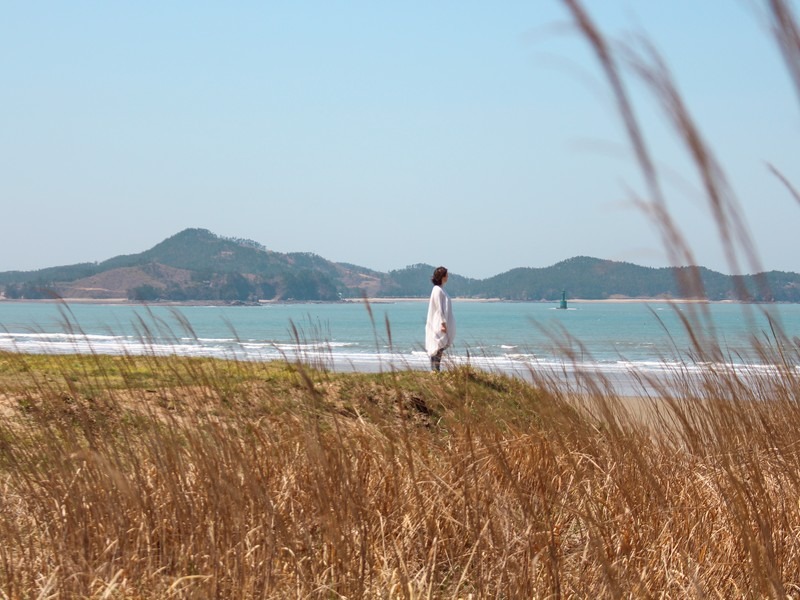 This past weekend I was ready for adventure and found myself in Taean-gun. Taean-gun is one of those easy getaways from Seoul in my opinion. I've been a few times because there is plenty to do and see but it's not too far that it necessitates much effort in planning. That said, I surprised even myself with how beautiful Sinduri Beach (신두리해수욕장) and the sand dunes there were. While there are often crowds and busy hot spots all over Seoul to be seen, I relish finding places where the view is more vast landscape than people and that's exactly what we found in Chungcheongnam-do on this trip.
There is much to see in Taean-gun and this was my first trip to the northern part of the county. Taean can be divided into two quite different areas: the peninsula to the north with inlets and rocky seashore as well as the narrow peninsula to the south with a channel separating it from the mainland. To learn more about Taean in general, check out my Guide To Taean.
What to know about Sinduri Beach:
---
How To Get There
Address: 135 Sindu-ri Taean-gun, Chungcheongnam-do (충청남도 태안군 원북면 신두리 산 135)
By Car: I highly recommend taking a car just because there are a lot of cool stops you can make along the way in Seosan and Dangjin. In the spring you could stop by the Yoogibanggaoak Daffodil Hill and year round you could stop at the Ami Art Museum. You can easily rent a car via Klook. Check it out if you're ready for a road trip in Korea.
By Public Transportation: You can get a bus from Gimpo Airport Terminal or Central City Bus Terminal or Seoul Nambu Bus Terminal to the Taean Bus Terminal. From there, you'll want to take bus 313 directly to the beach. The bus from the Taean Bus Terminal takes just over an hour but takes you all the way to the beach.
---
Where To Stay On Sinduri Beach
There isn't really a bad pension spot in this area. It's not really built up so the pensions all seem to run right along the coast. None of them are really luxurious, but they're all pretty standard Korean style pensions. They'll work for the weekend.
Taean Golden Beach Pension
Colorful rooms, colorful umbrellas, and a yard out front too. The Taean Golden Beach Pension is just 90 meters from the beach. It's simple and straightforward and right where you want to be on Sinduri Beach. Book your stay here on Agoda.
Taean Sinduri Memories Making Pension
Another good pension option right on Sinduri Beach, the Taean Sinduri Memories Making Pension has the bbq sets you want, the access to the beach you need, and simple pension rooms for a good nights sleep at the beach. You can book your stay here on Agoda.
---
What To Know About Sinduri Beach
The beach is vast; not just long but also very wide. This is definitely one of the best beaches I've seen in Korea. It's important to remember that on the west coast of Korea, the beaches are very shallow and you will not be able to swim most likely. Most beaches on the west coast are mud flats but the sand here was very nice and stretches so far out when the tide is low. It's not often that you can see so far without any buildings obstructing your view though and this beach is really not built up that much. For how beautiful the surrounding area is, it's quite surprising that there isn't more there. That said, there is just enough. There are places to stay, restaurants to eat at, though most people bring their own bbq fixins' and cook at the bbq tables in front of every pension there. There are convenience stores and when you're done with the beach, there is a sand dune and sand dune educational facility to visit too.
Visiting in the spring was perfect for us. I'm not sure how busy this area gets in the summer, but in the spring, it felt like just us and the sea. We picked up our keys for our pension room, dropped our stuff and took a walk along the beach immediately. Take some snacks and you can feed the seagulls while you're out there. We headed north to see how far we could go and then walked back on the main road to the southern end of the beach to eat dinner and watch the sunset.
There are entrances to the beach at various locations, mostly between the pensions or directly from them. The beach is public though so just get down there wherever you can. There are playgrounds between the pensions too and some odd, but humorous dinosaur statues randomly placed between the pensions along the coast as well. Just something to look out for while you're there especially if you have kids. They'll get a kick out of that… and the seagulls that perch on the dinosaur heads.
Turn on your JavaScript to view content
---
What To Know About The Sinduri Coastal Sand Dune
The Sinduri Coastal Sand Dune (태안 신두리 해안사구) is the only sand dune in Korea, so says the signs, and it was one of the top tourist attractions in Taean-gun. That said, it's pretty big and you can easily spread out. I looked at numerous pictures and it doesn't seem like it gets all that crowded anytime. It's absolutely spectacular though. Just so much space and views out over the ocean and the islands and mountains beyond. It's a view that you don't see often in Korea. Vast landscape with no buildings… I loved it. I love living in Seoul, but sometimes you just need to see nothing but nature as far as the eye can see and you can definitely do that here.
The sand dunes were formed 15,000 years ago. The sand dune at Sinduri coast is 3.4 kilometers long and .5km to 1.3km in width. It is Natural Monument No. 431 and is a protected area so keep that in mind when you visit. From the entrance, you can go straight through the center or turn right and go inland first. I'd say choose based on the heat of the day. If you go straight, you'll be uncovered and be taking in the views of the oceans, sand fields, and cows that live there. You can choose between course A which is the shortest circle and takes 30 minutes, course B, which is the middle and takes an hour, or course C which is the longest and takes two hours. We chose to do course B and as it was early in the day and spring, we went straight first to see the ocean and fields before getting inland to walk through the pine tree forest.
The beach itself is dramatically large and when seen from the overlook of the dunes, it's even more vast and beautiful. The path changes from sand to wooden boardwalk, to rocky ground to more boardwalk as you go. It's a really lovely walk in the spring. Might not be in the heat of the summer because there is no cover and shade though. Based on pictures, it seems this would be beautiful in the summer when the reeds all turn green as they wave in the wind though.
Note that the sand dunes do have open hours and do close in the evenings so make sure you head there at an appropriate time.
Hours: March – October: 9:00am ~ 6:00pm; November – February: 9:00am ~ 5:00pm
The Sinduri Sand Dune Center (신두리 사구센터)
Just before the entrance on the main road going to the sand dunes you'll find the sand dune center. you can't miss it as it's the most modern looking building around and features a rather humorous dung beetle climbing out of some rocks out front. If you have children this is an especially good stop to talk about what sand dunes are and how they were formed. This is also where you'll find the cleanest and nicest bathrooms FYI.
The center consists of two floors. The basement has an exhibition hall good for all ages to learn about what you'll see or what you did see. Learn about the animals and plants that call the dunes home. There is a great children's area inside and a resting area too. This is also where you'll find all of the parking if you've driven yourself. There's a parking lot in front of the center and just across the street.
Address: 201-54 Sinduhaebyeon-gil, Wonbuk-myeon, Taean-gun, Chungcheongnam-do (충남 태안군 원북면 신두해변길 201-54)
Hours: Tuesdays – Sundays: 9:00am ~ 6:00pm
---
Taean Haebyeongil
Sinduri Beach and Sand Dunes are also a part of the Taean Haebyeon-gil. This is course 1 – the Baragil section. If you're doing this, this section stretches 12 kilometers from Hagampo Beach to Sinduri Beach and is said to take 3 hours and 40 minutes. If you're someone that likes a trek, of which there are many in Korea, look more into this very scenic trail along the Taean coast.
---
Taean is a really special area. I've been four times and still love visiting the area. There is plenty of good food to eat, amazing coastline to see, and when I'm needing a sunset view to quench my thirst for rest and relaxation, I head here. You can too.
---