Scotland Bans TikTok on Government Mobile Phones and Devices Over Spy Fears
The move came moments after the UK government expanded its own ban on the Chinese social media app The Scottish government has placed an immediate ban on the use of social media app TikTok from its mobile phones and corporate devices over Chinese spying fears. The move, announced on Thursday afternoon, came moments after the UK government said it was expanding its own device and phone ban of the Chinese video-sharing platform to include the whole parliamentary network. Announcing the news, Scottish Deputy First Minister John Swinney said the decision came following discussions with the UK government. "Devices managed by the Scottish government are configured in line with best practice from the National Cyber Security Centre, which helps us to manage any risk associated with the use of third-party applications," Swinney said on Thursday. "Our decision to prohibit the use of TikTok follows engagement with the UK government on the potential tracking and privacy risks from certain social media apps. "Currently there is limited use of TikTok within government and limited need for staff to use the app on work devices. This ban will be implemented immediately. It does not extend to personal devices used by staff or the general public." Last week, Scottish parliamentary authorities "strongly advised" MSPs to remove TikTok from any of their devices, including personal phones. According to PA, in an email to all parliamentary staff and MSPs, a senior IT official at Holyrood said, "After discussions with the National Cyber Security Centre, we are strongly advising that all members, members' staff, Parliament staff and contractors' staff remove the TikTok app from any device currently used to access the Scottish Parliament's IT systems." The email said the the advice applied to "personal devices and Scottish Parliamentary Corporate Body-issued devices." It added, "We are giving this advice based on a precautionary approach and the best information available to us at this moment given the concerns around the information the TikTok application can collect from devices." The email said the advice is considered "proportionate and necessary given the situation as we currently understand it" and will be kept under review. Deputy First Minister John Swinney during a debate about coronavirus vaccine passports, at the Scottish Parliament in Edinburgh, UK, on Sept. 29, 2021. (Fraser Bremner/Scottish Daily Mail/PA) Sensitive Data Leak Fears TikTok, owned by Chinese internet company ByteDance, argues that it does not share data with China. But Beijing's intelligence legislation requires firms to help the Communist Party when requested. TikTok called Parliament's move "misguided and based on fundamental misconceptions about our company." "We are readily available to meet with the Scottish government to address any concerns but should be judged on facts and treated equally to our competitors," a spokesperson for the social media app said. "We have begun implementing a comprehensive plan to further protect our European user data, which includes storing UK user data in our European data centres and tightening data access controls, including third-party independent oversight of our approach." The bans come amid fears of sensitive data being accessed by the Chinese regime. On Thursday, the commissions of both the House of Commons and the Lords cited security concerns as they decided to impose the ban across the Palace of Westminster. A spokesman for Parliament said TikTok "will be blocked from all parliamentary devices and the wider parliamentary network." "Cyber security is a top priority for Parliament, however we do not comment on specific details of our cyber or physical security controls, policies or incidents," the spokesman added. Noted political TikTokers such as Energy Security minister Grant Shapps will be able to continue using the app on their phones' data, but will be blocked from accessing it on parliamentary wifi. After announcement of the initial government ban last week, Shapps vowed on Twitter that he "will NOT be leaving TikTok anytime soon!" and was continuing to use it on his personal phone while taking "security measures." After the Commons followed suit, a spokeswoman for the minister said: "Grant and his team don't use any parliamentary resources to communicate with the electorate and he takes appropriate security measures, but he also knows that politicians need to communicate with their voters." The latest bans were announced as TikTok chief executive Shou Zi Chew made a rare public appearance to be grilled by the U.S. Congress over data security and user safety. "Let me state this unequivocally: ByteDance is not an agent of China or any other country," Chew said as he made his case for why the popular app should not be banned. When the UK government announced its ban last week, citing a risk to "sensitive" data, Beijing reacted angrily. The Chinese embassy in the UK said the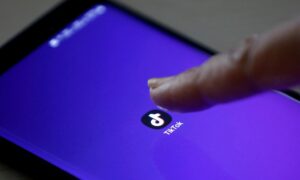 The move came moments after the UK government expanded its own ban on the Chinese social media app
The Scottish government has placed an immediate ban on the use of social media app TikTok from its mobile phones and corporate devices over Chinese spying fears.
The move, announced on Thursday afternoon, came moments after the UK government said it was expanding its own device and phone ban of the Chinese video-sharing platform to include the whole parliamentary network.
Announcing the news, Scottish Deputy First Minister John Swinney said the decision came following discussions with the UK government.
"Devices managed by the Scottish government are configured in line with best practice from the National Cyber Security Centre, which helps us to manage any risk associated with the use of third-party applications," Swinney said on Thursday.
"Our decision to prohibit the use of TikTok follows engagement with the UK government on the potential tracking and privacy risks from certain social media apps.
"Currently there is limited use of TikTok within government and limited need for staff to use the app on work devices. This ban will be implemented immediately. It does not extend to personal devices used by staff or the general public."
Last week, Scottish parliamentary authorities "strongly advised" MSPs to remove TikTok from any of their devices, including personal phones.
According to PA, in an email to all parliamentary staff and MSPs, a senior IT official at Holyrood said, "After discussions with the National Cyber Security Centre, we are strongly advising that all members, members' staff, Parliament staff and contractors' staff remove the TikTok app from any device currently used to access the Scottish Parliament's IT systems."
The email said the the advice applied to "personal devices and Scottish Parliamentary Corporate Body-issued devices."
It added, "We are giving this advice based on a precautionary approach and the best information available to us at this moment given the concerns around the information the TikTok application can collect from devices."
The email said the advice is considered "proportionate and necessary given the situation as we currently understand it" and will be kept under review.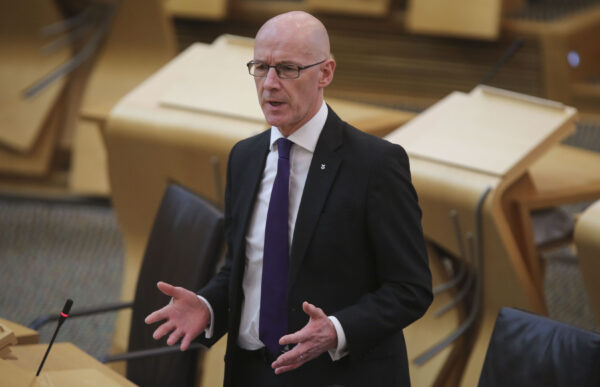 Sensitive Data Leak Fears
TikTok, owned by Chinese internet company ByteDance, argues that it does not share data with China.
But Beijing's intelligence legislation requires firms to help the Communist Party when requested.
TikTok called Parliament's move "misguided and based on fundamental misconceptions about our company."
"We are readily available to meet with the Scottish government to address any concerns but should be judged on facts and treated equally to our competitors," a spokesperson for the social media app said.
"We have begun implementing a comprehensive plan to further protect our European user data, which includes storing UK user data in our European data centres and tightening data access controls, including third-party independent oversight of our approach."
The bans come amid fears of sensitive data being accessed by the Chinese regime.
On Thursday, the commissions of both the House of Commons and the Lords cited security concerns as they decided to impose the ban across the Palace of Westminster.
A spokesman for Parliament said TikTok "will be blocked from all parliamentary devices and the wider parliamentary network."
"Cyber security is a top priority for Parliament, however we do not comment on specific details of our cyber or physical security controls, policies or incidents," the spokesman added.
Noted political TikTokers such as Energy Security minister Grant Shapps will be able to continue using the app on their phones' data, but will be blocked from accessing it on parliamentary wifi.
After announcement of the initial government ban last week, Shapps vowed on Twitter that he "will NOT be leaving TikTok anytime soon!" and was continuing to use it on his personal phone while taking "security measures."
After the Commons followed suit, a spokeswoman for the minister said: "Grant and his team don't use any parliamentary resources to communicate with the electorate and he takes appropriate security measures, but he also knows that politicians need to communicate with their voters."
The latest bans were announced as TikTok chief executive Shou Zi Chew made a rare public appearance to be grilled by the U.S. Congress over data security and user safety.
"Let me state this unequivocally: ByteDance is not an agent of China or any other country," Chew said as he made his case for why the popular app should not be banned.
When the UK government announced its ban last week, citing a risk to "sensitive" data, Beijing reacted angrily.
The Chinese embassy in the UK said the move was "based on its political motive rather than facts" and said it will "ultimately harm the UK's own interests."