Saudi Arabia makes Ukraine aid pledge
Saudi Arabia has pledged some $400 million in "humanitarian aid" to Ukraine during a surprise visit to Kiev by its FM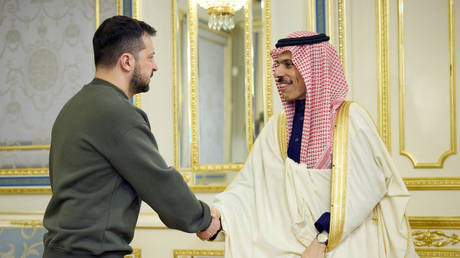 Saudi Arabia makes Ukraine aid pledge
The $400 million "humanitarian aid" package was announced during a surprise visit by the Saudi foreign minister to Kiev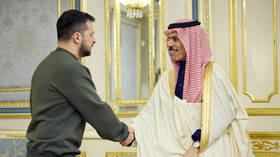 Saudi Foreign Minister Prince Faisal bin Farhan made a surprise visit to Ukraine on Sunday, meeting President Vladimir Zelensky in the capital city Kiev and becoming the highest-ranking official of the kingdom ever to visit the country.
The senior diplomat also met other top Ukrainian officials, including his counterpart Dmitry Kuleba.
"I hope that [the visit] will give a new impetus to a further advancement of our mutually beneficial dialogue," Zelensky said in a social media post after the meeting.
During the visit, the minister signed an agreement on a $100-million joint cooperation program with Kiev to provide humanitarian aid to Ukraine. On top of this, the two sides also signed a memorandum of understanding –worth $300 million– on financing Ukraine's oil derivatives by the Saudi Fund for Development.
The agreements come as a part of an aid package first announced by Saudi Crown Prince Mohammed bin Salman last October following phone talks with Zelensky. The kingdom has repeatedly called on both Russia and Ukraine to show restraint and advocates de-escalation of the ongoing crisis.
Since the beginning of the hostilities that have now been dragging on for over a year, Saudi Arabia has taken a neutral stance, maintaining ties with both sides. Specifically, it has been offering humanitarian support to Kiev while maintaining its relationship with OPEC+ member Moscow, striving to become a mediator in the conflict.
The neutral stance of the country was reiterated by the Saudi FM during his visit to Kiev. "We continue to discuss opportunities to settle the crisis with all parties," Prince Faisal stated.