Sales of Used Electric Vehicles Jump by a Third in First Quarter
Used EV sales rose by a third in the first quarter of this year, with average retail prices dropping and remaining well below the price of new electric vehicles, even as Americans remain hesitant to adopt electric cars. The sale of EVs through a licensed dealership rose 32 percent year-over-year in Q1 to 42,753 units, according to an April 7 press release by automotive technology provider Cox Automotive. The sale of used EVs in Q1, 2023, was twice the volume of what was sold in Q1, 2021. The average retail listing price for a used EV in the first quarter of 2023 dropped by 4 percent to $43,400 from a year back. It was also well below the average of a new EV priced at nearly $59,000. Cox Automotive attributes the lower average listing price for used EVs to "aggressive price cuts" implemented by Tesla. As the company is the market leader in the industry, its price cuts push down prices for new electric vehicles, with used EVs also getting affected. In January, Tesla announced slashing the prices of its vehicles by as much as 20 percent. This week, the carmaker cut down prices by an additional 2 to 6 percent in the United States. "Having more used EVs in the market is a key driver of the volume gains, and product availability will rapidly increase going forward," Cox Automotive said. Despite the rise in sales numbers, Americans remain hesitant to adopt an electric vehicle as their chosen mode of transportation. A March Reuters/Ipsos poll had found that most Americans are not considering purchasing an electric car as their next model. When asked about buying EVs, only 34 percent of the respondents said they would consider it. While 50 percent of Democrats held such a view, only 26 percent of Republicans and 27 percent of Independents saw EV as an option. Manheim Used EV Sales At Manheim, the largest wholesale vehicle marketplace in the United States, the volume of used EV transactions rose in the first quarter. During Q1, Manheim locations across America processed almost 9,800 used EVs, a 40 percent jump from the same period in 2022. According to Manheim, the wholesale value of used EVs rose by 3.7 percent year-over-year. "Every new vehicle eventually becomes a used vehicle," said Jonathan Smoke, chief economist of Cox Automotive. "Our data sets indicate used EV sales will begin increasing rapidly from here, following a clear path set by new sales." "In Q1, our team at Manheim processed a record number of used EVs in the wholesale market. This is an approaching challenge for the industry we've already begun to embrace, as placing a value on a used EV is a new set of skills we all need to develop and refine." Meanwhile, Cox Automotive is forecasting the sale of new EVs in the United States to exceed one million units for the first time in 2023. During Q1, the share of new EV sales in the total share of new vehicle sales is expected to get close to 7 percent, which would be a record high. Though used EV sales have lagged behind the new vehicle market, this trend is beginning to change, it noted. There is also an expansion of EV charging infrastructure happening across the country, with major retailers like Walmart planning to add thousands of EV charging stations at its stores by the end of the decade. The development is happening on the assumption that people will shift from fossil-fuel vehicles to EVs in large numbers. However, such a shift is not taking place owing to the several disadvantages that EVs have when compared to conventional fuel-injection automobiles, including high acquisition costs. A survey by Consumer Reports from July last year that polled around 8,000 Americans found that 52 percent of respondents would not buy an EV due to the high cost. Diminished Battery Performance A critical factor that determines the value of a used EV is battery performance. Electric batteries account for around 30 percent to 40 percent of an EV's cost. Over time as EV batteries age, their performance and range can reduce. Charging batteries to their maximum capacity, driving in high temperatures, and draining them to a low voltage can negatively affect the quality of EV batteries. According to a July 2020 report by vehicle data firm Geotab, EV battery performance declines by 2.3 percent a year on average. This means an EV with a 150-mile range will only have a range of around 133 miles five years later. As tech advances rapidly, older EVs might also lag behind new EVs greatly in terms of performance factors like range. For instance, the 2015 Nissan Leaf had an estimated range of 87 miles. Seven years later, the 2022 Leaf version came with a range of 215 miles. Electric vehicles are also known to face issues in cold climates. A study conducted by truck manufacturer Autocar published in March last year found that EVs lose on average a third of their range in winter. As such, an EV with a stated range of 240 miles could end up having a range of only 160 miles. In the tests, Ford Mustang Mach-E Exte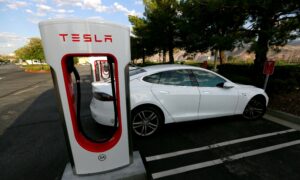 Used EV sales rose by a third in the first quarter of this year, with average retail prices dropping and remaining well below the price of new electric vehicles, even as Americans remain hesitant to adopt electric cars.
The sale of EVs through a licensed dealership rose 32 percent year-over-year in Q1 to 42,753 units, according to an April 7 press release by automotive technology provider Cox Automotive. The sale of used EVs in Q1, 2023, was twice the volume of what was sold in Q1, 2021. The average retail listing price for a used EV in the first quarter of 2023 dropped by 4 percent to $43,400 from a year back. It was also well below the average of a new EV priced at nearly $59,000.
Cox Automotive attributes the lower average listing price for used EVs to "aggressive price cuts" implemented by Tesla. As the company is the market leader in the industry, its price cuts push down prices for new electric vehicles, with used EVs also getting affected.
In January, Tesla announced slashing the prices of its vehicles by as much as 20 percent. This week, the carmaker cut down prices by an additional 2 to 6 percent in the United States.
"Having more used EVs in the market is a key driver of the volume gains, and product availability will rapidly increase going forward," Cox Automotive said.
Despite the rise in sales numbers, Americans remain hesitant to adopt an electric vehicle as their chosen mode of transportation.
A March Reuters/Ipsos poll had found that most Americans are not considering purchasing an electric car as their next model. When asked about buying EVs, only 34 percent of the respondents said they would consider it. While 50 percent of Democrats held such a view, only 26 percent of Republicans and 27 percent of Independents saw EV as an option.
Manheim Used EV Sales
At Manheim, the largest wholesale vehicle marketplace in the United States, the volume of used EV transactions rose in the first quarter. During Q1, Manheim locations across America processed almost 9,800 used EVs, a 40 percent jump from the same period in 2022.
According to Manheim, the wholesale value of used EVs rose by 3.7 percent year-over-year. "Every new vehicle eventually becomes a used vehicle," said Jonathan Smoke, chief economist of Cox Automotive. "Our data sets indicate used EV sales will begin increasing rapidly from here, following a clear path set by new sales."
"In Q1, our team at Manheim processed a record number of used EVs in the wholesale market. This is an approaching challenge for the industry we've already begun to embrace, as placing a value on a used EV is a new set of skills we all need to develop and refine."
Meanwhile, Cox Automotive is forecasting the sale of new EVs in the United States to exceed one million units for the first time in 2023.
During Q1, the share of new EV sales in the total share of new vehicle sales is expected to get close to 7 percent, which would be a record high. Though used EV sales have lagged behind the new vehicle market, this trend is beginning to change, it noted.
There is also an expansion of EV charging infrastructure happening across the country, with major retailers like Walmart planning to add thousands of EV charging stations at its stores by the end of the decade.
The development is happening on the assumption that people will shift from fossil-fuel vehicles to EVs in large numbers. However, such a shift is not taking place owing to the several disadvantages that EVs have when compared to conventional fuel-injection automobiles, including high acquisition costs.
A survey by Consumer Reports from July last year that polled around 8,000 Americans found that 52 percent of respondents would not buy an EV due to the high cost.
Diminished Battery Performance
A critical factor that determines the value of a used EV is battery performance. Electric batteries account for around 30 percent to 40 percent of an EV's cost. Over time as EV batteries age, their performance and range can reduce.
Charging batteries to their maximum capacity, driving in high temperatures, and draining them to a low voltage can negatively affect the quality of EV batteries.
According to a July 2020 report by vehicle data firm Geotab, EV battery performance declines by 2.3 percent a year on average. This means an EV with a 150-mile range will only have a range of around 133 miles five years later.
As tech advances rapidly, older EVs might also lag behind new EVs greatly in terms of performance factors like range. For instance, the 2015 Nissan Leaf had an estimated range of 87 miles. Seven years later, the 2022 Leaf version came with a range of 215 miles.
Electric vehicles are also known to face issues in cold climates. A study conducted by truck manufacturer Autocar published in March last year found that EVs lose on average a third of their range in winter. As such, an EV with a stated range of 240 miles could end up having a range of only 160 miles.
In the tests, Ford Mustang Mach-E Extended Range RWD lost 35 percent of its range, Fiat 500 42kWh Icon lost 40 percent, and the Porsche Taycan 4S Performance Battery Plus with heat pump lost 22 percent of its range in cold conditions.
Though the efficiency of gas-powered vehicles also drops during extreme cold, their efficiency loss is not as great when compared to electric vehicles.