S Club 7 reunite for an 11-date tour
S Club 7 are returning for an arena tour.All seven members of the pop group - which includes Bradley, Hannah, Jo, Jon, Paul, Rachel, and Tina - are reuniting to celebrate their 25-year legacy in the music business.Speaking about their comeback, the band said: "After eight years it feels amazing to announce that we're reuniting and performing together again. "We're so excited to bring the S Club Party back to our fans across the country to celebrate 25 years of S Club 7. We can't even believe it's been so long! "Music and friendship have always been at the core of everything that we've ever done. We hope everyone can join us for one big party!"The band will embark an 11-date arena tour across the UK and Ireland,starting in Liverpool on October 13 and finishing in London on October 28.S Club are set to perform some of their best-known pop hits, including 'Bring It All Back', 'Never Had a Dream Come True', 'Don't Stop Movin', and 'Have You Ever'.The chart-topping group - which was created in 1998 by the former Spice Girls manager Simon Fuller - also starred in two hit TV series, 'Miami 7' and 'L.A. 7'.Tickets for the tour - which has been named S Club 7 Reunited - will go on sale on Friday (17.02.23), via www.gigsandtours.com and www.ticketmaster.co.uk. Meanwhile, Irish fans can get their tickets via www.ticketmaster.ie.Tour dates:Liverpool, M and S Bank Arena - October 13Sheffield, Utilita Arena - October 14Dublin, 3Arena - October 16Glasgow, OVO Hydro - October 18Newcastle, Utilita Arena - October 19Leeds, First Direct Arena - October 20Manchester, AO Arena - October 21Cardiff, International Arena - October 23Nottingham, Motorpoint Arena - October 24Birmingham, Utilita Arena - October 26London, The O2 - October 28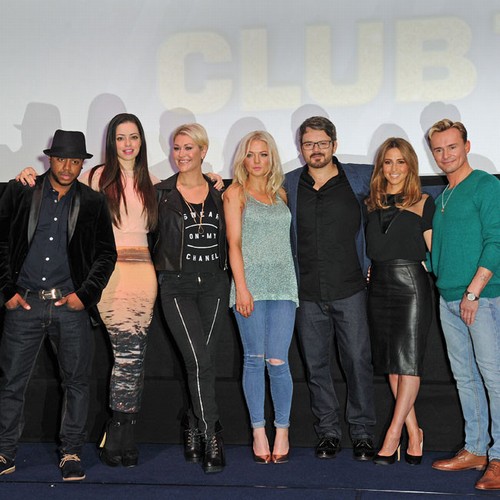 S Club 7 are returning for an arena tour.
All seven members of the pop group - which includes Bradley, Hannah, Jo, Jon, Paul, Rachel, and Tina - are reuniting to celebrate their 25-year legacy in the music business.
Speaking about their comeback, the band said: "After eight years it feels amazing to announce that we're reuniting and performing together again.
"We're so excited to bring the S Club Party back to our fans across the country to celebrate 25 years of S Club 7. We can't even believe it's been so long!
"Music and friendship have always been at the core of everything that we've ever done. We hope everyone can join us for one big party!"
The band will embark an 11-date arena tour across the UK and Ireland,starting in Liverpool on October 13 and finishing in London on October 28.
S Club are set to perform some of their best-known pop hits, including 'Bring It All Back', 'Never Had a Dream Come True', 'Don't Stop Movin', and 'Have You Ever'.
The chart-topping group - which was created in 1998 by the former Spice Girls manager Simon Fuller - also starred in two hit TV series, 'Miami 7' and 'L.A. 7'.
Tickets for the tour - which has been named S Club 7 Reunited - will go on sale on Friday (17.02.23), via www.gigsandtours.com and www.ticketmaster.co.uk. Meanwhile, Irish fans can get their tickets via www.ticketmaster.ie.
Tour dates:
Liverpool, M and S Bank Arena - October 13
Sheffield, Utilita Arena - October 14
Dublin, 3Arena - October 16
Glasgow, OVO Hydro - October 18
Newcastle, Utilita Arena - October 19
Leeds, First Direct Arena - October 20
Manchester, AO Arena - October 21
Cardiff, International Arena - October 23
Nottingham, Motorpoint Arena - October 24
Birmingham, Utilita Arena - October 26
London, The O2 - October 28